Joe Biden is the 46th US President & Kamala Harris becomes America's first female Vice President
…………………………..
Biden holds brief moment of silence for Covid victims
He asks that those in the audience hold a silent moment of prayer "for those we've left behind and for our country". 

First female vice-president
"Here we stand 108 years ago, thousands of protesters tried to block brave women marching for the right to vote.
"Today we mark the swearing in of the first woman in American history elected vice-president – Kamala Harris.
"Don't tell me things can't change," he said.
Biden is calling for more mutual respect in society, saying that unity is necessary for American greatness.
"Stop the shouting and lower the temperatures," says Biden, adding that "without unity there is no peace".
"Unity is the path forward," he continues.
"And we must meet this moment as the United States of America," he says, emphasising the word "united".

Biden: 'We must have unity'
Speaking of the challenges that his administration will face, including the pandemic and the rise of "white supremacy", Biden says he will "confront and we will defeat" each obstacle.
He repeats his campaign vow to "restore the soul of the future of America," but says doing so "requires so much more than words".
"It requires the most elusive of all things in a democracy: Unity.
Violence shook the Capitol's foundation'
"We learned again that democracy is precious. Democracy is fragile and at this moment, my friends, democracy has prevailed," Biden says.
"Now, on this hallowed ground, where just a few days ago violence sought to shake the Capitol's very foundation, we come together as one nation, under God, indivisible, to carry out the peaceful transfer of power as we have for more than two centuries."
Biden thanks predecessors for their presence
"I thank my predecessors from both parties who are here today," says the new president. Former Presidents Clinton, Bush and Obama are attending the ceremony.
Biden says he spoke to President Jimmy Carter – who is 96 – by phone, and salutes him for his lifetime of service.
His immediate predecessor, Donald Trump, chose not to attend the inauguration.
Joe Biden sworn in as 46th US President 
Joe Biden is now the US President
Harris sworn in 
Kamala Harris has been sworn in as vice-president 
More arrive
Senator Bernie Sanders was spotted on his phone and keeping his hands warm on a cold January day.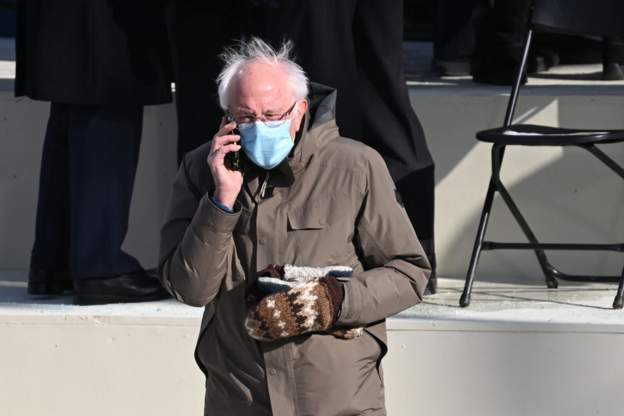 Mike Pence arrives on the platform
More attention than usual on the departing vice-president today, due to the absence of the president, of course.
First and second couples
Joe Biden and Kamala Harris, with their spouses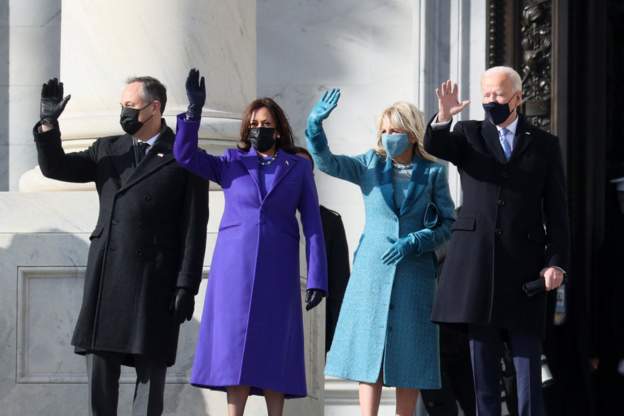 First oath about an hour away now
We can expect Kamala Harris to become the first female vice-president in about 60 minutes now 
Guests arrive
Guests are beginning to arrive in advance of the inauguration ceremonies at the US Capitol.
The crowd is a thinner this year as the guest list has been limited due to Covid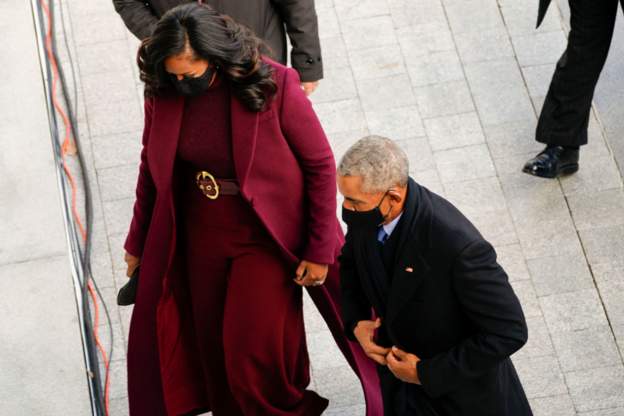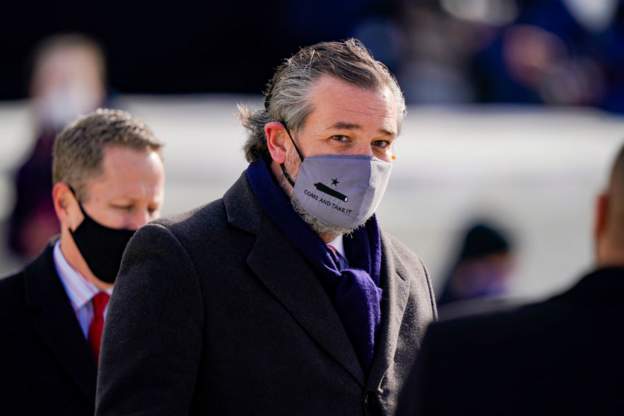 Biden off to the Capitol
 The motorcade carrying the man who will be US president in about 90 minutes is now being seen driving towards the Capitol.
He won't fail to see the huge number of National Guard troops along the streets – a reminder of the task facing him as he takes over and tries to unify the nation.
Harris, Biden & Pelosi Church images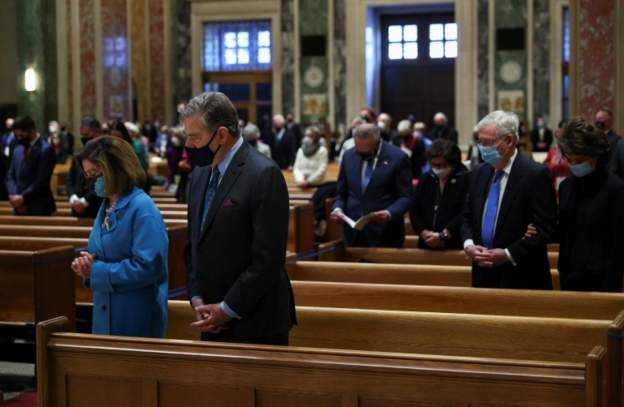 Trump supporters stay away
Democrats are celebrating in the nation's capital on Wednesday, but many of the president's supporters are avoiding the place. Protests against the new president, Joe Biden, have been cancelled.
One of the events, a rally organised by a group, Public Advocate, was called off "due to current emergency in place January 20", according to its website. Leaders of other pro-Trump groups say they are not going to the city. No-one will be there, one of them tells me, "except members of Congress and Biden staff – and 60,000 National Guard!"
Bidens attend Mass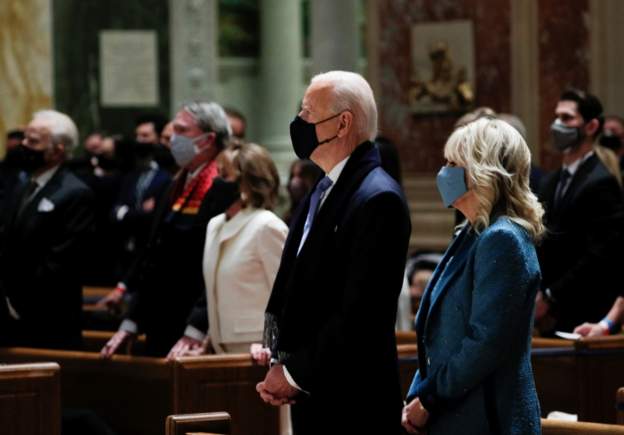 Joe Biden and his wife Jill are attending Mass at the Cathedral of St Matthew the Apostle in Washington DC.
Congressional leaders Sen Mitch McConnell and House Speaker Nancy Pelosi are among those also attending the service.
Mr Biden is only the second Roman Catholic president in US history, following fellow Democrat John F Kennedy.
Trump leaves Joe Biden a note
AWhite House spokesman has confirmed that the departing president has left his successor a letter.
Donald Trump had resisted conceding the election until very recently and even in his farewell remarks from the White House did not mention President-elect Joe Biden by name.
Harris pays tribute to 'women who came before her'
In just a few hours, Kamala Harris will become the first female, black and Asian-American person to be vice-president.
As she prepares to take up the role, she paid tribute to the women who she says came before her.
"I stand on their shoulders," she told her followers.
WATCH: Helicopter leaves White House
Leave a comment