CITY AM – No room for tax cuts in budget
CITY AM reports that economists are predicting that tax cuts look unlikely in the upcoming March budget despite the £11bn windfall from falling energy prices.
CITYAM says Jeremy Hunt and Rishi Sunak will hold fire on tax cuts at the 15 March budget despite being handed an around £11bn windfall from international energy prices falling to pre-Russia-Ukraine war levels, according to top economists' predictions gathered by City A.M.
Brits will have to wait until the run up to the next general election, which has to happen before January 2025, for the taxman to put money back in their pockets, experts reckon.
A stalling UK economy, compounded by inflation soaring to a multi-decade and the government's debt interest bill swelling due to the Bank of England hiking interest rates aggressively has squeezed the country's finances.
As a result, the Chancellor "really doesn't have much room room to maneouvre," Carl Emmerson, deputy director at the economic think tank the Institute for Fiscal Studies (IFS), told City A.M.
Read the full story here on CITYAM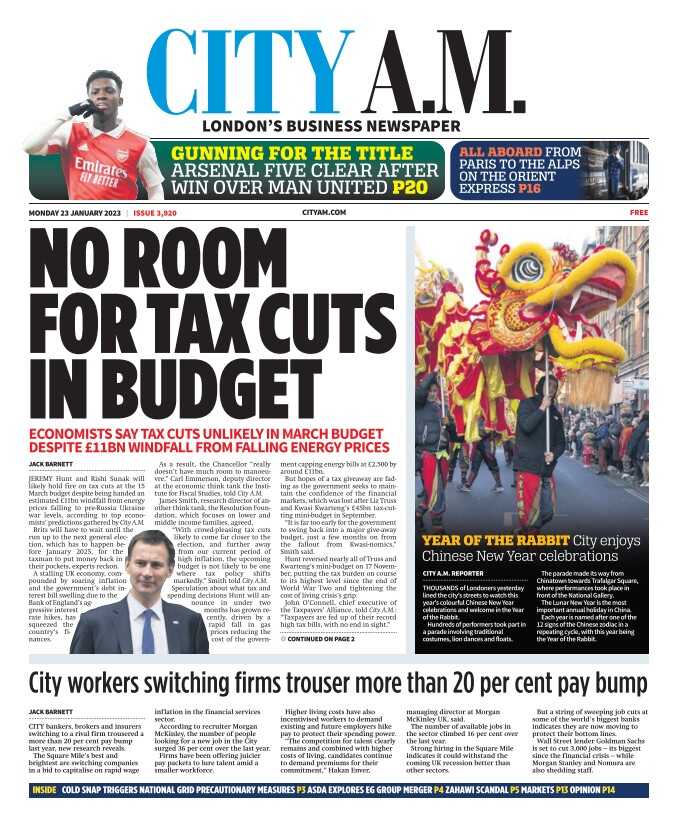 Catch up on today's UK front pages and the latest sports news on today's back pages.