FT – Eurozone to avoid recession in 2023 as energy prices and China boost outlook
The Financial Times says the eurozone is forecast to defy expectations and avoid a recession this year. A widely-watched survey of economists now predicts the bloc will see growth of 0.1% over 2023 – because of lower energy prices and the reopening of China's economy.
FT says The eurozone will avoid a recession this year, according to a widely-watched survey of economists, which illustrates the sharp about-turn in global economic sentiment in the past couple of weeks.
As recently as last month, analysts surveyed by Consensus Economics were predicting the bloc would plunge into recession this year. But this month's survey found that they now expect it to log growth of 0.1 per cent over the course of 2023. This is thanks to lower energy prices, bumper government support and the earlier-than-anticipated reopening of the Chinese economy, which is set to boost global demand.
The upgrade comes after officials and business leaders at this week's annual World Economic Forum in Davos also embraced a more upbeat outlook, and the IMF signalled that it would soon upgrade its forecasts for global growth.
https://www.ft.com/content/47082456-0538-4490-855a-bc4589b6b30d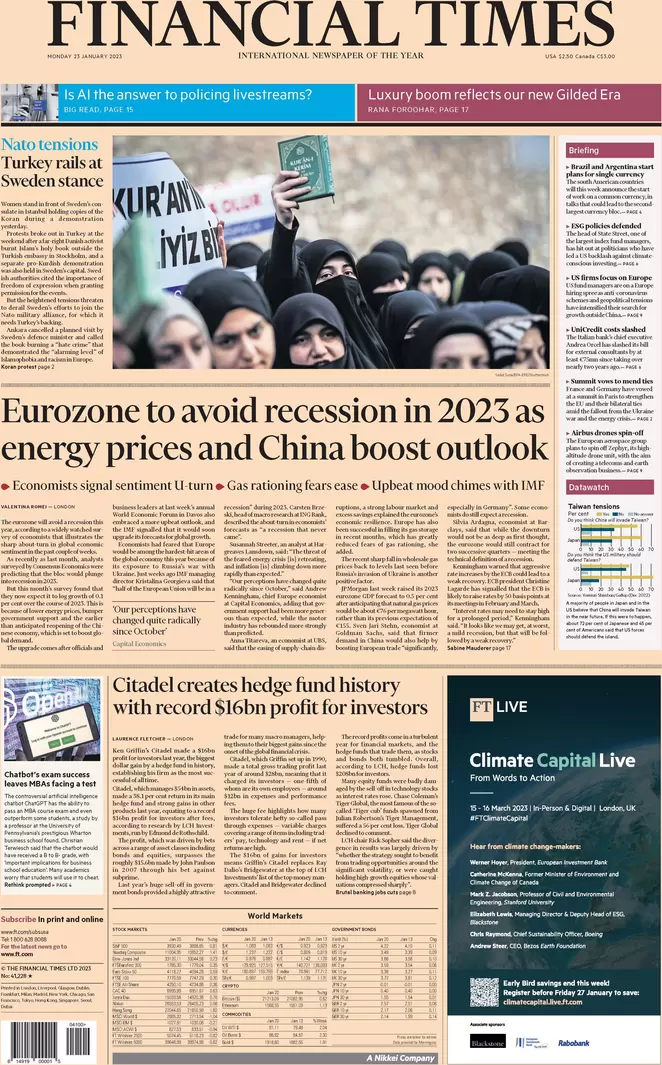 Catch up on today's UK front pages and the latest sports news on today's back pages.