EU signals ceasefire with Russia
The EU signals ceasefire with Russia in Ukraine at Paris peace talks on Wednesday. The advisors to the heads of state of Russia, Ukraine, France and Germany reaffirmed their commitment to upholding a ceasefire in Ukraine after holding in-depth talks in Paris.
The negotiations to defuse the crisis came as the US and NATO delivered written responses to Moscow's raft of security demands for the region.
A joint communication as the EU signals ceasefire with Russia
In a joint communiqué released after eight hours of talks in Paris, representatives of Russia, Ukraine, France and Germany supported an "unconditional compliance with the ceasefire… regardless of differences on other issues related to the implementation of the Minsk agreements".
The "Normandy Format" talks in Paris on Ukraine sent an "important signal" on Wednesday, Legendre said. The eight-hour talks "managed to agree on several points", including that the 2015 Minsk Agreement is still relevant to the outstanding issues and that a ceasefire in east Ukraine should be respected by all sides.
Paris peace talks fruitful
The Minsk agreement, signed in September 2014, was aimed at stopping the fighting in Ukraine but failed. However, the four countries that make up the so-called Normandy Format agreed that the accord formed the basis for any future resolution to the conflict.
All the major players were present at the meeting, apart from the United States. Russia was represented in Paris by the Kremlin's deputy chief of staff, Dmitry Kozak, and Ukraine by presidential adviser Andriy Yermak.
Also present were the advisers to President Emmanuel Macron and German Chancellor Olaf Scholz also taking part in the talks that began Wednesday morning.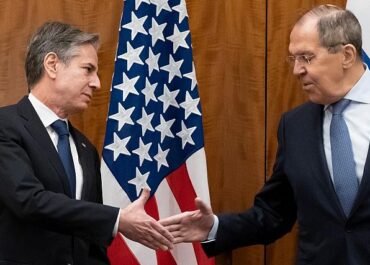 Many issues concerning a peace settlement for the conflict in eastern Ukraine remained unresolved at the end of the day, Kozak said at a news conference.
The US offer no concessions to Russian demands
US Secretary of State Antony Blinken has said Washington has made no concessions to the main Russian demands over Ukraine and NATO, in a written response delivered to Moscow on Wednesday.
Shortly earlier, Russia said it had received the United States' response to its demands including NATO's withdrawal from eastern Europe, an issue at the heart of the Ukrainian security crisis.
The foreign affairs ministry in Moscow said in a statement that the American ambassador to Russia, John Sullivan, handed in Washington's written reply to its demands concerning security to deputy foreign minister Alexander Grouchko.
………………………………………
Scholz tells Macron – diplomacy can fix the US-Ukraine-Russia crisis
Johnson hints German reliance on Russian gas could affect Ukraine response