German Chancellor Olaf Scholz tells Macron that diplomacy can fix the US-Ukraine and Russia standoff, with a united Europe.
The French President Emmanuel Macron said he would embrace talks with the Kremlin as a means to de-escalate the crisis. During the talks, Scholz told the EU president that the crisis between Russia and Ukraine and the United States should be avoided with diplomacy on both sides.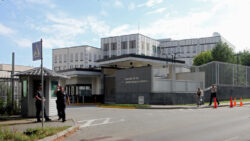 Ukraine-Russia crisis
The two leaders welcome diplomatic efforts to resolve the Ukraine-Russia crisis 'if the US can come back to the table'.
Last week talks had developed between Russia and the US, where Russia requested a list of demands, to which the United States has not replied.
Instead, the events since Sunday, have escalated with the US evacuating diplomatic staff from its Ukrainian embassy. Video
The United States is using this opportunity to keep troops on the ground in Ukraine, for the future, despite the diplomacy on Friday.
In an expose, WTX News featured that Russia had not increased its troops at the border, beyond what it does annually.
Scholz tells Macron – We must unite for peace
Scholz called on Russia to pursue "clear steps" to de-escalate tensions.

Scholz said a Russian threat to Ukraine's territorial integrity would bear "serious consequences" for Moscow.

"We have done a great deal to actively support economic development and democratic development in Ukraine," Scholz said.

President Macron insisted that the two countries are "united" in the need for de-escalation in Ukraine. And led with a remark for all EU nations – As the Rolling President of the EU – "If there is an attack, there will be retaliation and the price (for Russia) will be very high," Macron said.
France & US will 'sell weapons' to Ukraine
In addition, he defended how the German government's stance on the crisis, by not joining the other EU countries in sales of weapons to Ukraine. An opportunity to increase domestic arms sales and intelligence services, that the United States and France have used to sell arms to Ukraine.
An area of disagreement between the two allies revolves around weapons exports. France has expressed a willingness to provide additional arms to Ukraine, while Germany has blocked exports to Kyiv.
Scholz has previously said European states must consider the cost of sanctions towards Russia, and how that could affect their own economies. Germany, for example, is a major importer of Russian gas.
EU-Russian commercial ties plummeted by about a third soon after the annexation of the Ukrainian peninsula of Crimea and amid the EU sanctions imposed in response, but they have been recovering steadily since.
Representatives from Russia, Ukraine, Germany and France will meet in Paris for talks on Wednesday in what's known as the Normandy format, a development which was praised by Scholz.
……………………………………………………………
The fear-mongering by the media and the UK & US government – Exposed