Sue Gray report released, the PM's apology and the reaction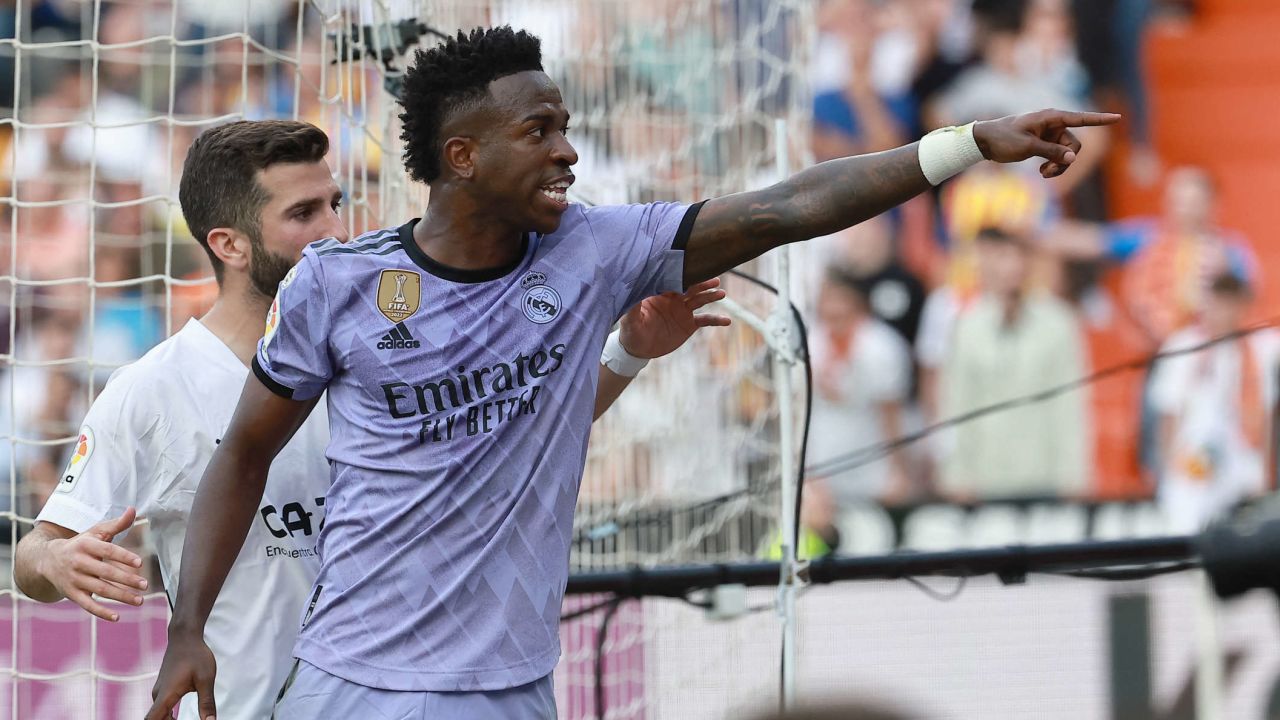 'La Liga belongs to racists' – Spanish newspapers finally react to Vinicius Jnr abuse Monday's Spanish newspapers brushed over the shocking racist abuse suffered by footballing star Vinicius Jnr during a Real Madrid game at Valencia in La Liga – Spain's top-flight footballing league. But following a mass outpouring of support for the Brazilian international, Spain's newspapers have finally given the story the front page coverage it deserves. 'Sorry for the Spaniards who do not agree,
Sue Gray report into rule-breaking parties in and around Downing Street during the pandemic has been published

She says many of the events "should not have been allowed to happen" and that staff who raised concerns were not treated with respect

Senior leadership at Downing St must bear responsibility for this culture, she adds

Boris Johnson tells the Commons he takes full responsibility for everything that happened on his watch but asks MPs to "move on"
Labour's Keir Starmer responds by saying the Gray report shows how No 10 treated the sacrifices of the public with contempt

WhatsApp messages reveal Martin Reynolds, a former top aide to the PM, was warned of "comms risks" around parties

He also suggested in a different message that officials had "got away with" a large event in the No 10 garden on 20 May

A gathering in the No 10 flat after it was announced Dominic Cummings would leave government was never fully investigated by Gray, report reveals
'Humbled'
France24 picks up on the PM's comment he was humbled and that he took full responsibility following the release of Sue Gray's report. The report did not specifically blame Johnson, but gave graphic details and included photographs from more than a dozen gatherings, some of which he attended.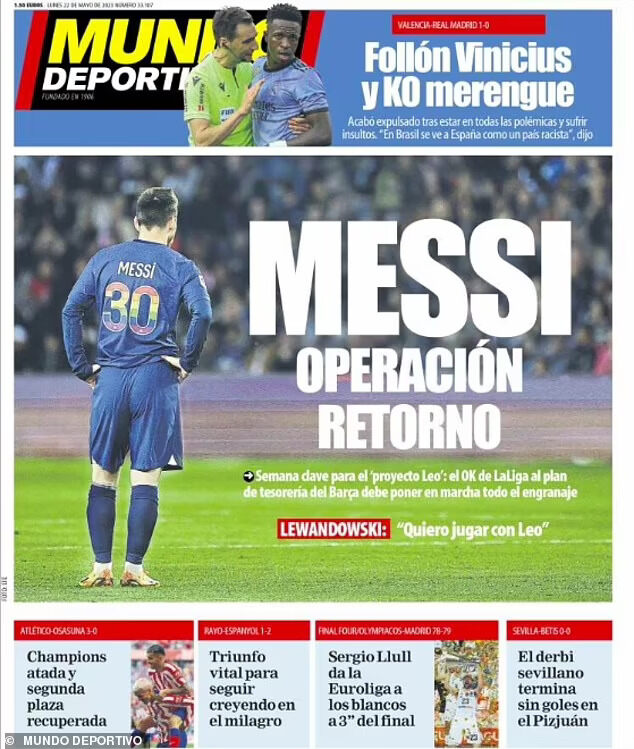 Mundo Deportivo – Messi operacion retorno Monday's edition of Mundo Deportivo led with Lionel Messi but did report on Sunday's incident – 'Vinicius mess,' stated
'Vomiting and partying until 4am'
The Guardian says Gray sets out in embarrassing detail how each event unfolded, including a leaving party on 18 June 2020 at which "one individual was sick" and "there was a minor altercation between two other individuals".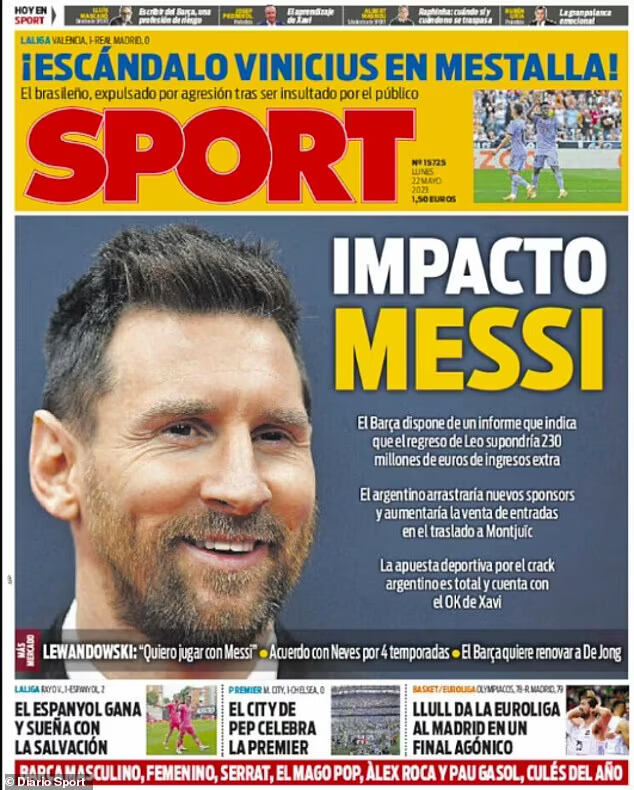 SPORT – Impacto Messi On Monday, SPORT focused solely on Lionel Messi's potential return to Barcelona from Paris Saint_Germain, but they did at least mention
'I didn't lie to parliament'
The Daily Mail says Mr Johnson also denied lying to Parliament about the breaches, arguing that leaving dos were needed to keep up 'morale' while people were 'working hard' and he was 'proud' of the efforts of staff.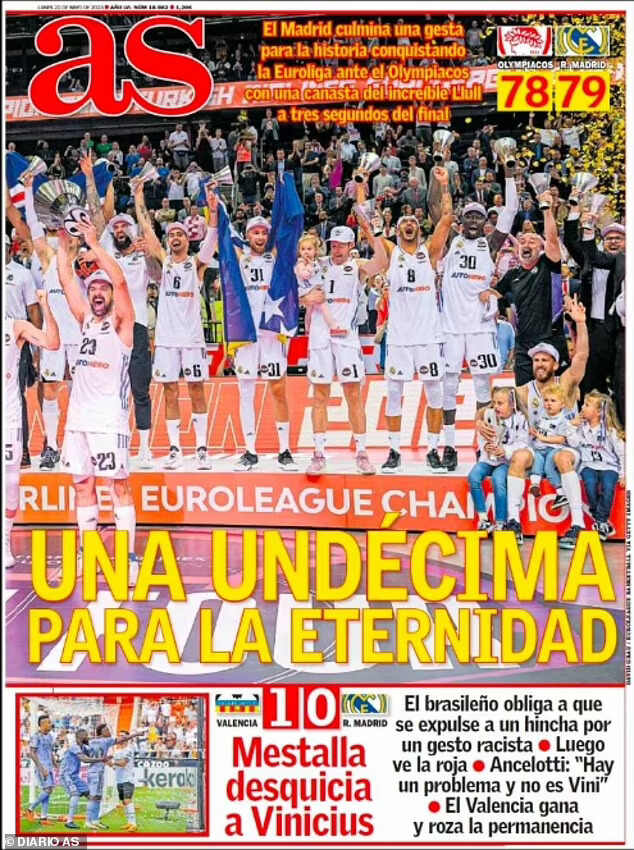 AS – Una Undecima para la eternidad Diario AS did mention the Vinicius drama on their front page but below the basketball Diario AS on
Texts reveal truth
The Daily Telegraph says a Downing Street chief boasted they had "got away with" partygate rulebreaking, Sue Gray's report has revealed, as she blamed senior leaders for failing to follow Covid rules.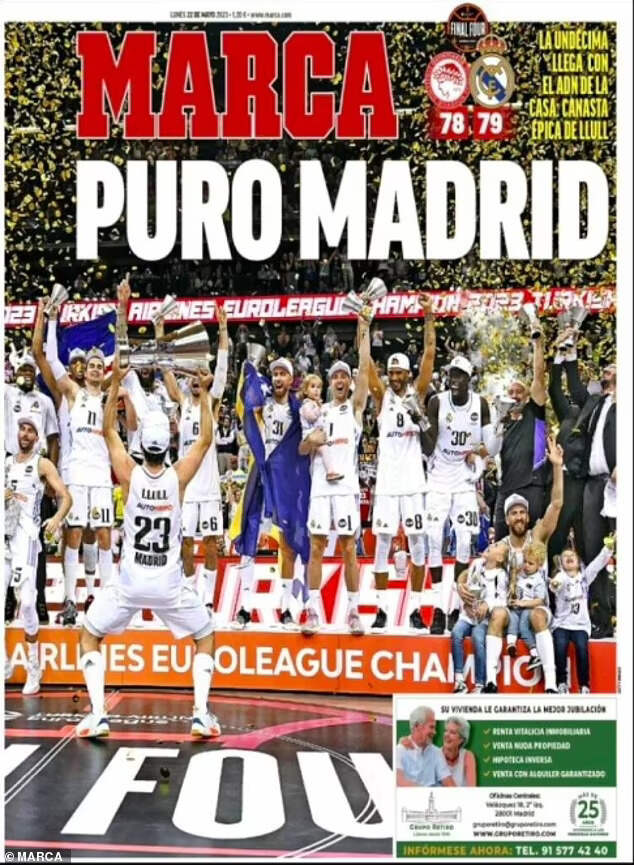 Marca – Puro Madrid Madrid-based Marca devoted their entire Monday front page to Real's dramatic 79-78 win over Olympiacos in the EuroLeague basketball final, with