Macron beats far-right Le Pen - vows to unite a divided France
Emmanuel Macron has won five more years as France's president. 
He beat out far-right candidate Marine Le Pen. 
He won by 58.55% to 41.45% – a bigger margin that what was expected. 
He is the first sitting president in 20 years to be re-elected.
Le Pen, 53, still secured the far right's highest share of the vote yet.
Macron's re-election has been widely welcomed by world leaders.
French election result: Macron defeats far-right Le Pen and vows to unite divided France
The results are in! Centrist Emmanuel Macron has won five more years as France's president after a convincing victory over rival, far-right Marine Le Pen, who still managed to secure the far-right's highest share of the vote yet. 
Marcon won by 58.55% to 41.45% – a far wider margin than what was expected. 
Macron told his supporters that he would be the "president for all". He is the first sitting president in 20 years to be re-elected. 
Le Pen still sees her loss as an overall victory as she still had a significant vote share. The ideas her National Rally represented had reached new heights, she told her supporters. But her far-right rival Eric Zemmour pointed out that she, like her father, had failed. "It's the eighth time the Le Pen name has been hit by defeat."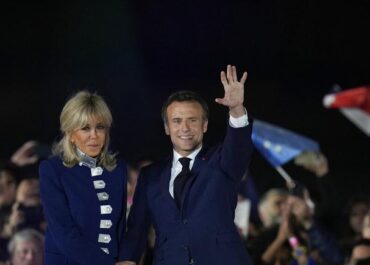 Marine Le Pen took over the party in 2011 – her father Jean-Marie Le Pen founded the party. 
The election saw Le Pen win more than 13 million votes on Sunday. Her main policies were tax cuts to tackle the cost of living crisis, banning the Muslim headscarf in public and a referendum on immigration controls. 
"An answer must be found to the anger and disagreements that led many of our compatriots to vote for the extreme right," Mr Macron said in his victory speech. "It will be my responsibility and that of those around me."
French presidential elections 2022 
The hotly-anticipated election saw the lowest turnout since 1969, as more than one in three voters did not vote for either candidate, and more than 3 million people cast spoilt or blank votes.  
The low turnout can be attributed to both the national holiday on the day of the vote and the apathy of voters who felt like neither candidate represented them. 
There have been several anti-Macron rallies in a number of cities, including Paris, Rennes, Toulouse and Nantes, that refused to accept the results. There has been violence recorded at some rallies – including police shooting dead two demonstrators.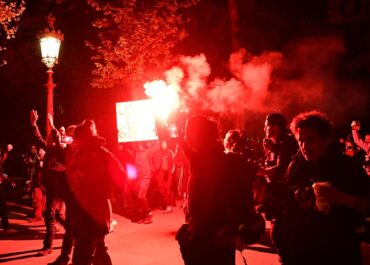 'Ocean of abstentions'
In his speech given at the foot of the Eiffel Tower, president Macron, 44, said his government would have to "answer their choice to refuse to choose." 
Far-Left leader Jean-Luc Mélenchon who lost to Le Pen by a small margin in the first round of voting gave a scathing review of both candidates. 
He says it's good that France has refused to trust Le Pen, Macron still had the worst election results than any other president. "He floats in an ocean of abstentions, and blank and spoiled ballots."
How the world reacted to the French election results 
Many European leaders were relieved by Macron's win who had feared a far-right candidate could usher in a series of anti-EU policies. 
German Chancellor Olaf Scholz sent his congratulations, singling out their mutual challenge in responding to Russia's invasion of Ukraine. US president Joe Biden said he looked forward to "close cooperation" including in supporting Ukraine. 
Macron was able to play a key diplomatic role in the war whilst Le Pen struggled to shake off accusations of ties to the Kremlin. 
Ukrainian President Zelensky called Macron a "true friend" and said he looked forward to a strong and united Europe. 
Prime Minister Boris Johnson also welcomed Macron's victory. 
Macron's victory speech 
The French president chose the Champs de Mars as the venue for his victory speech. He walked on stage with his wife Brigitte, who led a group of children, accompanied by the EU anthem Ode to Joy before promising to not leave anyone by "the wayside."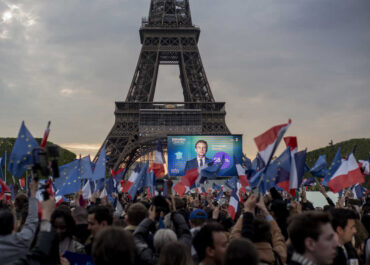 Macron told those who voted for him to keep the far-right out of power, that he would be indebted to them for years to come. 
The number one issue for the election campaign was the cost of living crisis that millions are facing in France. His critics accused Macron of arrogance and acting as a president of the rich. 
Key takeaways from 2022 presidential election
France is split between nationalist ideologies and detesting the idea of Far-right ideologies. The key takeaways from the 2022 presidential election for President Emmanuel Macron are at an all-time divided. He must unite and appease the Right as well as the left.
Although he won a clear victory in the high-stakes presidential election that once again pitted him against far-right challenger Marine Le Pen.
But he inherits a fragmented country, with Le Pen increasing her vote share compared with 2017. Macron acknowledged on Sunday that many French people voted for him only to block the far-right from governing the country and not in support of his programme.
"We must, my friends, be benevolent and respectful because our country is steeped in so much doubt and so much division," Macron said in his victory speech.
Reaction as Macron wins second term – But France is broken
How the media reacted to Macron's win
The Guardian decided to highlight Macron's pledge to unite the country after what the paper calls a decisive victory. Whilst the Daily Telegraph says Macron was close to tears as he told those who hadn't voted for him, that he owed them. For the Telegraph, they draw parallels with Boris Johnson's 2019 win when he thanks Labour voters who backed Tories. 
According to the Times, Le Pen believes her defeat is down to voters ganging up to block her. Le Pen has promised to take revenge in parliamentary elections in June, the paper adds. 
It's a breathtaking achievement, says French newspaper Le Figaro, who say he severely beat Le Pen and reduced the left to crumbs. Libération thanks voters, saying they showed political majority when refusing far-right populism. The paper says President Macron's most important task is to start healing the country's divisions. 
Le Monde, reports that after a campaign that it says was without enthusiasm, the hard part now begins.
Macron wins election but Le Pen's far right goes mainstream
Marine Le Pen wins an unprecedented 41.5 percent of the vote as far-right ideas become increasingly acceptable in France.
'I'm everyone's president!
Emmanuel Macron pledges to reach out to Marine Le Pen's angry supporters who vow to 'continue the fight' after sitting French president crushes his far-right rival 59% to 41% in election
Voter abstention at 28% in French presidential run-off, up 2.5% from 2017
Emmanuel Macron was elected to a second term as French president on Sunday with 58.2% of the vote, according to an estimate from the Ipsos polling institute. Voter abstention was put at 28%, the highest in 50 years.