PMQs ends – Parliament enters recess tomorrow
That's a wrap on this week's PMQs and the immigration minister's statement on plans to house migrants in military bases to cut down on the use of hotels.
It was an unusual day at the House of Commons, as the prime minister and Labour leader attended Baroness Betty Boothroyd's funeral in Cambridgeshire
Deputy Prime Minister Dominic Raab stood in for Rishi Sunak and deputy Labour leader Angela Rayner stood in for Sir Keir Starmer, and they clashed over rape convictions, anti-social behaviour and policing
Immigration Minister Robert Jenrick then announced the government's plans to repurpose barrack blocks on former military bases in Essex, Lincolnshire and East Sussex to house migrants
The announcement was met with disdain by shadow home secretary Yvette Cooper, who branded the plans an "admission of failure" by the Conservative government
There will be no PMQs next week, as parliament enters its Easter recess tomorrow – it will be on 17 April.
What is in the government's migrant bill?
Immigration Minister Robert Jenrick has confirmed the government's intention to house migrants in military bases.
It comes against the wider backdrop of the government's planned legislation on migration, which was brought forward after PM Rishi Sunak announced at the start of the year that one of his key priorities was to "stop the boats".
What comes in the bill?
People removed from the UK will be blocked from returning or seeking British citizenship in future
Migrants will not get bail or be able to seek judicial review for the first 28 days of detention
There will be a cap on the number of refugees the UK will settle through "safe and legal routes" – set annually by Parliament
A duty on the home secretary to detain and remove those arriving in the UK illegally, to Rwanda or a "safe" third country – this will take legal precedence over someone's right to claim asylum
Under-18s, those medically unfit to fly, or those at risk of serious harm in the country they are being removed to will be able to delay removal
PMQs recap – What happened in today's session?
We had PMQs at midday… in which deputy Labour leader Angela Rayner and justice secretary Dominic Raab stood in for their respective leaders, who were attending former speaker Baroness Boothroyd's funeral.
Rayner focused on… violence against women and girls, challenging the government on low rape convictions, and slow case progress. In a thinly veiled reference to his own bullying enquiry, she also asked Raab whether he wanted to see bullies brought to justice.
In response, Raab... said the conviction rate measured by the CPS in rape cases had gone up 69%; funding for victims had been quadrupled; and violence against women was one of the government's "top priorities". He also accused Rayner of being more interested in playing "political games" than the issues she was raising.
After that, we had a statement by Immigration Minister Robert Jenrick… who confirmed plans to house migrants arriving in the UK on small boats in accommodation such as repurposed barrack blocks on former military bases in Essex and Lincolnshire. There'll be another site in East Sussex, as well as one in Rishi Sunak's constituency.
Shadow home secretary Yvette Cooper… branded the plans an "admission of failure" by the government to tackle the migrant crisis. She said small boat crossings had increased and 40% fewer asylum cases were being decided due to the policies. She also accused the Home Office of behaving in such a panicked way that it had, she said, bid against itself for hotel contracts – driving prices up.
---
PMQs LIVE – Deputies face off as PM and Starmer absent for Boothroyd funeral
Today's PMQs will see deputy PM Dominic Raab face off with Labour's deputy Angela Rayner, as neither the PM or leader of the opposition are available.
What time is Prime Minister's Questions today?
As usual, PMQs starts at midday from the House of Commons.
It'll last around 30 minutes and can be watched via live stream on the UK Parliament YouTube channel.
Who will be at the dispatch box today?
Wednesday 29 March 2023 session will see the deputies step up to the dispatch boxes.
Deputy Prime Minister and Justice Secretary, Dominic Raab, will replace Prime Minister, Rishi Sunak, for PMQs.
And Labour's Deputy Leader, Angela Rayner, will take the place of party leader Sir Keir on the other side of the House.
Why is there no Rishi Sunak or Sir Keir Starmer at PMQs today?
Both the PM and Sir Keir are absent from Westminster as they are attending the funeral of the former speaker of the House of Commons Baroness Betty Boothroyd.
Lady Boothroyd, a former Labour MP, died last month at the age of 93.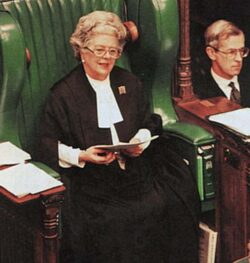 She became the first woman to be elected speaker of the House of Commons in April 1992, ending more than 700 years of parliamentary tradition.
She stayed in the role until October 2000 and remains the only woman to have held this position.
She was born in Dewsbury, West Yorkshire, to mill worker parents and was an MP for 27 years before taking the seat as a Speaker. She then went on two sit in the House of Lords for a further two decades.
Current Speaker, Sir Lindsay Hoyle, described Lady Boothroyd as "one of a kind" after her death while Mr Sunak said she was "a remarkable woman who dedicated her life to politics".
Mourners from across the political spectrum, including the Prime Minister and Sir Keir, are expected to gather to pay their respects at a funeral service near her home in Cambridgeshire.