PMQs Live – 18/05 –  'PM should sack chancellor' 
That's it for PMQs
This week's PMQs has finished, not many surprises for this week's grilling. Catch up here or REWATCH 
…………………….
Should people just work more hours to ease financial burden? 
Alex Sobel tells PM more and more people are coming to him to raise the issue of the cost of living. 
"Things just cost too much," he says, he then makes reference to comments by Tory Rachel Maclean who suggested people should just work more hours to ease the financial burden. 
He asks if the PM agrees with her or if he agrees with Labour who are calling for an emergency budget. 
PM says the govt has increased the living wage and put billions into supporting those on universal credit. He adds that low unemployment was giving the UK the foundation to rebuild the economy.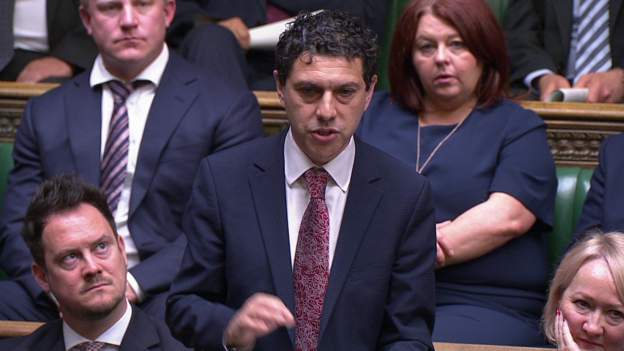 …………………….
Farming costs are rising, Lib Dem leader says
Leader of the Liberal Democrats, Sir Ed Davey, now asks a question about support for farmers.
British farmers are the best in the world, he says, adding they could play a big part in resolving the cost of living crisis.
But he says their costs are spiralling upwards. Instead of helping Britain's food producers, the government is slashing the subsidies they reply on, he says.
He asks the PM if he would be willing to meet with him and farmers to discuss helping them.
The PM says he does recognise the challenges that farmers are facing. He says his government is doing what it can, including championing the food export market. – (BBC)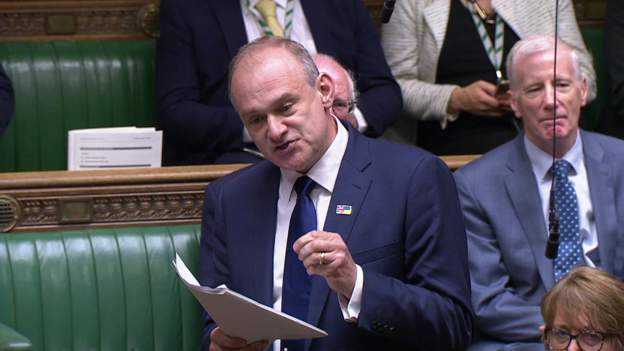 …………………….
PM should sack chancellor, says Blackford
Blackford goes on to say that the Tory response to the cost of living crisis has been "insults and inaction".
For weeks he has been briefing that it is the Treasury who is to blame for blocking support, he says, and says if that is the case it is time for the PM to sack the chancellor.
Johnson responds by saying that we have been through Covid and are facing a spike in energy prices due to the invasion of Ukraine.
"Everyone in the country knows we are not through this yet," he says, but adds the only reason the government can do more is because "we have a strong economy with massively high employment". – (BBC)
…………………….
Working from home 
Virendra Sharma says the Home Office takes six months to reply to correspondence. But Jacob Rees-Mogg claims there are too many civil servants, and he objects to them working from home.
PM says he thinks people will be more productive if they get back to work.
Dominic Cummings, Johnson's former chief adviser, had this to say on this subject earlier.
you can only understand the WFH farce if u understand this is an issue the 🛒 gets direct repeated calls from newspaper *proprietors* not just editors: 'It's killing us, tell us what you want in return but you must get commuters back' since April 2020

— Dominic Cummings (@Dominic2306) May 18, 2022
…………………….
The Guardian's Jessica Elgot points out that Boris Johnson's boasting about Crossrail was misplaced.
https://twitter.com/jessicaelgot/status/1526887129246228481?ref_src=twsrc%5Etfw%7Ctwcamp%5Etweetembed%7Ctwterm%5E1526887129246228481%7Ctwgr%5E%7Ctwcon%5Es1_&ref_url=https%3A%2F%2Fwww.theguardian.com%2Fpolitics%2Flive%2F2022%2Fmay%2F18%2Fpmqs-boris-johnson-cost-of-living-brexit-northern-ireland-tax-windfall-latest-updates%3FfilterKeyEvents%3Dfalsefilter-toggle
…………………….
Tories punish the poorest – SNP's Blackford
The SNP's Ian Blackford says people did not need to see this morning's official statistics – "they know it because they are living with it", he says.
He says that under the Tories the "poorest are punished the most".
Month after month a distracted Downing Street has failed to act, he says, asking if the PM supports his chancellor's "insulting statement" that acting now in the cost of living emergency would be silly.
Boris Johnson says he supports Rishi Sunak's work raising the living wage by a record amount, making sure people on Universal Credit pay a £1000 less in tax and creating a strong economic foundation. – (BBC) 
…………………….