Covid boosters: Over-65s called for jabs as hospital cases rise
The over-65s in England are being urged to get their COVID-19 vaccine booster as hospital cases begin to rise.
Those eligible can book via the NHS website, on the NHS app, or by calling 119.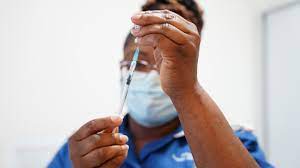 The booster rollout has been brought forward as a precaution against a highly mutated new Covid variant called BA.2.86.
Hospital admissions are up but intensive care admissions remain low.
The virus is mutating and changing, but the vaccines still provide good protection against getting very sick with Covid, say experts.
Is Covid still a threat?
Testing for Covid has scaled back so much that it's difficult to understand how many people in the UK might have it.
There has been a rise in hospital rates over recent weeks, which suggests the virus is likely spreading more widely among the population.
Hospital admissions testing positive for COVID-19 are now at the highest rate since the end of April, at 4.6 per 100,000 people.
Rates remain highest among people aged 85 and over, followed by 75 to 84-year-olds.
For most people, getting COVID-19 is less risky before the vaccine. Past infections and vaccines have trained the immune system to stop severe illnesses, even if it cannot stop infection.