BRIEF – 

ME

!

– DAILY

 NEWS BRIEFING
In today's briefing update, We start with the bombshell testimony in the United States in the President Trump impeachment probe, as top diplomat says he worked with Trump's personal lawyer in Ukraine at the "directions of the president." In Hong Kong, the university stand-off continues as the US prepares to pass a bill that is likely to set up a clash between Washington and Beijing. In Syria, an attack on a Syrian camp for displaced people has killed at least 16 civilians. Including women and children.
From the UK, Prince Andrew has announced he is to 'step back' from royal duties for the foreseeable future. It comes after a disastrous BBC interview in which he tried to explain his connections to Jeffery Epstein. And finally, the internet giant Google will be following Twitter's lead as it announced they are to crack down on political ads – putting pressure on Facebook to do the same. 
Finally, from the world of sport and entertainment; you may wish to also catch up on the latest from the Taylor Swift feud and Jose Mourinho is making promises to the Spurs supporters.
All this and more in today's news briefing – A daily roundup of all the news headlines that you need to know, summarised as part of WTX News Briefing.
…………………………………………………….
Gordon Sondland: 'Was there quid pro quo?… The answer is yes'
Aljazeera says in bombshell testimony, a top US diplomat told the impeachment inquiry that he worked with President Trump's personal lawyer on Ukraine at the "directions of the president", and that "a quid pro quo" with Kyiv did take place.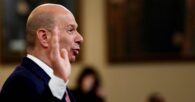 Gordon Sondland, the US ambassador to the EU said Trump never directly told him what he wanted Ukraine to investigate. But his lawyer's instructions "reflected President Trump's desires and requirements."
"I know that members of this committee have frequently framed these complicated issues in the form of a simple question: Was there a 'quid pro quo?' As I testified previously, with regard to the requested White House call and White House meeting, the answer is yes," Sondland said.
Read the full story on Aljazeera
…………………………………………………….
Hong Kong campus stalemate persists as US bill sets up China clash
France24 says protesters still inside the Hong Kong university held their ground on Thursday as the US passed a bill lauding the city's pro-democracy movement, setting up a likely clash between Washington and Beijing.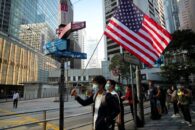 Beijing did not immediately respond to the passage in Washington of the Hong Kong Human Rights and Democracy Act, which voices strong support for the "democratic aspirations of the Hong Kong people."
But China had already threatened retaliation if the bill is signed into law by Trump. And state-run media warned the bill would not prevent Beijing from forcefully intervening to stop the "mess" gripping the financial hub. 
Read the full story on France24
…………………………………………………….
Attack on a Syrian camp for displaced people kills sixteen
CNN reports at least 16 civilians were killed when rockets struck a camp, housing people who had been displaced. The camp, set up in the village of Qah in Syria's Idlib province, was hit on Wednesday according to a volunteer rescue group.
The camp was targeted by a missile loaded with cluster munitions, and the attack "led to a huge fire that burned many tents and caused huge material damage", the group said. 
"I saw a lot of dead bodies, mostly children … I saw tents burning … most people, thousands, ran away [from] the camp after the strike," said one Syrian eyewitness. 
There has been no claim of responsibility for the attack. 
Read the full story on CNN
…………………………………………………….
Prince Andrew stepping back from royal duties
BBC News says Prince Andrew has announced he is stepping back from royal duties because the Jeffery Epstein scandal has become a "major disruption" to the Royal Family.
Andrew said he had asked the Queen for permission to withdraw for the "foreseeable future."And said he deeply sympathised with Epstein's victims and everyone who "wants some form of closure."
The duke has faced a growing backlash following a BBC interview about his friendship with the US billionaire paedophile, Jeffery Epstein. And companies associated with the prince, such as BT and Barclays, have joined universities and charities in distancing themselves from him.
Read the full story on BBC News
…………………………………………………….
Iran Protests – 106 killed to quell protests
WTX News reports on the story from Iran where Amnesty International almost shocked its Twitter followers when it stated that they believe at least 106 people have been killed during protests in Iran over a rise in government-set gasoline prices. All this from the price of petrol?
In fact, Amnesty added that it "believes that the real death toll may be much higher, with some reports suggesting as many as 200 have been killed." citing "credible reports".
Later the same day it emerged that in response to this the Iranian Government is adamant that these numbers are inflated and are being driven by the United States and Saudi Arabia. As propaganda via these humanitarian agencies.
And Iran's foreign ministry spokesman Abbas Mousavi slammed US Secretary of State Mike Pompeo for backing  protesters in Iran on Sunday, suggesting the US was promoting violence in the country, as the Foreign Minister slammed the tweet describing a tweet from Washington's top diplomat as "hypocritical."
Read the full news report from Persia on WTX News. 
…………………………………………………….
Google latest tech giant to crack down on political ads – pressure on Facebook grows
The Guardian says Google will no longer allow political advertisers to target voters based on their political affiliation, the company has announced. The move by Google will add pressure on Facebook to limit micro-targeting.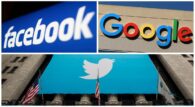 Google says it plans to "clarify" its ad policies around false claims to explicitly ban doctored video and images known as "deepfakes," misleading claims about the census, and "demonstrably false claims" that could undermine trust in elections or the democratic process. 
"Whether you're running for office or selling office furniture, we apply the same ad policies to everyone; there are no carve-outs," the Google Ads executive said. 
Read the full story on The Guardian
Inside an ugly industry: So … Was Taylor Swift really banned from playing her songs?
In Entertainment news the ongoing Taylor Swift/Scooter Braun/ Record label feud is certainly interesting albeit a little confusing. Last week, in a lengthy Twitter post, Taylor declared "I just don't know what else to do." And added, "I just want to be able to perform my own music."
So the question is, can Taylor really be banned from performing her hit songs?
Read the full article on WTX News as we investigate the story and try to make sense of what really is happening.
…………………………………………………….
Jose Mourinho: Tottenham's new manager says he will bring passion and happiness
In sports, from the world of premier league football, Jose Mourinho takes charge of Spurs after the shocking sacking of Mauricio Pochettino, as 'The Special One' promises to bring Tottenham's new manager says he will bring passion and happiness.
Former Chelsea and Manchester United boss Mourinho praised the quality of Spurs' squad and their "world-class" stadium and training ground.
"I couldn't be happier and look forward to the challenge," he said. Not everyone is convinced by Mourinho's appointment, but everyone feels he needs a good stint at the club with silverware to be among the best managers in the world again.
Read it all on the BBC Sport by clicking here
…………………………………………………….
FOLLOW US ON SOCIAL MEDIA AND SHARE WTX NEWS  WITH YOUR FRIENDS AND FAMILY:
Facebook – Please like our page
Twitter  – Twitter updates available in English and Arabic. Please follow us and we would love to hear from you
Instagram – Follow our pages in English and Arabic
Leave a comment