Putin orders Russian military to act as 'peacekeepers' in Ukraine regions
President Vladimir Putin orders troops into Ukraine to act as peacekeepers in two breakaway regions of Ukraine, just hours after he recognised them as independent states.
Putin's recognition of the separatist republics as independent effectively buries a fragile 2015 peace plan for the conflict and opens the door for direct Russian military involvement.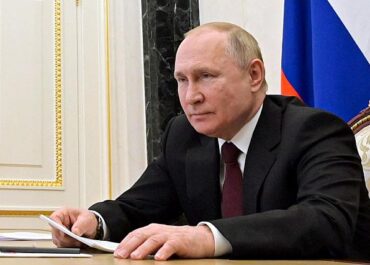 In two official decrees, Putin instructed the defence ministry to assume "the function of peacekeeping" in the Donetsk and Lugansk regions.
The EU and NATO reactions
Western powers reacted swiftly to Monday's decision by Russian President Vladimir Putin to recognise the independence of the two self-proclaimed republics in eastern Ukraine, condemning Moscow and calling for sanctions.
The Western alliance has reacted swiftly because Russia has effectively given a green light to independence for Donetsk and Lugansk, who were looking for support to be recognised as independent states.
The West see this as a 'false flag operation' which they see as provocative to Ukraine and as a pretext for war.
Lugansk regions & Donetsk celebrate
Celebrations started in Donetsk last night following Putin's announcement. and people took to the streets lighting fireworks and celebrating their independence from Ukraine, last night.
Putin orders troops into Ukraine as peacekeepers, the people of the Lugansk region have been sharing videos of their celebrations on Instagram, which have been blocked in EU states.
US to 'assess' Russia moves after Putin orders troops into Ukraine
The United States took a wait-and-see attitude Monday to President Vladimir Putin's ordering of Russian troops to deploy inside separatist areas of Ukraine, saying that talks are possible "until the tanks roll."
"We are going to assess what Russia's done," a senior US official told reporters, saying that Russian forces had been covertly in the separatist areas for eight years.
The United States and allies including France have requested an emergency meeting of the UN Security Council later Monday on Russia's recognition of separatist territories in Ukraine as independent, according to diplomats.
………………………………………………………….
🚨 Celebrations started in Donetsk after Russia officially recognized it as an independent Republic.

(video @OsintUpdates)#GBNews #LatestNews #newsevery #NEWS_STORY #UkraineRussiaCrisis #UkraineInvasion #Putin #Biden #PutinatWar #Donetsk pic.twitter.com/cykSq3Ee81

— WTX News UK (@WtxNews) February 21, 2022