US president Joe Biden signs an executive order to deny Russia – "Time for Next Steps"
Time for Next Steps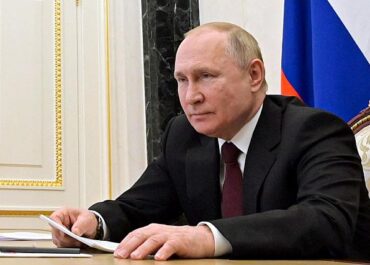 "I have signed an Executive Order to deny Russia the chance to profit from its blatant violations of international law. We are continuing to closely consult with Allies and partners, including Ukraine, on the ext Steps."
The American sanctions will prohibit new investment, trade and financing in the two separatist regions of Ukraine recognized by Putin – the so-called Donetsk and Luhansk People's Republics.
This follows the announcement by Russian President Vladimir Putin ordered forces into Ukraine to "maintain peace" in separatist regions of eastern Ukraine, hours after the Kremlin recognized the area's independence.
The announcement raised fears that an invasion was imminent, if not already underway.
The European Union's top officials said the bloc will impose more sanctions against those involved in Russia's recognition of two separatist regions of eastern Ukraine amid fears of a potential Russian invasion of the country.
In a joint statement on Monday evening, EU Commission President Ursula von der Leyen and Council President Charles Michel said the recognition was "a blatant violation of international law."
Ukrainians react to Putin's statement
Ukrainians in the capital Kyiv, meanwhile, bristled at Putin's Monday evening announcement.
"Why should Russia recognize (the rebel-held regions)? If neighbors come to you and say, 'This room will be ours,' would you care about their opinion or not? It's your flat, and it will be always your flat,"

"Let them recognize whatever they want. But in my view, it can also provoke a war, because normal people will fight for their country."

Said Maria Levchyshchyna, a 48-year-old painter in the Ukrainian capital.
Potus is ready for war
I have signed an Executive Order to deny Russia the chance to profit from its blatant violations of international law. We are continuing to closely consult with Allies and partners, including Ukraine, on next steps. pic.twitter.com/ZS81ivAPgs

— President Biden (@POTUS) February 22, 2022
………………………………………………………………..