China's Xi to meet Putin in Moscow in first state visit since Ukraine invasion
Officials have announced that President Xi Jinping of China will visit Moscow next week to hold talks with Russian President Vladimir Putin.
The Kremlin has stated that the two leaders will discuss a "comprehensive partnership and strategic cooperation".
The visit takes place as China, an ally of Russia, has presented suggestions to put an end to the conflict in Ukraine, which the West has not received warmly.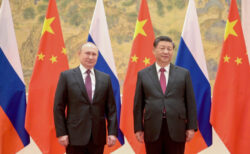 Western nations have cautioned China against providing Moscow with weapons.
According to Beijing's foreign ministry, Mr Xi will be in Russia from 20th to 22nd March, having been invited by Mr Putin.
Several "important bilateral documents" are anticipated to be signed during the meeting, with the goal of deepening bilateral trust, according to ministry spokesperson Wang Wenbin.
---