Met Police expected to be heavily criticised for being racist, sexist and homophobic in new report
The forthcoming report by Baroness Casey is expected to heavily criticise the Metropolitan Police for being racist, sexist, and homophobic. The review, which was commissioned to examine the force's culture and standards after the murder of Sarah Everard by a serving officer, Wayne Couzens, is due to be published on Tuesday.
The BBC says it understands that the report will strongly condemn the Met's tolerance of wrongdoing and its prioritisation of protecting its own staff over the public.
The draft report's findings are said to be "very serious" and "bad reading," according to a government source.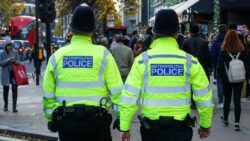 Home Secretary Suella Braverman has discussed the report's findings with the Met Commissioner, Sir Mark Rowley, after receiving the final draft.
The force is also under investigation for how it allowed Couzens and serial rapist officer David Carrick to become policemen without being identified as threats to women.
The final report is expected to criticise the force's culture, recruitment, training, and leadership and contains "extremely bad" findings.
The Met Police has acknowledged the report's importance in shaping their efforts to deliver "More Trust, Less Crime and High Standards," while the Home Office has emphasised the need to raise policing standards to regain public trust and confidence.
---