President Biden support of Israel causes a rift in the Democratic party, 113 Palestinians dead
President Biden has faced backlash for his pro-Israel stance and has been accused of turning a blind eye to Israeli aggression against Palestinians. 
The storming of the Al Aqsa mosque compound and the deadly Israeli air and ground attacks have left more than 100 Palestinians dead in the growing escalation of violence in the region. 
The progressives within the Democratic party are becoming vocal in their criticism of Israel – a country that enjoys support from all parties in the US. 
25 Democratic members of Congress have urged the US government to "exert diplomatic pressure" on Israel to stop its violent attacks on Palestinians as well as the forced displacement of Palestinian residents in East Jerusalem. 
In the letter, addressed to Secretary of State Antony Blinken, they say, more than 5,000 Palestinian homes in East Jerusalem have been demolished by Israel within the last 50 years. 
Hence, the pattern of forced displacement, the letter argues, is "in clear violation" of international laws.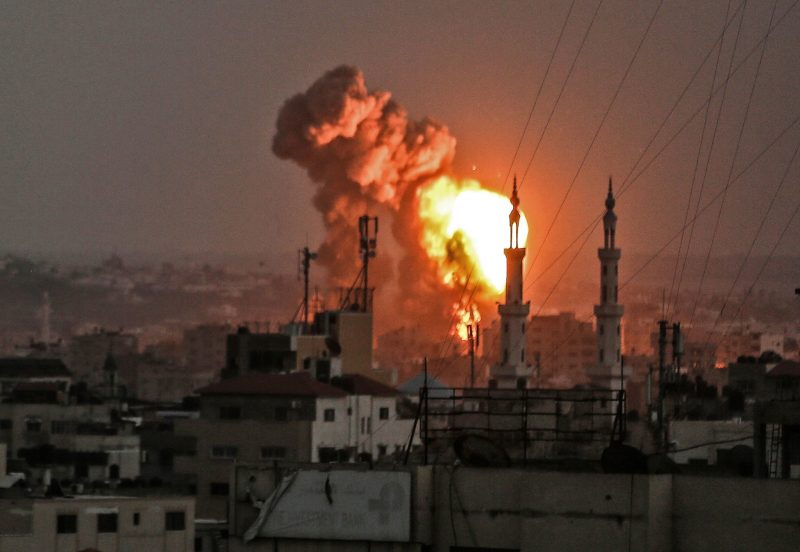 Last week, tensions began to rise after an Israeli court ordered the eviction of Palestinian residents from Sheikh Jarrah neighbourhood f East Jerusalem. The court's decision sparked protests. Palestinians say the eviction is part of Israel's ethnic cleansing agenda with the intention to erase Palestinians in Jerusalem. 
The protests were quickly met with a violent crackdown by Israeli armed forces, who attacks Palestinian civilians and worshippers at the Al Aqsa Mosque (Islam's third holiest site). 
Israeli airstrikes have killed at least 113 people, including women and at least 17 children, more than 388 people have been injured according to recent reports. 
As the violence continues and the fear of a "full-scale" war grows, Democrats are asking Blinken to send the "strongest possible diplomatic message to Israel" to end forced evictions of Palestinians and the establishment of illegal settlements. 
"East Jerusalem is part of the West Bank, and, under international law, Israel is in military occupation of this territory," said the letter.
President Biden 'siding oppressive' 
President Biden expressed his unconditional support for the Israeli aggression, while completely ignoring the deadly Israeli airstrikes destroying infrastructure in Gaza, including residential buildings. Biden is yet to ask Israel to stop killing Palestinian civilians. 
In a phone call with President Benjamin Netanyahu, Biden repeated Tel Aviv's official line, saying Israel has a "right to defend itself". 
Whilst the Biden administration is unwavering in its support of Israel, within the party there seems to be a shift – fueled by the Israeli government's right-wing turn. 
Congresswomen Ilhan Omar and Alexandria Ocasio-Cortez have publicly criticised Joe Biden's soft approach toward Israel.
Ilhan Omar said: "no mention of Sheikh Jarrah, no mention of the al-Aqsa raid". She claims President Biden doesn't prioritise Palestinians' human rights violence and accused the president of "siding with an oppressive occupation". 
Ocasio-Cortez said, "blanket statements like these with little context or acknowledgement of what precipitated this cycle of violence.. dehumanize Palestinians". 
"This is not neutral language. It takes a side – the side of occupation", she said. 
Bernie Sanders said the United States must "speak out strongly against the violence by government-allied Israeli extremists."
Israel Gaza conflict
Daily News Briefing: Israel strikes Gaza from ground and air
Israel-Gaza: Celebrities take a stance – who 'got it wrong?'
Israel-Gaza: UN fears "full-scale war" as violence escalates
……………………
FOLLOW US ON SOCIAL MEDIA AND SHARE WTX NEWS WITH YOUR FRIENDS AND FAMILY:
Facebook – Please like our page
Twitter – Twitter updates available in English and Arabic. Please follow us and we would love to hear from you
Instagram – Follow our pages in English and Arabic
Leave a comment