The quiet commute Tuesday morning on the N train turned Brooklyn into a war zone, said the New York City Mayor Eric Adams said Tuesday evening.
"We saw a quiet Tuesday morning turn an N train into a war zone as a smoke bomb was detonated and multiple shots rang out," Adams said during a briefing.
He praised the MTA, passengers and first responders for acting quickly and cooperatively to save lives.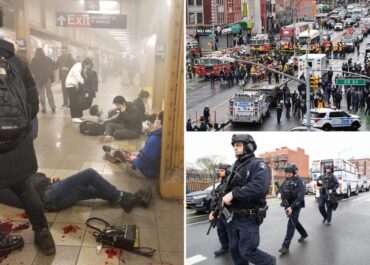 Live from Brooklyn New York from the Subway shooting – Live video
An eyewitness from NYC shares his horror at the shooting
Brooklyn into a war zone
"Thanks to the quick thinking of the MTA crew and the bravery and cooperation of passengers, lives were saved," he added.
The bravery of local people who were local residents of colour saved lives. Referencing the smoke from gas canisters and shootings that turned Brooklyn into a war zone.
Adams again blamed the scourge of gun violence in New York City and across the country, saying he would "continue to dam the rivers that feed the sea of violence."
"It's going to take the entire nation to speak out and push back against the cult of death that has taken hold in this nation," Adams said. "A cult that allows innocence to be sacrificed on a daily basis."
…………………………………………………….
N train into a war zone – The facts so far…
The shooting: Ten people were shot at a Brooklyn subway station this morning, officials said. At least 29 people were treated at nearby hospitals for injuries, none of which were life-threatening, according to hospital representatives.
The suspect: Authorities said the suspect, who remains at large, put on a gas mask, deployed a gas canister and then began shooting. The shooter's motive is still unknown, officials say.
The investigation: The NYPD says they are currently seeking a person of interest in the shooting who they believe rented the U-Haul van whose keys were found at the scene.
Police are investigating whether he has any connection to the shooting and have not named him as a suspect.
Multiple people shot in NY and 13 hospitalised in Brooklyn subway station

Watch live:https://t.co/zVWVtq9nn0#usanews #newsoftheday #Brooklyn #NewYork #SunsetPark #NYPD #NewYorkCity pic.twitter.com/3akmqdZ9Wd

— USA NEWS 🇺🇸 (@wtxnewsusa) April 12, 2022