HOWAY THE LASSES: women-only human rights group issues red card to KSA (Kingdom of Saudi Arabia) North East author and journalist Yvonne Ridley issued a special mother's day plea to Newcastle United fans at the weekend.
The lifelong human rights campaigner has been urging the Saudi's to search their consciences, Consett-born Ridley, travelled from her home in the Scottish Borders near Jedburgh, to lay flowers at St James' Park football ground for Saudi mother-of-two Salma al Shehab.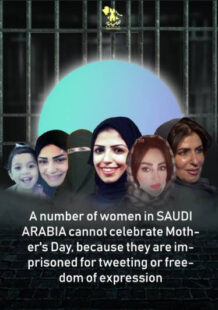 Human rights group issues red card to KSA
The doctoral student at Leeds University was arrested and sentenced last August to 34 years in prison for running a Twitter account critical of the Saudi regime and for following and retweeting Saudi dissidents and activists.
Yvonne said: "I want to remind fans that while the Saudi Public Investment Fund has bought our club they can not buy our silence.
"We need to start using the terraces as our platform to remind the Saudi regime of its responsibilities when it comes to human rights.
Mother's Day presents
"Mother's Day presents a great opportunity to do this because there are more than a dozen wives, mothers, daughters, and sisters who have been imprisoned by the thin-skinned regime's rulers who lash out at the mildest forms of criticism."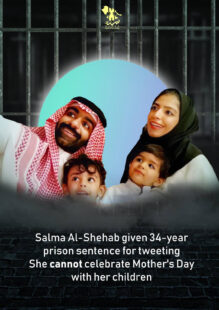 Just recently she formed the protest group (MWASS) Magpie Women Against Saudi Sportswashing before linking up with SANAD, a human rights group that defends political and civil rights in the Kingdom and monitors human rights violations, and exposes them to public opinion and to human rights and international organizations.
Saudi Sportswashing
"Mwass Lasses has a few high-profile protests up our sleeves to challenge the de facto Saudi leader Crown Prince Muhammed bin Salman over human rights. "He has targeted Twitter users in his campaign of repression, while simultaneously controlling a major indirect stake in Newcastle United FC through Saudi's sovereign wealth fund, the Public Investment Fund (PIF).
"To those who say politics and sports don't mix, MWASS strongly disagrees. The terraces are just the place for football fans with a political conscience to express their feelings towards regimes that routinely abuse human rights."
Yvonne Ridley seeks the Magpies supporters to push the Crown Prince
Ridley, esteemed journalist and the author of The Caledonians published in 2020, added: "The Crown Prince has it in his gift to release the women prisoners and he could do it on a meaningful day like Mother's Day.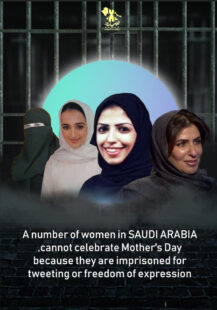 "There is a great deal of love and respect between ordinary Saudi people who've adopted NUFC as their national team and the Magpie fans.
"I've been a lifelong fan of the Mags since I was old enough to stand on the terraces. They were bleak years so I can understand to ecstatic response to the club's magnificent performances thanks to Saudi money.
"We've gone from Sleeping Giant to top performers overnight and it is intoxicating for fans but I would urge them not to sell their souls.
"They should use the terraces as their platform to voice disapproval over the unsavoury activities of this regime," added Ridley who rose to prominence in 2001 when she was captured by the ruling Taliban regime in Afghanistan.
Ridley, a lifelong women's rights campaigner, is also the national women's convenor for the Alba Political Party in Scotland.
………………………