What happens if Liz Truss resigns today? 
Prime Minister Liz Truss has had the worst start to her premiership than any other PM. And the last 48 hours in Westminster have been chaos. 
There are rumours that the Liz Truss era is fast approaching its end, and many are plotting to oust her from No 10. 
She has only been in the job since September 5.
In that time, the Queen died, Liz Truss crashed the economy, her mini-budget has been ripped up and replaced with policies that she campaigned against during the leadership race, she fired her chancellor and replaced him with a Rishi Sunak supporter, her home secretary resigned and offered up a scathing letter and there were reports of bullying from her cabinet at last night's Commons vote. 
Chancellor Kwasi Kwarteng was fired after the mini-budget spooked the financial markets. Many argue that Truss should have gone with him as it was her financial vision as his. 
READ – PM in crisis: Suella Braverman quits and voting chaos
How does a Tory leadership election work? 
According to the 1922 Committee, an incumbent Tory PM cannot face a confidence vote within their first year on the job. But there is speculation that this rule could be changed. 
After that 12-month period, to trigger a contest vote, 15 per cent of Tory MPs would have to submit letters of no confidence to 1922 Committee chair, Sir Graham Brady. If at least 50 per cent of MPs then vote no-confidence in their leader, a leadership election begins. 
Tory MPs who want to be in the race for the top job will then seek nominations from their colleagues. There will be a series of ballots which will see all the candidates whittled down to just two. The rank and file of the Conservative party will then choose the winner.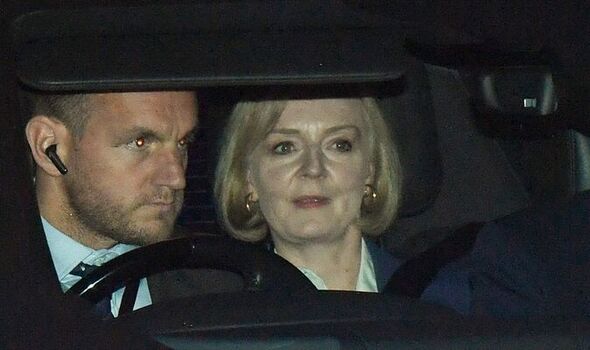 Boris Johnson won the general election in 2019 and although he was ousted and replaced with Truss there is no requirement for the Conservative party to call a general election. 
Some MPs are understood to want to avoid putting the vote back to the ordinary members of the party. The Telegraph says some MPs want the parliamentary party to choose Truss's successor, though others warn that this would require a complicated rule change. 
This aligns with newspaper reports that say the Tories want to put Rishi Sunak and Penny Mordaunt in office on a "golden ticket" type deal. 
READ – Can Liz Truss save her job?
What happens if Liz Truss resigns today? 
If Liz Truss resigns as Conservative leader and Prime Minister today, a leadership contest would begin. 
Those wanting to get into No 10 would begin trying to get support for their campaign. 
However, it is possible that the Tory parliamentary party could rally around a single candidate for the leadership. This would perhaps be seen as a better option as it will avoid time-wasting. 
If Truss does not resign and attempts to cling on to power against the will of MPs and peers, the 1922 Committee could and would likely change the rules to allow an early challenge to her (changing the 12-month rule). This would likely see her removal from both leadership of the party and as prime minister. 
Can we have a general election?
Labour and Liberal Democrats are amongst those calling for an early general election. But the government is not legally obliged to hold another general election before January 2025 – surely to the delight of Conservatives as the latest opinion polls suggest the Tories would lose most of their seats.
El Niño planet-warming weather phase has begun
The Pacific Ocean has entered into an El Niño phase, a natural weather phenomenon that is likely to exacerbate global warming caused by climate change. US scientists have confirmed the onset of El Niño and predict that it will make 2024 the hottest year on record, potentially pushing the world past the critical 1.5°C warming threshold.
The effects of El Niño will also impact global weather patterns, potentially leading to drought conditions in Australia, increased rainfall in the southern United States, and a weakening of India's monsoon season. This El Niño event is expected to persist until the following spring, after which its impacts will gradually diminish.
Scientists have been observing signs of an emerging El Niño in the Pacific Ocean for several months, and they anticipate it reaching its peak intensity by the end of this year. Adam Scaife, the head of long-range predictions at the UK Met Office, stated that the likelihood of a new global temperature record in 2024 is high if the El Niño turns out to be significant.