Ukraine close to EU candidate status could be granted as early as next month, with a roadmap to full membership but with conditions, to appease Russia.
This announcement follows a roundtable meeting with French / EU President Emmanuel Macron, German Chancellor Olaf Scholz and Italian Prime Minister Mario Draghi affirmed on Thursday during a visit to Kyiv.
Ukraine close to EU candidate status
Granting the status to Ukraine is "a strong, quick, expected gesture of hope and clarity that we want to send to Ukraine and its people," the French leader said during a joint press conference following a meeting with the Ukrainian President Volodymyr Zelenskyy.
He stressed however that the status would be accompanied by a "roadmap" that would include "conditions".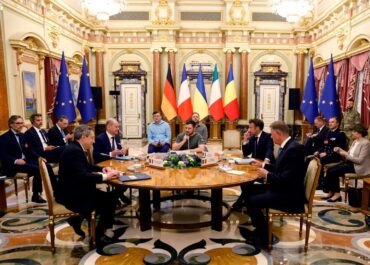 EU leaders travelled by train to Kyiv
The leaders arrived in Kyiv after a 10-hour train journey from south-east Poland for their first visit to the war-torn country – a delay that had drawn criticism at home and in eastern EU member states.
German Chancellor Olaf Scholz, who has been criticised for the lack of German arms deliveries to Ukraine, had said the visit was "to show our solidarity" and to
"ensure that the aid we organise, financial, humanitarian, but also when it comes to weapons, will continue (…) as long as it is necessary for the fight for Ukraine's independence".
The French president used the opportunity to defend his comments against any "ambiguity" in his support for Kyiv, having been heavily criticised for saying that Russia should not be "humiliated".
He said Ukraine must be able to resist and prevail against the Russian army.
"France has been at Ukraine's side since day one (…) we stand by the Ukrainians without ambiguity," he said.
The EU leaders travelled by train to Kyiv to have long private discussions on a strategy for a ceasefire.
EU leaders push for a ceasefire
In a joint phone call with President Putin, EU Leaders push for a ceasefire. During the joint phone call they held with Putin in late May they stressed that "any solution to the war must be negotiated between Moscow and Kyiv, respecting the sovereignty and territorial integrity of Ukraine," according to a read-out from the Elysée.
They renewed calls for a ceasefire and "insisted" to their Russian counterpart "on the urgency of lifting the blockade of Odesa in order to allow the export of Ukrainian cereals via the Black Sea and to avoid a world food crisis."
Will Ukraine get the membership?
The politics behind granting Ukraine EU candidate status does heavily depend on how the pursuit of peace turns out with Russia. Although non of the leaders will outright say this, they are using the EU membership as a carrot for the Ukrainians to make concessions.
According to EU News expert political analysts in Ukraine, It seems apparent that as a ceasefire comes into place the reality of Ukraine being close to EU candidate status will be rubber-stamped.
Throughout the negotiations, President Zelenskys body language and tone was deflated, missing his usual energy, perhaps at the sounds of French, Italian and German voices suggesting a ceasefire, on current grounds.
Coincidently as EU leaders push for a ceasefire a point worth noting, the three countries of Italy, Germany and France are the most reliant on Russian energy in the EU.
……………………………