Chancellor Jeremy Hunt unveiled the UK Spring Budget 2023 
The UK will now not enter a technical recession this year, say independent forecasters for the Office for Budget Responsibility (OBR).
Inflation will more than halve a reduce to 2.9% by the end of the year, the OBR expects 
---
The UK Spring Budget 2023 – the newspaper react  
The highly-anticipated Spring Budget – the first of this year, and the first under Chancellor Jeremy Hunt, was released on Wednesday. It is marked as significant due to the last Budget released – under then-PM Liz Truss, spooked the markets, caused the pound to crash and led to an unprecedented intervention from the Bank of England. The disastrous mini-Budget under Truss led to the sacking of then Chancellor Kwasi Kwarteng and started the downfall of Liz Truss's premiership. 
A lot of details in the Budget had already been leaked to various newspapers ahead of the official release, leading to few surprises.
The UK newspapers had a varied reaction to the Budget – with some seeing it as a return to serious politics, and stability that the current Conservative party and government have been craving. The papers report on Britain getting back on track and see it as 'upbeat.'
Other publications view it as a Budget that only benefits the wealthiest people in the country and argues it fails to help striking public sector workers – who are looking for a pay rise in line with inflation. 
Just for the rich 
One of the criticisms to have come from the Spring Budget is that is only benefits the wealthiest people in the country – and that's certainly the Mirror's opinion, who argue that there was no relief for public sector workers in need of a pay rise. Whilst the Guardian strikes a similar tone, highlighting the Budget's significant pension giveaway to the wealthiest 1%, although living standards are projected to fall significantly. In the paper's analysis, Larry Elliot says that despite the chancellor's "bullish performance", living standards are on course for their biggest two-year fall since the 1950s.
Britain 'back on track'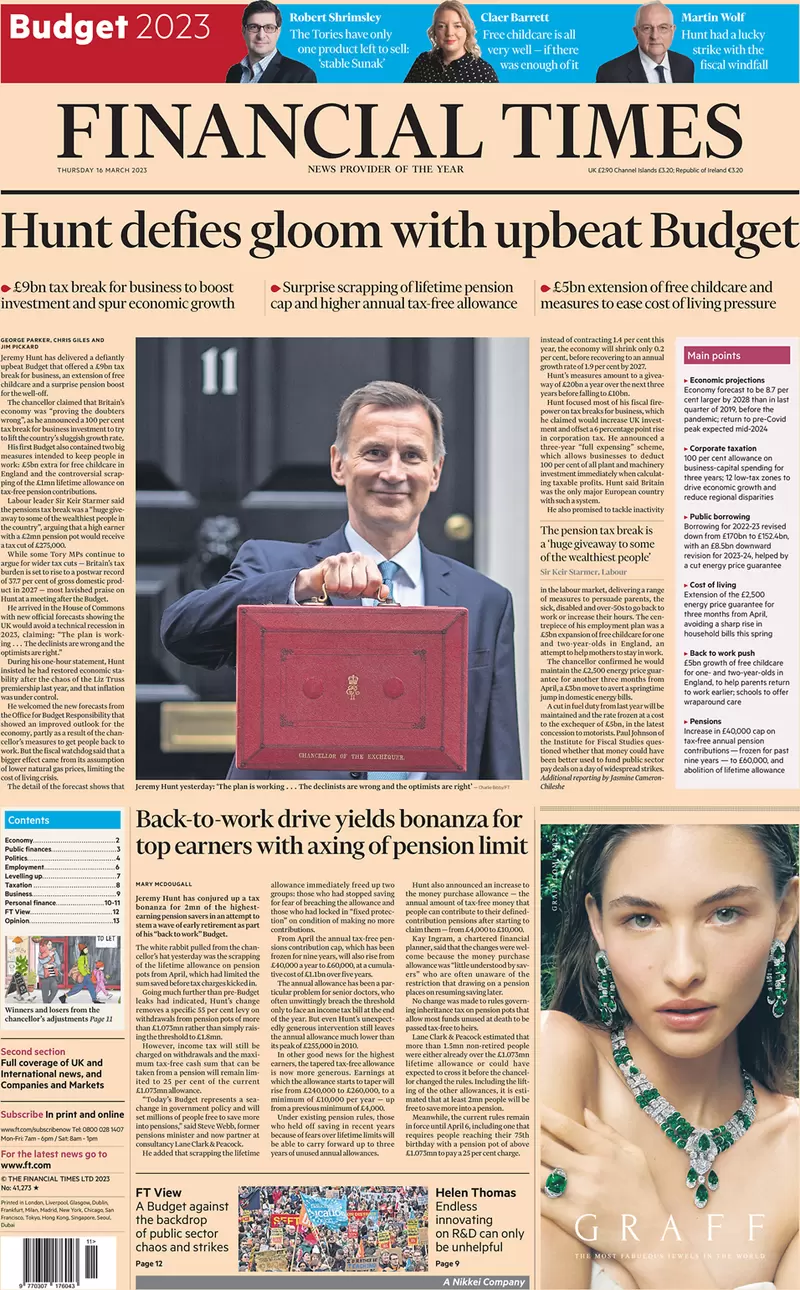 For some of the newspapers, the Budget was a welcomed relief – a return to sensible politics for a party that's been embroiled in political scandals in recent months.
Chancellor Hunt's performance was praised by Mail, but they used their front page to urge him to reduce the tax burden quickly, whilst the Sun celebrated the Budget's freeze on fuel duty. The Financial Times characterised it as "defiantly upbeat" and focused on tax breaks for businesses, offering a tax bonanza for high-earning pension savers.
The Daily Express described Mr Hunt as "resolute" and promising a brighter future for Britain, particularly in terms of childcare expansion to encourage parents back to work.