Turkey's rescue teams are racing against time for the search for survivors. Greece and Turkey Earthquake Rescue teams are in full swing. In the Turkish port city of Izmir are hunting through the rubble of collapsed buildings for survivors of Friday's powerful earthquake. The powerful quake struck Turkey's Aegean coast and north of Greek island of Samos on Friday, killing at least 27 people.
The death toll from Greece and Turkey earthquake, which struck the Greek island of Samos, has risen to 27, with over 800 injured. But local experts are expecting the death toll to rise significantly in the next few days as rescue teams work their way through the rubble.
The Search for survivors
Delicate operations to pull people from the rubble in Izmir are taking place as hundreds of aftershocks hit the area. Rescue teams have ploughed through concrete blocks and the debris of eight collapsed buildings on Saturday in search of survivors of a powerful earthquake.
The quake was followed by more than 400 aftershocks, according to Turkey's Disaster and Emergency Management Presidency, or AFAD.
Early on Saturday, onlookers cheered as rescuers lifted a teenager out of the rubble of a devastating an eight-storey apartment building. Any hope in the search for survivors is anxiously received by onlookers, who stayed throughout the night, helping in any way they could.
Work continued through the night to search for survivors in 20 buildings that were destroyed as a result of the earthquake.
Officials said search and rescue operations had been completed in eight buildings, while operations continued in nine other locations.
Some 100 survivors have been pulled out alive from the rubble so far, Turkey's Environment and Urbanisation Minister Murat Kurum told reporters.
Greece & Turkey Earthquake and a Mini Tsunami
Much of the damage in Turkey occurred in and around the Aegean resort city of Izmir, which has three million residents and is filled with high-rise apartment blocks. It was unclear how many people were trapped in the rubble.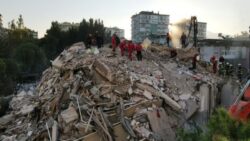 The quake also caused a mini-tsunami on the Aegean island of Samos and a sea surge that turned streets into rushing rivers in one town on Turkey's west coast.
Turkish officials confirmed 24 dead and nearly 800 injured after the quake hit the coastal province of Izmir.
Authorities in central Izmir have set up a tent area to house about 2,000 people overnight, amid fears that more buildings could collapse.
Nearly 4,000 rescue workers, 475 vehicles and 20 sniffer dogs have been deployed, Turkey's state-run Anadolu news agency reports.
But their work has been hampered by nearly 400 aftershocks, according to Turkey's national disaster agency AFAD, with 33 of these more powerful than 4.0 magnitude.
What happened on Friday?
The earthquake struck 14km (nine miles) off the Greek town of Karlovasi on Samos island at 13:51 local time (11:51 GMT), according to the USGS.
It said the quake – which was felt as far away as Athens and Istanbul – struck at a depth of 21km (13 miles), although Turkish officials said it was 16km below ground.
Izmir is Turkey's third-largest city with a population of nearly three million.
Turkey and Greece both sit on fault lines and earthquakes are common in the region.
A mini-tsunami flooded the port of Samos and a number of buildings were damaged. Greek officials put the magnitude of the tremor at 6.7.
"We felt it very strongly," local journalist Manos Stefanakis told local news agencies, adding that smaller aftershocks were continuing.
He said it was the biggest tremor to have hit the island since 1904.
………………………………………………..