Israel-Hamas: Why the West is turning a blind eye to 'genocide' amid Israeli propaganda
Last Saturday, Hamas inflicted a surprise attack on Israel, with an estimated 1,400 Israelis killed and 199 being held hostage. In response Israel launched air attacks on Gaza, killing more than 2,700 Gazians, and blocking fuel, water, food and medical supplies.
Israel is now preparing for a ground attack. Innocent Palestinians are being told to flee to the borders. They are being pushed out of their own land, the only alternative is to stay and die.
In the week since the Hamas attack, a strange narrative – pushed by politicians, is being thrown around by Western media.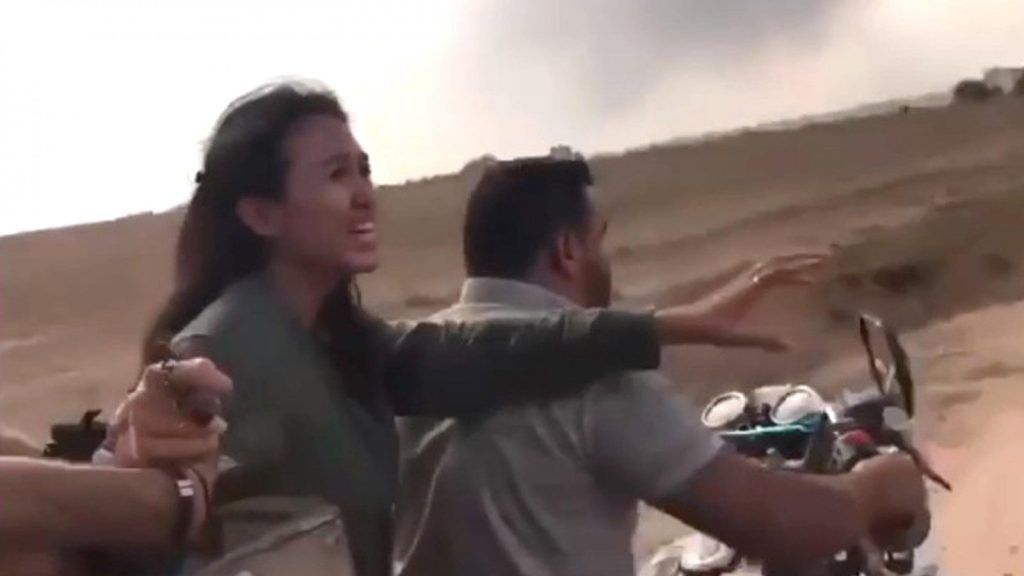 There's a double standard in the media that's becoming ever so clear. When Russia invaded Ukraine, and Ukrainians fought back, the West and its politicians congratulated their bravery. So why, when Palestine fights back from occupation are they called savages?
It's a complicated situation. But we're looking at some of the politicians and media narratives – to work out how it has played a role in dehumanising Palestinians.
'Double standard'
When Hamas attacked, politicians didn't hesitate to offer condolences over the 'terrorist attack'.
Ukraine's President President Volodymyr Zelenskyy took to the social media platform X to offer "condolences go out to everyone who lost relatives or close ones in the terrorist attack".
He also stated, "Israel's right to self-defence is unquestionable."
It's a line that many world leaders keep repeating, this notion that Israel's actions following the Hamas attack are their right to defend themselves.
The world is seeing appalling images.

Thousands of rockets raining down on Israeli cities. Hamas terrorists killing not only Israeli soldiers, but civilians on the streets and in their homes.

It's unconscionable. Israel has a right to defend itself – full stop.

— President Biden (@POTUS) October 7, 2023
European Commission President Ursula von der Leyen stated, "Israel has the right to defend itself – today and in the days to come. The European Union stands with Israel."
These same world leaders praised Ukraine's right to defend itself from Russia's invasion – including Ukrainians fighting back and killing Russians.
So why is there a different sentiment when it comes to Israel's occupation of the West Bank and Gaza?
WHy is there a different sentiment when it comes to Israel's occupation of the West Bank and Gaza? 
Western diplomats and media won't hesitate to support the Ukrainians defending their land, but will label Palestinians fighting against Israel as "terrorists."
A CNN interview with Mustafa Barghouti, the general secretary of the Palestinian National Initiative, in which he posed the rhetorical question, "Why does the United States support Ukraine in fighting occupation – while here they support the occupier, who continues to occupy us?"
I'm confused. When Ukrainians attacked back after Russia's invasion, the US celebrated them. When Palestinians do the same against Israeli occupation, they're condemned.

Filter the propaganda through this lens: the US empire will always choose sides based on its own interests.

— Bianca Graulau (@bgraulau) October 8, 2023
Over the last three days, X users recirculated earlier statements calling out what they called Western hypocrisy, sharing a video by the Irish lawmaker Richard Boyd Barrett from March 2022 in which he berated the Irish government's double standards regarding Ukraine and Palestine:
"You're happy to use the most strong and robust language to describe the crimes against humanity of [Russian President] Vladimir Putin, but you will not use the same strength of language when it comes to describing Israel's treatment of the Palestinians."
Barrett on Sunday again called out what he described as "shocking double standards of Western leaders supporting Ukraine resistance but condemning Palestinian[s]."
So, Ukrainian 🇺🇦 civilians defending their families are "freedom fighters"…

But Palestinians in Gaza 🇵🇸 doing the EXACT same thing are "terrorists"?

— Khaled Beydoun (@KhaledBeydoun) October 7, 2023
Dehumanising Palestinians
Another common media trope is journalists insisting Palestinians, even those not affiliated with Hamas, condemn the crimes of Hamas. But Israelis are not being asked to condemn the crimes being carried out by Israel.
Language is massively important to shaping the narrative when it comes to this conflict.
The Guardian wrote an editorial referring to "the murderous rampage carried out by Hamas". Similarly, The Economist referred to "the bloodthirsty attack by Hamas.
The US and European countries are also using similar tones.
If this were Ukraine, US, EU and UK politicians would be falling over themselves in condemning a war crime. Which is exactly what this is. https://t.co/3057uOGVE2

— Mark Seddon (@MarkSeddon1962) October 9, 2023
Whether you think it's an appropriate way to describe the Saturday attack, what can't be disputed is that such language would never be used to describe Israel's crimes. These outlets would never describe Israel killing thousands of civilians in Gaza as a "murderous Israeli rampage" or a "bloodthirsty Israeli attack".
The Western media, and politicians, want to create the image that Israel dropping bombs is its "right to defend itself," but violence by a Palestinian is "terrorism."
Most Western countries have officially declared Hamas as a terrorist organisation so the media often follows suit. The only exception in the UK is the BBC, which refuses to call the militant group a 'terrorist' organisation. It's drawn massive backlash from UK politicians.
Israel seized Gaza and imprisoned its civilians for 16 years. It has targeted civilians for years and the media has largely ignored it.
Palestinians hostage in criminal siege of Gaza for 17 yrs.Since 1948 Palestinians victims of ethnic cleansing, murderous occupation & apartheid. They have every right to resist. Shocking double standards of western leaders supporting Ukraine resistance but condemning Palestinian. pic.twitter.com/eo8LpzG0gI

— Richard Boyd Barrett (@RBoydBarrett) October 8, 2023
Why the bias?
The New Arab writes:
Many analysts argue that the reason for the perceived bias lies precisely in the massively imbalanced power relations between Palestinians and Israel.

Israel is a recognised state with strong trade, military and diplomatic relations with the West, while it is often considered to be a Western democracy amidst the 'oriental' autocracies of the Arabo-Islamic world, despite it being an occupying power and keeping millions of Palestinians in a state described by non-partisan rights groups, the UN and even Israeli critics as 'apartheid'. Palestinians often don't even have basic rights, let alone the advanced individual rights associated with Western liberal democracy.

On the other hand, Palestinians have no state and must operate under the confines of Israeli occupation. Israel can provide sophisticated state propaganda and politically influential briefings and can therefore better control and shape the narrative, while Palestinians are mired in the conditions of the oppressed – poverty, factionalism and a lack of viable representation.

For these reasons, the pro-Israel biases of the Western media are considered to be reflective of the wider political association of Israel with Western governments and are thus endemic. While it's impossible to calculate the effects of these alleged biases, critics argue that they wittingly or unwittingly aid Israel in getting away with crimes that are not even recognised as crimes.

The New Arab
What happens next?
Israel is preparing a full-scale ground assault on Gaza. Residents have been told to leave the area, but can't get out. They're running out of water, fuel and food and buildings are being destroyed. The UN has already said the strip will run out of water in days and the World Health Organization has said Israel's demand for sick patients to evacuate a hospital, could be a 'death sentence' for many patients.
"Forcing more than 2,000 patients to relocate to southern Gaza, where health facilities are already running at maximum capacity and unable to absorb a dramatic rise in the number of patients, could be tantamount to a death sentence," the WHO said in a statement.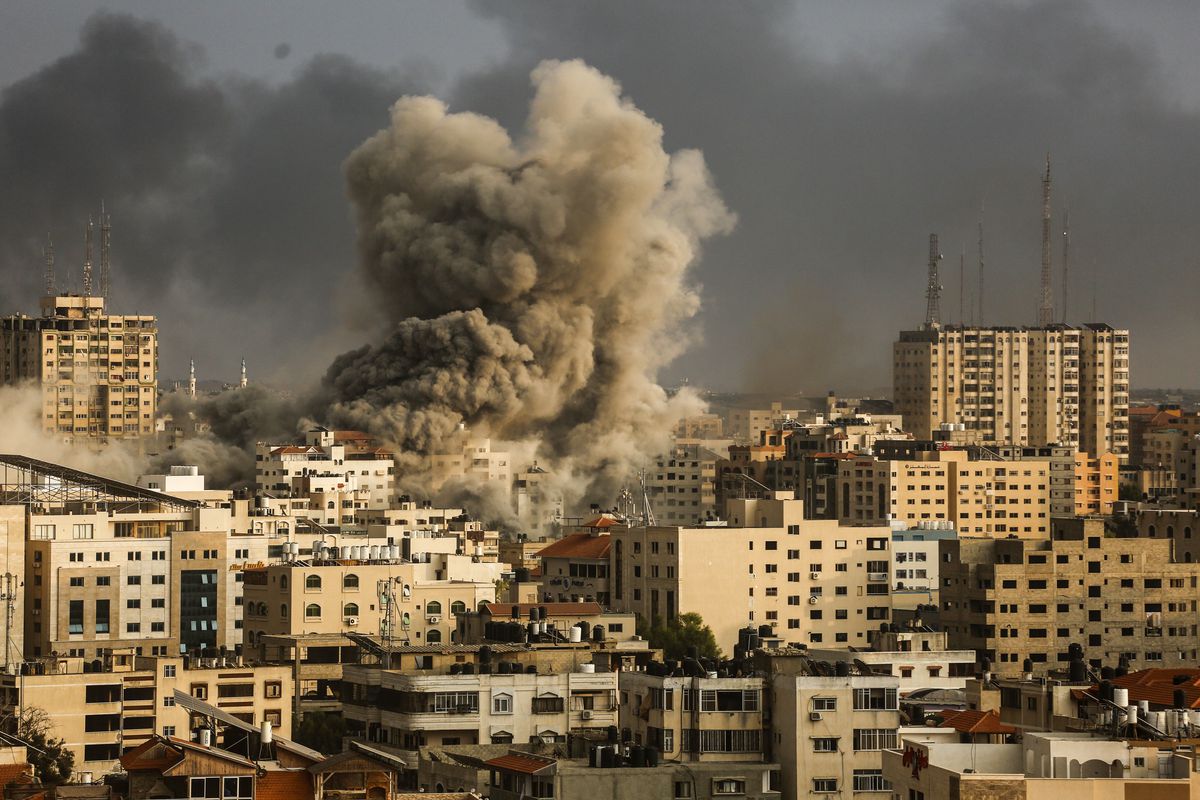 "Hospital directors and health workers are now facing an agonising choice: abandon critically ill patients amid a bombing campaign, put their own lives at risk while remaining on-site to treat patients, or endanger their patients' lives while attempting to transport them to facilities that have no capacity to receive them.
Israel has been told to prepare for a long war. The West is pushing for a humanitarian corridor, so aid can get it but Israel is refusing to let it happen until the hostages are released.
Israel has the backing of the USA and it's a war Israel will likely win.
What will be left of Gaza at the end is not clear, but it's likely to get even bloodier as troops prepare to make a full-scale ground invasion.
LINKS

https://www.independent.co.uk/news/world/middle-east/gaza-strip-evacuation-israel-palestine-who-b2430265.html

https://www.city-journal.org/article/western-medias-moral-equivalence

https://www.newarab.com/news/gaza-israel-war-western-media-still-biased

Tens of thousands across the UK rallied for Palestine amid Israeli propaganda and aggressive cops

Claim of 'forty beheaded babies' is the tip of the iceberg for the media manufacturing consent for Israel

Frankie Boyle calls out the commentators turning a blind eye to 'genocide' – and there's plenty of them

Palestine official had the perfect response to those claiming Corbyn 'refused to condemn Hamas'