Sunday Express – Together for Granny
A picture from the Royal reunion also dominates the front page of the Sunday Express, which leads on the headline 'Together For Granny'. It describes seeing the couples together again as a "powerful symbol of unity at a time of great loss".
The Frontpage
Meghan and Harry are reunited with William and Kate as they view tributes at Windsor
Daily Express says The Prince and Princess of Wales and the Duke and Duchess of Sussex were dressed in all black as they walked along the gates of Windsor Castle. The Duke and Duchess of Sussex held hands as they looked at the tributes, with Harry at one point affectionately putting his hand on Meghan's back. They were seen pointing at different tributes and discussing them as members of the crowd waved at them.
The four looked at tributes and flowers which have been left at Cambridge Gate following the death of Queen Elizabeth II.
It is the first time they have been seen so close together since Harry and Meghan left their royal duties and moved to the United States.
https://www.express.co.uk/news/royal/1667539/prince-william-kate-milddleton-harry-meghan-markle-queen-death-latest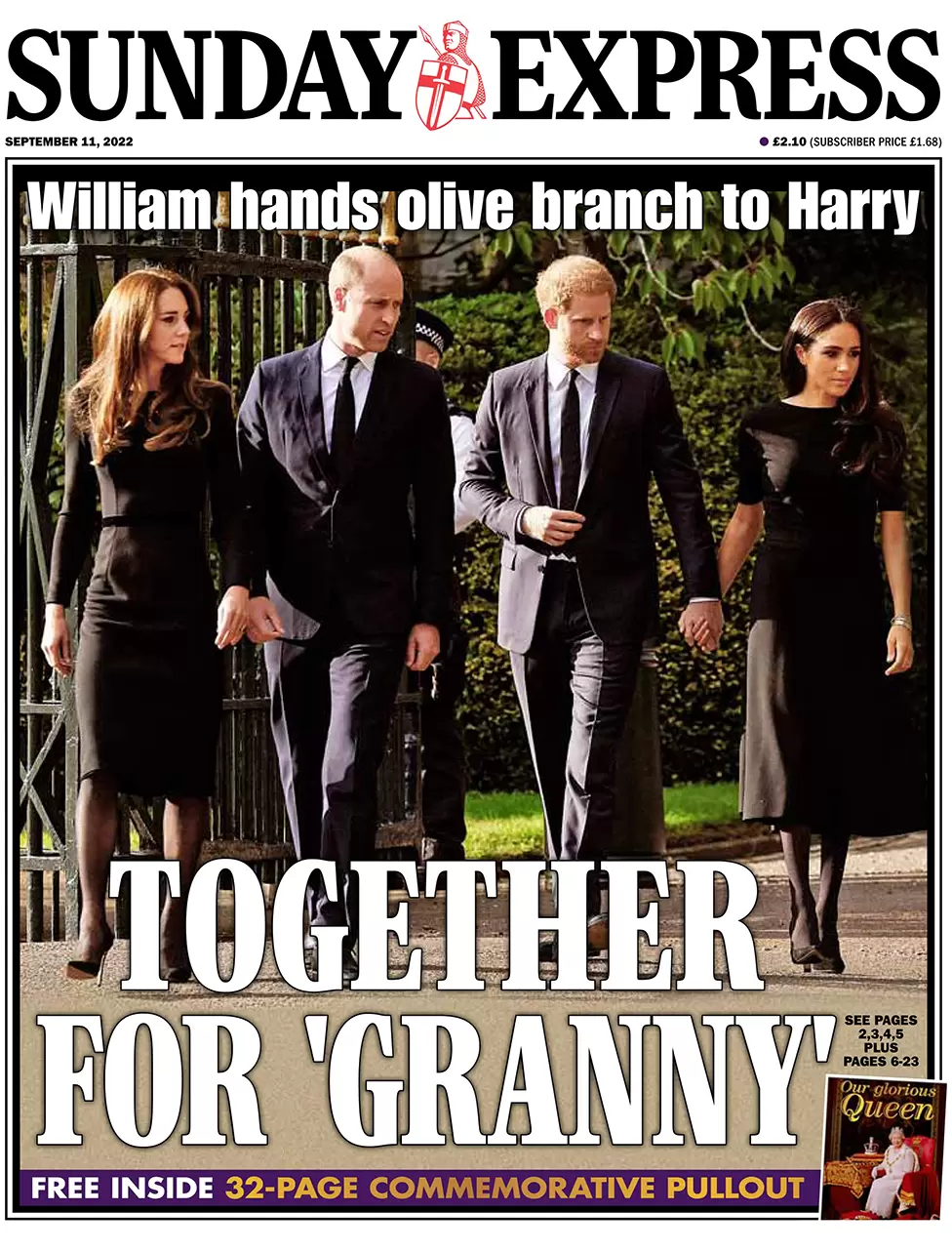 Queen begins journey to final resting place today – timings and route
Daily Express says THE QUEEN's coffin will travel today from Balmoral to the Palace of Holyroodhouse in Edinburgh, on a slow journey by road to allow mourners to pay their respects.
The oak coffin will begin a six-hour journey by hearse this morning at 10am, palace officials have announced. It is expected to pass Ballater at around 10.15am, Aberdeen at 11am and Dundee at 2pm, before arriving at Palace of Holyroodhouse in Edinburgh at 4pm. The late Queen currently lies in an oak coffin in a "scene of quiet dignity" in the Ballroom of Balmoral Castle, where she used to dance as a child.
https://www.express.co.uk/news/royal/1667643/royal-family-live-queen-Elizabeth-ii-coffin-funeral-route-today-scotland-charles-Meghan
Archie and Lilibet not given Prince and Princess title – but King promises imminent update
Daily Express says PRINCE HARRY and Meghan Markle's children, Archie, three, and Lilibet, one, have not been given the titles of Prince and Princess yet – but an update is pending.
The two young children are due to receive the titles of Prince and Princess as all Royal Family members move one step up in the line of succession following the Queen's passing. On the royal website, the tiles of other senior royals such as Prince William and the Duchess of Cambridge have already changed to reflect their new titles. William inherits his father's title and becomes Prince of Wales, and Kate is now Princess of Wales accordingly, becoming the first to be known as such after Princess Diana.
https://www.express.co.uk/news/royal/1667675/Archie-Harrison-Lilibet-Diana-Title-Prince-Princess-Meghan-Markle-Prince-Harry-Charles
'Easy solution' Biden to consider keeping Donald Trump from attending Queen funeral
Daily Express says JOE Biden could decide not to include Donald Trump in the US delegation heading to the UK to attend the Queen's state funeral next week, CNN anchor Jack Tapper suggested.
Joe Biden has confirmed he is planning to attend the Queen's state funeral, which is to be held at 11am on September 19, 2022 at Westminster Abbey. The US President now faces the challenge of settling on a delegation of US politicians to accompany him, and deciding whether to include his living predecessors in the mix. CNN anchor Jack Tapper suggested Mr Biden could choose not to issue an invite to Donald Trump but noted it would be a "clever move" to give the 45th President the chance to join in.
https://www.express.co.uk/news/world/1667642/Biden-queen-state-funeral-donald-trump-presidential-protocol-vn
Ouch! Angela Rayner grimaces in pain after SNP's Blackford steps on her foot – VIDEO
Daily Express says ANGELA Rayner could be seen grimacing after the SNP's Westminster leader accidentally stepped on her foot as he backed away from signing King Charles III's official proclamation.
Angela Rayner and Ian Blackford both attended the meeting of the Accession Council officially recognising Charles III as the rightful successor of the late Queen. The pair, who are both members of the Privy Council by virtue of their party positions, lined up to countersign the proclamation document to attest the new king had undergone the oath process as witnesses. But as Mr Blackford backed away from the table on which the document was laid to be signed, he accidentally stepped on Ms Rayner.
https://www.express.co.uk/news/uk/1667650/Angela-Rayner-video-Blackford-SNP-King-Charles-proclamation-vn