'La Liga belongs to racists' – Spanish newspapers finally react to Vinicius Jnr abuse
Monday's Spanish newspapers brushed over the shocking racist abuse suffered by footballing star Vinicius Jnr during a Real Madrid game at Valencia in La Liga – Spain's top-flight footballing league.
But following a mass outpouring of support for the Brazilian international, Spain's newspapers have finally given the story the front page coverage it deserves.
What happened?
Real Madrid lost 1-0 to Valencia in La Liga on Sunday night. Throughout the game, Vini had tried to draw the referee's attention to the abuse he was being subjected to – at one point the 'entire stadium was chanting racists slurs'.
The game was surprisingly not called off. Instead, Vini was made to endure the abuse and towards the end of the match he was given his first-ever red card – after striking out at Hugo Duro.
Vinicius Jnr took to Instagram after the game, saying "The championship that once belonged to Ronaldinho, Ronaldo, Cristiano and Messi, today belongs to the racists." He criticised the league, the federation, and the opponents for normalising and encouraging racism, which he says has tarnished the image of Spain.
Vini has been subjected to a slew of racism from Spain, with Sunday's abuse joining a long list.
Real Madrid are taking legal action over the hate crime.
---
---
Ignored on Monday
The incident was only afforded a fleeting mention on page one of the Spanish sports dailies.
Madrid-based Marca devoted their entire front page to Real's dramatic 79-78 win over Olympiacos in the EuroLeague basketball final, with no reference to Vinicius.
Diario AS also led firmly with the basketball but did at least mention the racist incident on their front cover – albeit right at the bottom.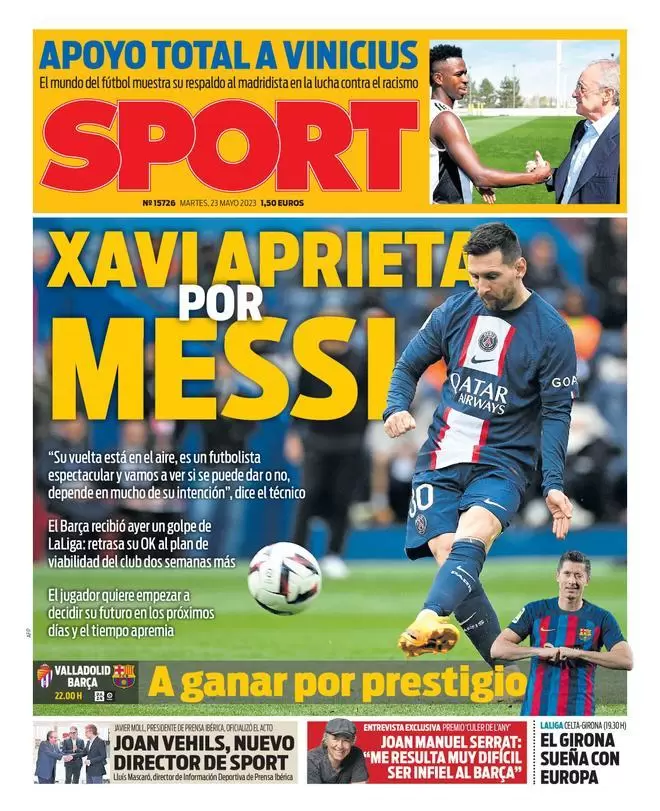 'Mestalla Vinicius madness' ran a sub-deck headline with a small corner picture of the player pointing out his alleged abuser in the stands.
'The Brazilian forces a fan to be expelled for a racist gesture… then he sees the red card,' they add.
AS also quoted Real manager Carlo Ancelotti, who said afterwards: 'There is a problem and it's not Vini.'
While the Catalan sports papers concentrated on Lionel Messi's potential return to the club from Paris Saint-Germain, there was at least a prominent mention of the Vinicius incident.
'Vinicius mess,' stated Mundo Deportivo at the top of their first page. 'He ended up being expelled despite suffering insults.' They also quoted a little bit more from the player's Instagram message: 'Sorry for the Spaniards who do not agree, but today, in Brazil, Spain is known as a country of racists.'
Diario Sport described what happened as a 'scandal' as they described Vinicius being 'expelled for an act of aggression after being insulted by a member of the public.'
Tuesday's papers finally react
Whilst Spain's press largely ignored the incident in Monday's newspapers, by Tuesday, they could not. Even Spanish sports commentators were more inclined to highlight the country was not racist rather condemning the supporters.
However, after messages flooded in from footballing stars such as Lionel Messi, Bukayo Saka, and Neymar to name a few, they couldn't continue to ignore it. This led to the Spanish PM publically condemning the actions of Valencia supporters.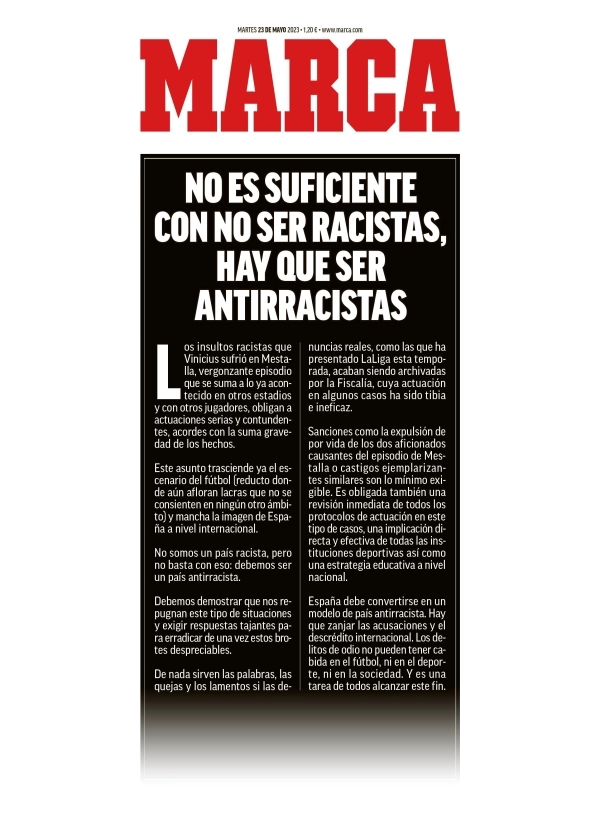 Since the latest incident, it has emerged that Vini has been targeted on 10 separate occasions and has been subjected to death threats from rival fans at some away games this season.
Marca created an impactful front page consisting of an editorial in white text on a black background beneath the message: 'It is not enough to not be racist, you have to be anti-racist.' In the column, the paper said 'This issue is now transcending the football scene… and tarnishes the image of Spain internationally.'
They wrote: 'We are not a racist country, but that is not enough; we must be an anti-racist country. We must show that we are disgusted by this type of situation and demand decisive responses to eradicate these despicable outbreaks once and for all.'
Marca said the lifetime bans handed to the two fans who abused Vinicius at the Mestalla 'are the minimum punishment required.'
'We are not a racist country, but that is not enough; we must be an anti-racist country'
The piece concluded: 'Spain must become a model of an anti-racist country. The accusations and international discredit must be settled.
'Hate crimes have no place in football, nor in sport, nor in society. And it is everyone's task to achieve this end.'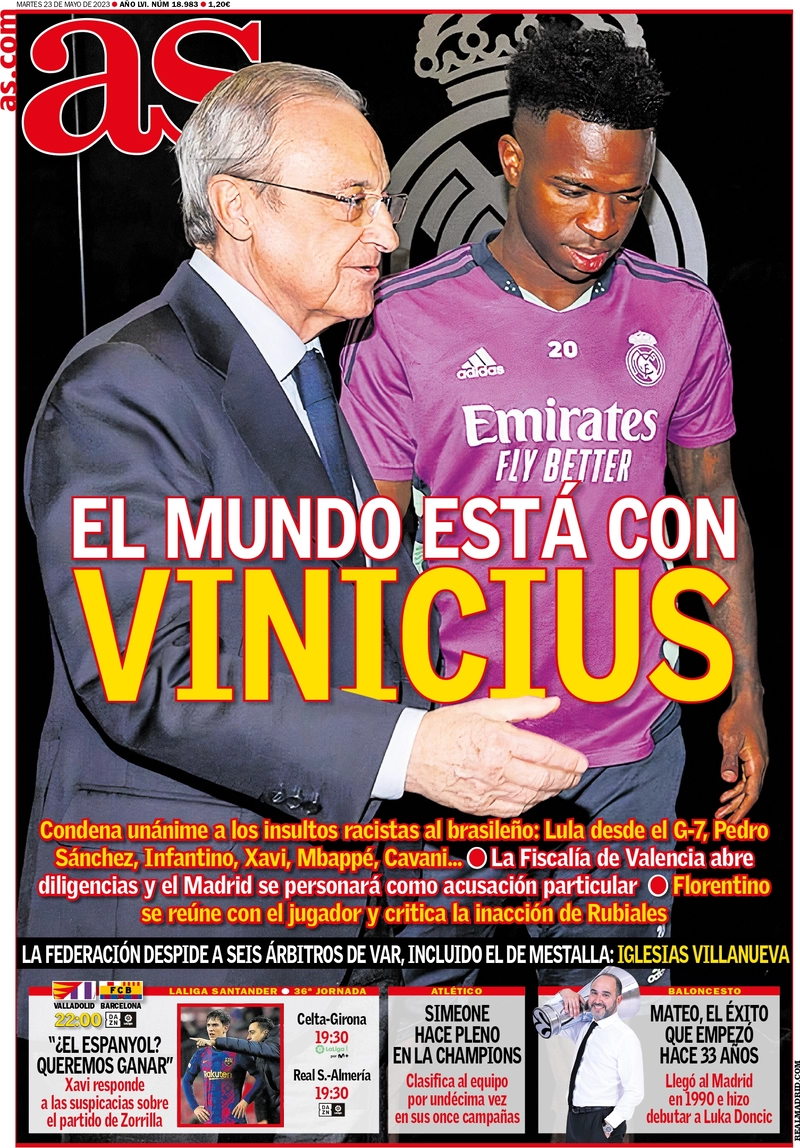 The front cover of AS also led on the story, showing an image from the meeting of the player and Real president Florentino Perez.
'The world is with Vinicius' ran their headline on Tuesday morning, as they listed some of the prominent figures, both in football and beyond, who condemned the racism.
Why did Spanish sports ignore it?
No doubt the Spanish sports dailies were hoping to just ignore this latest racist incident in the very long list of incidents this season alone. It does after all paint the country in a bad light, one Vini pointed out in his initial post.
Vini has endured so much abuse this season, that the papers probably thought this wouldn't draw as much attention as it had.
Support has come in from around the world, including his team Real Madrid. Those who have tried to play down the severity of the situation, such as Liga president Javier Tebas, have been widely condemned.
Real Madrid have reported the incident as a hate crime and Fifa president Gianni Infantino said it was time to "Stop talking, start acting" and set out five points to deal with racism.
The papers may have decided to take the racism in La Liga a little more seriously by Tuesday, as there are reports swirling that Vini is considering if he even wants to keep playing football in Spain.
With that said, it's worth noting the story didn't dominate all the Spanish sports pages, with some only offering a small section on their front page and others not mentioning it at all on their front splashes. 
Spanish society has an illogical way of justifying itself, suggesting it has peacefully lived with Muslims for 800 years. And often compares itself to the UK and French societies which have far more racist and hate crimes than Spain.