Reaction as Macron wins second term – whilst he revels in victory, he must be thinking about how he will unite a broken France.
French President Emmanuel Macron won re-election on Sunday with 58% of the vote, compared with 41% for far-right candidate Marine Le Pen.
However this election has broken France, less than 40% of the voters, voted for a candidate they wanted, instead, the majority of the turnout was for a candidate, they disliked the least, to prevent the other from coming.
Congratulations came flooding in from across Europe and the world. However, Macron faces many challenges ahead, as he seeks to govern a deeply divided country.
Reaction as Macron wins second term
Macron acknowledged that many people voted for him simply to counter Le Pen while commending their "sense of duty" and "attachment to the Republic."
Le Pen called her score, an increase from 2017, a "resounding victory" and vowed to fight during the legislative elections in June.
Congratulation messages roll in for Macron – But France is broken
Newly re-elected, President Emmanuel Macron has received congratulatory messages from President Biden, the European Commission President Ursula von der Leyen and Ukrainian President Volodymyr Zelenskyy, among many other world leaders.
Macron was re-elected as French voters hold off Le Pen's far-right once more
Le Pen's idea of Europe would mean an end to the EU – Macron
Congratulations to @EmmanuelMacron on his re-election. France is our oldest ally and a key partner in addressing global challenges. I look forward to our continued close cooperation — including on supporting Ukraine, defending democracy, and countering climate change.

— President Biden (@POTUS) April 24, 2022
Félicitations à @EmmanuelMacron, un vrai ami de l'Ukraine, pour sa réélection! Je lui souhaite de nouveaux succès pour le bien du peuple 🇫🇷. J'apprécie son soutien et je suis convaincu que nous avançons ensemble vers de nouvelles victoires communes. Vers une Europe forte et unie!

— Володимир Зеленський (@ZelenskyyUa) April 24, 2022
Cher @EmmanuelMacron, toutes mes félicitations pour votre réélection à la présidence de la République.

Je me réjouis de pouvoir continuer notre excellente coopération.

Ensemble, nous ferons avancer la France et l'Europe.

— Ursula von der Leyen (@vonderleyen) April 24, 2022
Congratulations, @EmmanuelMacron. Looking forward to continuing our work together on the issues that matter most to people in Canada and France – from defending democracy, to fighting climate change, to creating good jobs and economic growth for the middle class. pic.twitter.com/RHTBH4dn19

— Justin Trudeau (@JustinTrudeau) April 24, 2022
Key takeaways from 2022 presidential election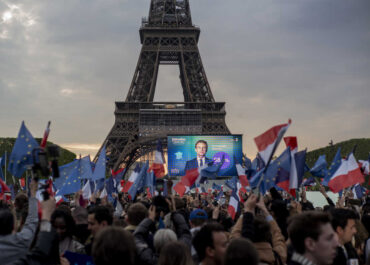 France is broken split, between nationalist ideologies and detesting the idea of Far-right ideologies. The key takeaways from 2022 presidential election for President Emmanuel Macron are at an all-time divided. He must unite and appease the Right as well as the left.
Although he won a clear victory in the high-stakes presidential election that once again pitted him against far-right challenger Marine Le Pen.
But he inherits a fragmented country, with Le Pen increasing her vote share compared with 2017. Macron acknowledged on Sunday that many French people voted for him only to block the far-right from governing the country and not in support of his programme.
"We must, my friends, be benevolent and respectful because our country is steeped in so much doubt and so much division," Macron said in his victory speech.
……………………………………………