This week's Prime Minister's Questions – catch up with everything you missed in this MUST WATCH session from the Commons – or follow along with TEXT blog updates.
PMQs LIVE – cost of living, windfall tax & general election
Rewatch PM Liz Truss's first major moment as the country's new prime minister as she faced off with Labour's Keir Starmer.
Away from the Boris Johnson style of PMQs, Truss took a much more serious approach, with little room for laughter.
Cost of living, energy cap, windfall tax, NHS waiting times and calls for a general election – this week's PMQs is worth a watch.
Calls for general election
MP Alex Davies-Jones told Truss she doesn't have the British public's support.
"She can't even rely on the backing of her own MPs", she says.
She says the PM has played a "key role" in a government that "failed millions" and that people will never forget.
She asks if Truss will call a general election.
Truss doesn't get drawn into it and dodges the question – instead just highlights the crisis is down to Putin's war.
---
Former PM Theresa May takes the opportunity to welcome Liz Truss as the third female prime minister and asks why all female PM's have been Tories. Truss responds with a joke about Labour being able to find a female leader – or one from outside north London.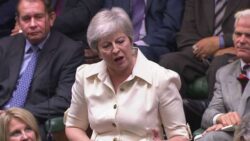 ---
Ian Blackford presses PM on Windfall tax
SNP Ian Blackford asks Truss to confirm if she'll freeze energy prices and will they be paid for by a windfall tax.
"No, it won't be paid for by a windfall tax", Truss says. She says she wants more UK energy to be used – including oil and gas from the North Sea and nuclear power in Scotland.
Blackford's asked Truss if oil and gas producers will "pay their fair share from excess profits".
He refers to a "Truss tax" to be paid for by families for "years to come".
---
Tory economics remain the same – Starmer
Starmer's last question – he says the PM is she's reheating George Osborne's failed corporation tax plans. He accuses her of protecting oil and gas profits and forcing working people to pay the bills.
He says that though she's the fourth Tory PM in five years, "the story remains the same".
"There is nothing new about the Tory fantasy of trickle-down economics," says Starmer.
"Can't she see there's nothing new about a Tory PM who, when asked who pays, says, 'It's you, the working people of Britain'?"
---
PM will reverse rise in national insurance
Truss says she's on the side of the people and says she will reverse a rise on national insurance. She defends her plan to keep corporation tax low because it will help spur investment across the country, creating new jobs.
---
Why is she giving companies tax break? – Starmer
Starmer continues to press on the fairness of tax cuts, he tells Truss she's choosing to give bans a tax cut and that companies that are already doing well are getting a £17bn tax cut – whilst working people are paying for the cost of living crisis.
Families are public services need every penny they can get so why does she think now is the right time to gove companies a tax break?
---
How much will you hand out to companies in tax cuts? – Starmer
Starmer slams Truss saying first act as PM is to borrow more than what is needed because she won't touch oil and gas excess profits with a windfall tax.
He asks how much would her planned corporation tax cuts hand out to companies.
Truss responds by again rejecting the idea of windfall tax on big oil and gas producers.