No place for Muslim women who wear burkinis in the French city of Grenoble's public pools rules top French court.
"The new rules of procedure for the municipal swimming pools of Grenoble affect (…) the proper functioning of the public service, and undermines the equal treatment of users so that the neutrality of public service is compromised," the Conseil d'Etat said in a statement.
Full-body swimwear including the Burkini should not be worn in public pools in the city of Grenoble, France's top administrative court ruled on Tuesday, upholding an earlier order by a lower court.
What is a burkini? and why is a Burkini so controversial to the french?
A burkini is a full body-covering swimwear, which leaves only the face, hands and feet exposed, it is often worn by Muslim women who wish to preserve their modesty in accordance with their beliefs.
It was also worn by women who have suffered from body shaming or those who want to cover scars and other marks on tier bodies.
In western democracy it is freedom of expression and speech is a key ingredient to liberal democracy, however, the French court ruled that this devalues the pool-side etiquette.
No place for Muslim Women
France is having an insurgency from the far right. who is taking over small towns and cities and promoting their fascist agenda? The French Muslims are one of their biggest targets as well as immigrants.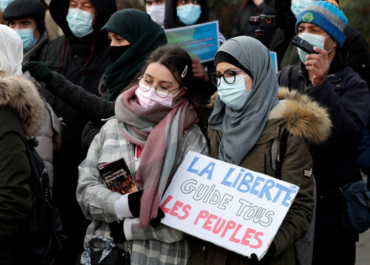 The Fra-right, spearheaded by Marine Le Pen and Eric Zemmour they have an agenda which is to challenge Islamic values in France and the EU.
They also led the charge to ban the Muslim veil in schools and have used extremist behaviour to recruit their fanatical followers.
They have gained real momentum in the last 10 years, using capitalism and extremism to fuel their movement and have managed to erode Macron's majority in parliament.
Far-right in France claim victory
The far-right in France claimed victory for their anti-Mulsim agenda. Grenoble's city council had voted in favour of allowing the use of burkinis on May 16, sparking howls of protest from conservative and far-right politicians.
The city's move was challenged by the government and a lower administrative court suspended the measure. Grenoble responded by taking its legal fight to the Conseil d'Etat.
After the Conseil d'Etat's ruling, Interior Minister Gerald Darmanin said Grenoble'sact had been "definitively overruled".
"A victory for our 'separatism' law, for secularism and above all for the Republic," Darmanin said.
…………………………………………..