Man lunges at Buffalo shooter before sentencing
Payton Gendron, 19 – the white supremacist who shot dead 10 black people at a supermarket in Buffalo, New York last year – has been sentenced to life in prison.
He pleaded guilty to 25 counts, including first-degree murder and terrorism motivated by hate.
Relatives of Buffalo shooting victims' impact statements
The relatives of the victims shared emotional impact statements.
Barbara Massey, whose sister Katherine was killed, told Payton: "You are going to come to our city and decide you don't like black people. Man, you don't know a damn thing about black people. We're human."
Her statement was interrupted by her son – who lunged towards the gunman but was restrained by security.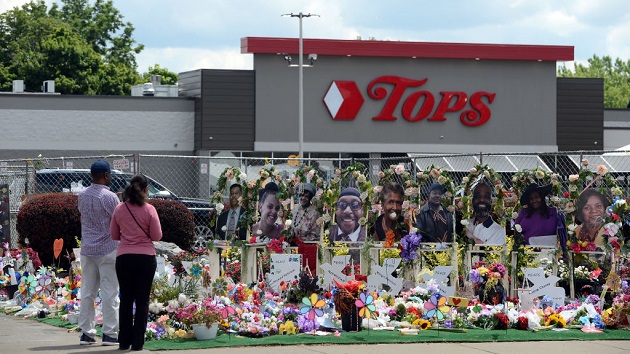 A survivor of the shooting – Zaire Goodman, suffers from survivor's guilt, his mother told the court.
"He is dealing with the pain that I as a mother cannot bear," Zeneta Everhart said.
"On that day this terrorist made the choice that the value of a black human meant nothing to him… whatever the sentence is that [the gunman] receives, it will never be enough."
Brian Talley lost his family member, Geraldine Tally, in the shooting. He said: "I forgive you, but I forgive you not for your sake, but for mine and for this black community."
Wayne Jones, who lost mum Celestine Chaney, addressed the killer: "You've been brainwashed. You don't even know black people that much to hate them. You learned this on the internet.
"I hope you find it in your heart to apologise to these people, man. You did wrong for no reason."
The killer wept as Tamika Harper shared memories of her murdered aunt, Geraldine Talley. She told the killer: "Do I hate you? No. Do I want you to die? No. I want you to stay alive. I want you to think about this every day of your life."
Buffalo shooter 'acted out of hate'
Cops say the gunman researched the racial makeup of Buffalo, which is around 200 miles away from where he lived in Conklin, New York, before his attack.
Wearing bullet-resistant armour, he live-streamed the attack at Tops Friendly Market on 14 May.
He had written online that other racially motivated shootings inspired him. But in court on Wednesday, he warned against copycat killings.
Gendron, who is not eligible for parole, said: "I shot and killed people because they were black. Looking back now, I can't believe I actually did it.
"I believed what I read online and acted out of hate. I know I can't take it back, but I wish I could, and I don't want anyone to be inspired by me and what I did."
Judge Susan Eagan said: "There can be no mercy for you, no understanding, no second chances."