Paris protests: Macron pushes French pension bill through without vote
Protesters clashed with police in Paris following the French government's decision to impose pension reforms without a parliamentary vote.
Demonstrators gathered in Place de la Concorde to protest the proposed increase of the retirement age from 62 to 64.
The controversial bill had already sparked two months of heated political debate and strikes.
Prime Minister Élisabeth Borne invoked article 49:3 of the constitution to bypass the vote, minutes before MPs were scheduled to vote on the bill, citing the lack of guarantee of winning a majority.
Opposition politicians condemned the move, with a no-confidence motion suggested against President Emmanuel Macron's government by far-right opposition leader Marine Le Pen.
Thousands protest across French cities
Thousands of people protested across French cities, some clashing with police, and a fire was lit in the middle of the Place de la Concorde.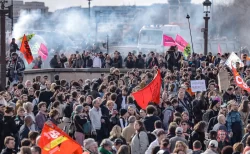 Paris police reported 120 arrests by nightfall.
The Confédération Générale du Travail (CGT) union vowed to continue opposing the pension changes, with another day of strikes and demonstrations planned for 23 March.
Although the constitutional procedure has been used 100 times in more than 60 years, critics accuse the government of ignoring the will of the people, causing France to appear unreformable.
---