Russia said the troops would be "peacekeeping" in the breakaway regions, which it has backed since 2014.
Ukraine's President Zelensky, in his own late-night speech, said Ukraine was not afraid and would not yield anything to anyone.
Russia orders troops into Donetsk & Luhansk
But the US said calling them peacekeepers was "nonsense".
It accused Russia of creating a pretext for war in the latest from the Ukraine crisis.
Ukraine's president said his country was "not afraid of anything or anyone".
In a late-night televised address to the nation, President Volodymyr Zelensky called for "clear and effective actions of support" from Ukraine's international allies.
"It is very important to see now who our real friend and partner is, and who will continue to scare the Russian Federation with words only," he added.
President Biden signed an executive order to further intensify the sanctions for Russia and will talk about 'the next steps with allies'
Boris Johnson provides a firm response to Putin's aggression
At Prime Ministers question time Boris Johnson accuses Russia's President Vladimir Putin of having violated the Minsk peace agreements in his actions of recognising the "supposed independence" of two breakaway regions of eastern Ukraine.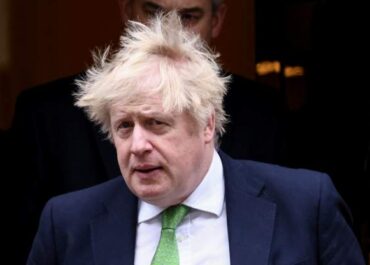 UK Prime Minister Boris Johnson has said Russia is planning "the pretext for an invasion".
Watch PM Questions Live on WTX News 
The UK PM has sanctioned five Russian banks and three "high net worth" individuals.  He also announced sanctions against five Russian banks and three "very high net wealth" individuals under his "first barrage" of measures over the Ukrainian incursion.
If the worst happens then Ukraine would be the target of "a full-scale war of aggression waged without a shred of justification for the absurd and even mystical reasons" Putin has described, says the PM
Germany moves to suspend the certification of Nord Stream 2 pipeline over Ukraine tensions
German Chancellor Olaf Scholz announced that he has ordered the withdrawal of a key document needed for the certification of the Nord Stream 2 pipeline.
"The situation today looks fundamentally different," Scholz said at a press conference, a day after Russian President Vladimir Putin recognised two separatist-held areas in Ukraine as an independent.
He asked the government to withdraw a key report linked to the pipeline's certification.
The pipeline, which connects Russia to Germany through the Baltic Sea, was completed last summer but the German regulator postponed its certification, demanding the German operator be domiciled in Germany.
………………………………………