Rihanna and ASAP Rocky split – amid cheating claims is it over already? here's what we know so far
Social media is having a meltdown as fans try to decipher Rihanna and ASAP Rocky's relationship status  – following a rumour the couple had split.
Fashion influencer and writer Louis Pisano tweeted that Rihanna and ASAP have "split" and alleged it was because A$AP had been "caught cheating." 
Rihanna & ASAP Rocky have split. Rihanna broke up with him after she caught him cheating with shoe designer Amina Muaddi.

— LOUIS (@LOUIS_via_ROMA) April 14, 2022
Rihanna is currently expecting her first child with the rapper and is in her third trimester. 
Pisano alleged: "Rihanna broke up with [A$AP] after she caught him cheating with shoe designer Amina Muaddi.
"Amina was responsible for designing Fenty's footwear offering and Rihanna is often seen in custom shoes from her own label," he added.
The rumour seems to have been backed up by gossip blind-item site Deux Moi – who provided evidence that the pair had argued at Craig's in Los Angeles. The blind that was sent to the sight was an image of the couple at the restaurant along with claims the pair had argued and cried and left via the back. The blind was sent to Deux Moi a week ago. 
The unverified claims have sparked huge reactions from fans of Rihanna, with many refusing to believe it until its confirmed by Rih or A$AP. 
One person said: "Me finding out Rihanna and A$AP have broken up but I have yet to see an actually valid source to confirm."
Another wrote: "I do not believe A$AP Rocky cheated on Rihanna. I refuse to believe he's that dumb."
and ask yourself why for the second day industry insiders have told y'all this news. I just gave you the details that person who tweeted this news LAST NIGHT didn't give you

— LOUIS (@LOUIS_via_ROMA) April 14, 2022
Several people have pointed out that Muaddi posted snaps of Rihanna wearing her designs just hours ago on her Instagram account. 
The pair were linked back in 2009 but never made their relationship official. They have collaborated on several hugely popular songs – including What's My Name?, Take Care and Work. 
Earlier this week, Rihanna appeared on the front cover of US Vogue and opened up about her relationship with A$AP, "I just feel like I can do any part of life by his side." 
Rihanna and ASAP Rocky relationship timeline 
What's the timeline for Rihanna and ASAP Rocky's relationship? The singer dished some details on their romance in her Vogue shoot for May 2022. 
"People don't get out of the friend zone very easily with me," Rihanna said about their transition into romance. "And I certainly took a while to get over how much I know him and how much he knows me, because we also know how much trouble we can land each other in." 
In February 2022, Rih and Rocky announced they are expecting their first kid together. 
The pair were first romantically linked in the early 2010s – Rih said in her Vogue shoot that Rocky copped a feel on stage during their performance at the 2012 MTV Video Music Awards and it was a bump in the road she uncharacteristically let go. 
"He grabbed my a– on stage. That was not part of the rehearsal!" Rihanna recalled. "I was like, 'What are you doing!?'"
"My manager was like, 'Oh God, she must like this guy a little bit. She never lets this s–t slide,'" she said of the surprised reaction her team had to her brushing off Rocky's public advance.
In 2020, rumours began swirling that the two had more than a friendship going.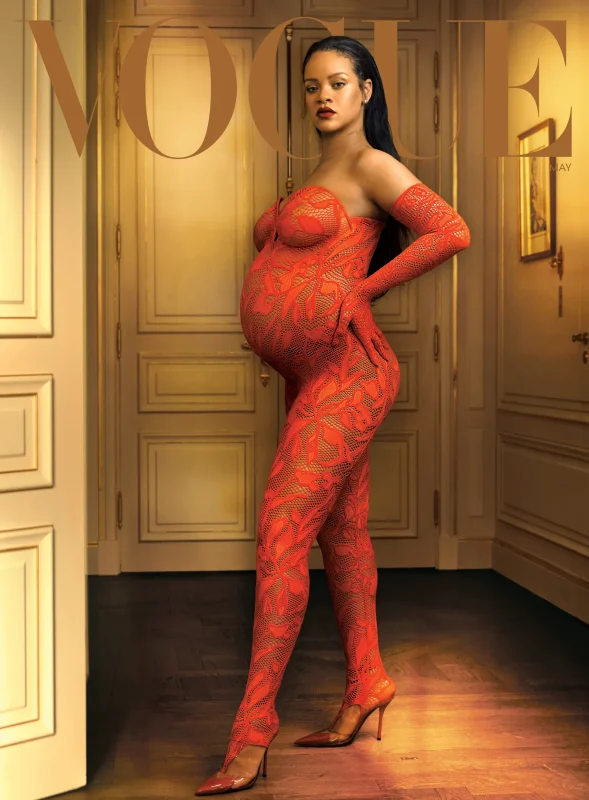 Rihanna said the pandemic lockdowns early on bought the two even closer and she and Rocky took a cross-country road trip together in the summer of 2020. 
Rihanna said, "He became my family in that time."
"I cooked our food on this little janky grill I bought from Walmart. I still have it, too. It works like nobody's business," she shared while speaking about their trip from New York to Los Angeles. "I love the simple things but also the grand adventures."
"There's no pretentious my-brand-your-brand bulls–t, it's just us living," she explained of her and Rocky's dynamic. "I just feel like I can do any part of life by his side."
RiRi recalled being excited to visit her family with Rocky and travel back to Barbados during the holidays in 2020. 
"My mother has a really good read on people. She observes first and then she'll move slowly. I guess I'm like that too," Rihanna said. "There are some guys that I've dated that she [my mom] won't even look at to this day. But she was charmed by him from the jump."
The singer added that she and Rocky weren't planning a child together but weren't planning against it. "Planning? I wouldn't say planning. But certainly not planning against it. I don't know when I ovulate or any of that type of s–t. We just had fun."
"And then it was just there on the test," she said. "I didn't waste any time. I called him inside and showed him. Then I was in the doctor's office the next morning and our journey began."
Overall, the multi-hyphenate shared what she loves most about her relationship with Rocky is their "transparency with everything."
"How we're feeling, what our goals are, what our fears and insecurities are," she detailed. "The vulnerability to be able to say what you feel about each other."
…………………..
FOLLOW US ON SOCIAL MEDIA AND SHARE WTX NEWS WITH YOUR FRIENDS AND FAMILY:
Facebook – Please like our page
Twitter – Twitter updates available in English and Arabic. Please follow us and we would love to hear from you
Instagram – Follow our pages in English and Arabic