Partygate committee Live –
Claims committee not impartial
Tory MP Sir Charles Walker asks Boris about claims his supporters have made about the committee not being impartial.
He asks Boris if he has characterised the privileges as a "kangaroo court", as some detractors of the investigation have said.
Boris claims he has come out of respect for the committee and respect for parliament.
Sir Charles asks if Boris regrets other MPs having called the committee a "kangaroo court."
Jacob Rees-Mogg referred to the "marsupials" on the court earlier.
Boris says he disapproves of the term.
---
Heated exchange over whether Boris took proper advice
Jenkin once again questions Boris on his evidence. He asks Boris why he saw "no great vice" in relying on assurances from Jack Doyle (former political adviser).
He puts it to Boris that he did not take proper advice on whether he misled parliament over partygate and asks why he did not do so.
"Nobody raised with me or had any concern before I stood up [on December 1 2021 in the House of Commons] about those events," Mr Johnson said.
"You did not ask," Sir Bernard says.
The exchange gets heated during a back and forth over whether he did take proper advice.
Boris says Sir Bernard is "wrong" in his statement that the issue was not discussed with cabinet secretary Simon Case.
---
MPs took Johnson's assurances at 'face value' but it is clear 'they did not amount to much'
Harriet Harman now tells Boris Johnson that she was in the House with fellow MPs when assurances were given by him about the gatherings.
She says MPs took them to be serious assurances.
"Would you not expect us to be a bit dismayed to hear that it was not from the senior civil servants but it was from political appointees – that they themselves had doubts about it," she says.
"It only covered one gathering, it didn't cover the other three and it only covered the rules. It didn't cover the guidance."
Mr Johnson begins to answer before Ms Harman says: "Could you let me finish my point?"
She says "it is a bit hard to understand what the nature of an assurance is when you have been there and seen it with your own eyes".
"If I was going 100 miles an hour and I saw the speedometer saying 100 miles an hour, it would be a bit odd, wouldn't it, if I said somebody assured me that I was not," she says.
She says MPs took these assurances at "face value" but it is clear "they did not amount to much". – (SKY NEWS)
---
---
No 'direct assurances' that gatherings followed COVID guidance
Mr Johnson is shown a comment by Jack Doyle – former Downing Street press adviser – in which he says he didn't advise his old boss to insist COVID rules were adhered to at all times during a December 2020 gathering.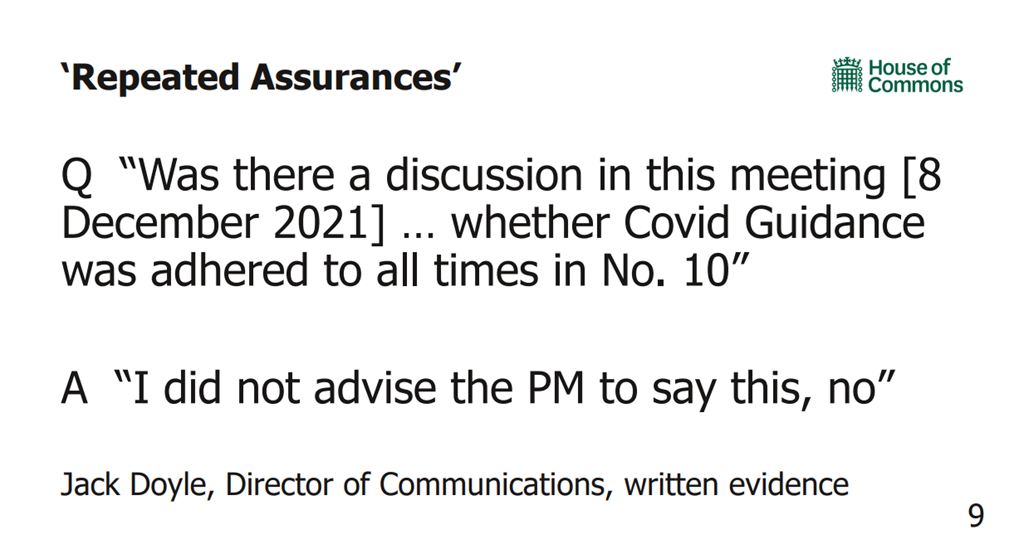 "Is it correct, that you received no assurances that the gathering of 18th December 2020 – or any other gatherings – were compliant with COVID guidance?" Alberto Costa asks the former PM.
Mr Johnson says he didn't receive "direct assurances" about the Christmas gathering, but added that nobody had said anything "adverse" about his following of the guidance until 8 December 2021.
Mr Johnson is also probed on a comment he repeated to the House of Commons, that "rules were followed at all times" – a line that was initially prepped in response to a story in the Daily Mirror.
"That line, Mr Johnson, the assurance that you relied on in the House of Commons on 8 December, was initially no more than a media line to hold the press inquiries, wasn't it?" Mr Costa asks.
The former PM agrees, but says he doesn't see any "great vice" in it.
---
---
Johnson's evidence appears to be unravelling
Jon Craig – SKY chief political correspondent
More forensic questions, this time from Tory MP Alberto Costa, who's a solicitor.
Did Simon Case, the Cabinet secretary, warn about breaking lockdown rules?
The response is typical Johnson bluster. No, in other words.
Who gave him the assurances, then, that no COVID rules were broken, Mr Costa asks in a series of probing questions.
The Number 10 officials he received assurances from were Jack Doyle and James Slack, director of communications and the PM's official spokesman.
Other assurances came from MPs Sarah Dines and Andrew Griffith, both now junior ministers.
But Mr Costa points out that Mr Doyle has denied giving assurances.
Mr Johnson's evidence appears to be unravelling. And it's in response to questions from two Tory MPs, who are doing a good job here.
---
PM Rishi Sunak publishes tax returns
Away from all the excitement, prime minister Rishi Sunak has published his tax returns. 
There will be criticism over why Downing Street has decided to publish them today, admit the Brexit vote, Boris Johnon's partygate hearing and a PMQs that took place at noon.  There will be questions raised about whether Downing Street is attempting to "bury" the story.
It's been a busy, busy day for politics!
PM Sunak promised that the documents would be released when he came to power.
It has taken 148 days.
You can read it in full here: 
'Thanking staff was essential'
Tory MP Andy Carter says that in a written statement Boris said he did not believe that perfect compliance with social distancing was required by the guidance when it came to the 13 November 2020 event
He is asked: "If you believe this, why did you not make it clear when you told the House that the guidance was followed at all times?"
Boris says he thinks this statement was submitted earlier on and perhaps if he had "elucidated more clearly" that would have helped.
Asked if he thought these gatherings were so critical that is was permissible to hold them – even if they couldn't be socially distanced, Boris says yes.
"I thought that it was essential to thank staff for their work," he adds.
"I think that even though the pictures seem to show festive events. I think that efforts, even in those pictures, are being made to do social distancing. 
"And what I saw, what I had in my head when I was talking to the House of Commons was a memory, a strong memory of people over a long period doing everything they could to stop the spread of disease within the building."
---
Was Boris Johnson 'repeatedly' assured rules and guidance were followed?
Alberto Costa, a Conservative MP, is now asking about the choice of words used by Mr Johnson in the Commons.
This references the former PM saying that he "repeatedly" received assurances rules and guidance were followed.
Mr Johnson said that he did not get any assurances from government lawyers, neither does he remember getting advice from any senior civil servants inside Downing Street.
Mr Costa references the below slide with Mr Johnson's quotes.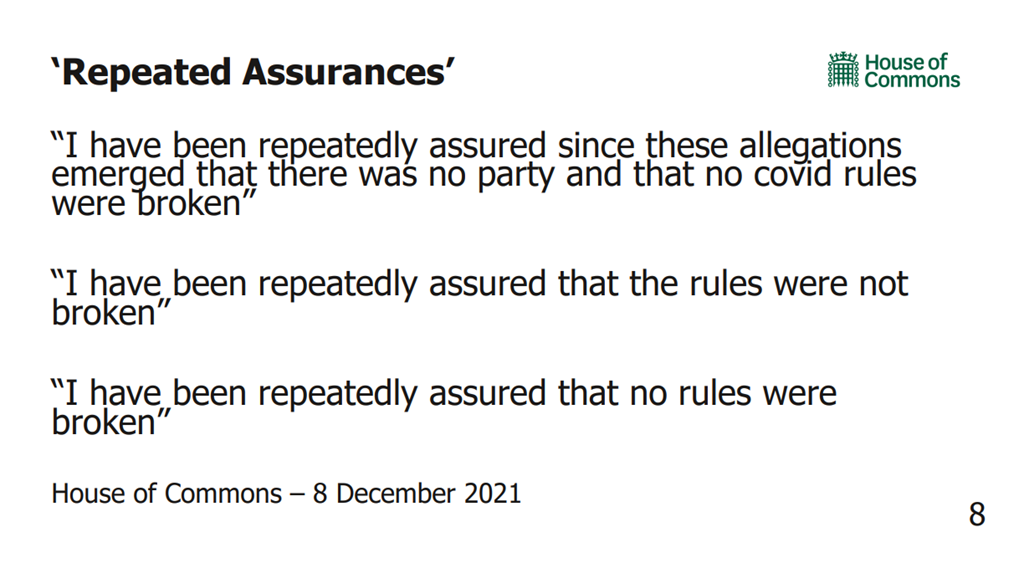 The MP then asks why he relied on the words of James Slack and Jack Doyle – both political appointees – rather than officials and lawyers.
Mr Johnson said he did so because they were the people who had been at the events in question and believed they would give "a view about the legality" of the situations.
The former PM also says he asked "generally" if the rules were followed, and that he was told they were.
Mr Johnson says that an official who told him the rules were followed cannot be named, as she wants to remain anonymous – the committee asks for this to be confirmed in writing. – SKY NEWS
---
In the Commons – 'doing a huge amount to follow the guidance'
The committee now moves to what Boris said to MPs in the Commons when he was PM.
This is to determine whether the statements he made were misleading (it's the whole point of this hearing). 
Tory MP Andy Carter asks why Boris told the house all guidance was followed "completely in Number 10" when he knew gatherings took place where social distancing "hadn't necessarily been maintained and where masks, for example, weren't being worn".
Boris said nobody came to him to say there was a problem.
He adds that he "said what he said"in the Commons on 30 November 2021 because he believed then that the Number 10 team was "doing a huge amount to follow the guidance".
He says he was told the 18 Dec 2020 event saw people "sitting at their desks drinking".
"But that was not banned," he says, before conceding that this was "regular"
"I concluded that it sounded to me as though that event was within both the rules and the guidance".
This is why he told the Commons all rules and guidance were followed, he says he "misremembered" the line that had been put out by the No 10 press team – which stated that only the rules (legal requirements) were followed, not necessarily guidance.
When asked why he didn't correct the record then, he says he did not think there was "appreciable" difference between the rules and guidance.
Speaking on other gatherings, Boris again says he did not think rules or guidance had been broken.
When asked why he again said all rules and guidance were followed in the Commons (8 Dec 2021) Boris again says he did not think the gatherings were "improper or offensive."
---
Boris rattled by Rishi Sunak
Boris Johnson again refuses to use the name Rishi Sunak, perhaps highlighting the betrayal he feels – (for Johnson fans Sunak is blamed for triggering his downfall).
So far the former prime minister has referred to Rishi Sunak as 'the current prime minister' and "the then chancellor"
---
'I didn't attend cheese and wine event' – BoJo
SNP's Allan Dorans now asks BoJo about the event on 18 December 2020 which he says was not compliant with Covid rules
He says: "This gathering was a pre-planned press office drinks event with cheese and wine and was widely reported in the press.
"We have evidence that was attended by between 25-40 people."
Asked if he attended the gathering, Mr Johnson says: "No."
Boris says this was the deal the government was dealing with the Kent variant and also contemplating the idea of a no-deal Brexit.
He adds: "It was a very long and very difficult evening."
Mr Johnson says he had no direct knowledge of the event and "nobody raised any anxieties with him " about that event at the time.
---
Two other gatherings – Xmas party and leaving do
Now discussing two other gatherings (late 2020 and early 2021).
Harriet Harment sets out the events – Xmas party at No 10 on 18 December 2020 and a leaving gathering for two officials on 14 Jan 2021.  
At the time of both events, Covid rules said there shouldn't be gatherings of more than two people and workplace guidance said people should socially distance. 
SNP's Allan Dorrans is now questioning Boris – focusing on the first gathering, which around 15 people attended.
Met Police handed out FPNs to some who were there. 
The former PM is shown pictures of the event – one which shows alcohol bottles. 
Asked if a breach of rules would have been obvious to him when he was there he said he would "disagree very strongly".
"You've got people who work with each other every day, who use that room for meetings… who are meeting briefly to say thank you and then farewell."
He says he was there briefly and did not receive a police fine.
Mr Johnson adds the photo does not indicate a rule breach and actually shows people trying to observe social distancing.
He doesn't agree he said the event was "not strictly an event about work".
---
---
---
Summary – recap of the hearing so far
Boris Johnson is facing a grilling by a committee of MPs on whether he intentionally misled Parliament over lockdown-era gatherings at No 10
He's been pressed repeatedly over how he could not have known that various events – including leaving dos – breached guidance and rules
Tory MP Sir Bernard Jenkin told Johnson that coronavirus guidance did "not say you can have a thank you party"
Johnson swore on a Bible at the start of the session that he would tell the truth – and he insisted he "did not lie" to the House of Commons about Partygate
He was shown a picture of himself raising a glass in a room without social distancing, but responded that he believed the event was necessary for work purposes
Committee Chair Harriet Harman earlier warned Johnson: "If what ministers tell us is not the truth, we can't do our job"
The Garden party – 'I wanted to thank civil servants' – BoJo
On the garden party (20 May 2020) Labour's Yvonne Fovargue says there was up to 40 people and evidence the former PM was there. 
She says there is evidence that an invitation was sent to around 200 people. 
Asked if he was aware of the invite, Boris said "NO"
He says he was aware of the gathering before it took place and this was noted in the Sue Gray report, before adding: "I don't know what value we now attach to it."
"This was a day when the cabinet secretary had just stepped down," he says.
"I think the civil servants needed to feel that the business as a government was being carried on and they needed to be able to feel thanked and motivated for their work."
Of the event – he says he doesn't know why fixed penalty notices (FPNs) were issued for it and he wants to "dispute" the assertion the event wasn't necessary.
He says anyone who thinks he was partying during lockdown "does now know what they're talking about".
"People who say that that event was a purely social gathering are quite wrong," he adds.
---
Questions into the birthday gathering
The former PM is being quizzed on two other events – a gathering on 19 June for Boris's birthday, and an event on 20 May 2020 in the Number 10 garden.
Harman says Covid rules "varied but "at both times, the relevant rules included restrictions on gatherings of two or more people."
Labour's MP Yvonne Fovargue now questions Boris. 
A picture is shown from the birthday gathering – his wife Carrie and son Wilfred were in attendance. 
"Why did you think was reasonably necessary for work purposes?", Ms Fovargue asks, as she queries why the event would have included non-Downing Street officials.
He says the event was "covered by the rules at the time".
He says he had come from a long illness and it was also his birthday.
He said he felt it was a "perfectly proper thing to do".
"I thought it was reasonably necessary for work purposes because I was standing at my desk," he said.
---
Less than convincing answers from Johnson on questions around social distancing in Number 10
Jon Craig – SKY chief political correspondent
Boris Johnson is less than convincing in his answers to Sir Bernard Jenkin on whether social distancing rules were broken.
In language that must have made Lord Pannick wince, he talks about "higgledy piggledy corridors" inside No. 10.
Reading between the lines, he is admitted that social distancing rules were followed at times because they were busy people working long hours in a crowded building.
Sir Bernard may not be the best interrogator, but the former PM is finding the questioning much harder than when he was giving his opening statement without interruptions.
He says, however, that if anybody thinks he was partying during lockdown they're wrong.
As the committee takes another break as MPs vote on Lords amendments to the Public Order Bill, Mr Johnson is probably receiving some coaching from his brief, the esteemed Lord Pannick.
When he returns, Mr Johnson clashes with Sir Bernard when he says the committee doesn't agree with the former PM's interpretation of the social distancing guidance.
And then Ms Harman gets clearly annoyed with Mr Johnson and tells him to let Sir Bernard ask his questions.
It's starting to get a bit spicy now!
---
More than 20 people in attendance' at leaving party
Sir Bernard Jenkin turns to another unplanned leaving party which took place in Number 10 on 27 November 2020 for Cleo Watson, a former special adviser to Downing Street.
Three witness statements submitted to the enquiry claim social distancing was not observed at the event.
Jack Doyle, the former PM's then-press secretary who resigned over the partygate fallout, said "there were certainly more than 20 people in attendance" at the event.
When asked if he accepts this view, Mr Johnson initially says he was not at the event before being corrected by Sir Bernard, who is leading the initial questioning.
"I was at that event but very briefly," he says, before a pause for another Commons vote. – (SKY NEWS)
---
Committee hearing – It's going to be a long afternoon
Slow pace of questioning suggests we're in for a long afternoon
Jon Craig – SKY chief political correspondent
Boris Johnson is less assured as the questions begin.
Sir Bernard Jenkin is no King's Counsel, but his slow methodical questioning about a farewell party for spin doctor Lee Cain suggests he has been closely watching former DPP Sir Keir Starmer at PMQs.
Then comes a piece of classic Johnson prose, claiming you can't expect staff in Number 10 to stay within an "electrified fence" without "wafting into each other's orbit".
I'm not sure if that helps his argument that social distancing was observed.
However, the inscrutable Lord Pannick hasn't yet felt the need to pass Mr Johnson any notes. He must believe it's going OK so far.
Sir Bernard appears to be in no hurry here.
And given the slow pace of his questioning here, we're in for a long afternoon…

Will Boris Johnson be SACKED Today?
'I apologise, I apologise'
He says at all times he was entirely transparent with the House of Commons.
"I apologise, I apologise for inadvertently misleading this house, but to say I did it recklessly or deliberately is completely untrue, as the evidence shows," he says.
He says officials in all government departments should be "immensely proud" that they protected the country from Covid and took them through the lockdowns – he also credits the vaccine rollout.
Will Boris Johnson be SACKED Today? The hearing committee will determine.
Johnson insists statements 'entirely accurate'
Johnson says the fact details of the birthday gathering he was fined for were briefed to the Times newspaper is evidence of the "innocence" with which the event was regarded, adding that it did not jump out at the journalist or "eagle-eyed" readers of the newspaper.
"Hindsight is a wonderful thing. we're talking about what I believed at the time," he says, on whether social distancing guidance should have been more "ruthlessly enforced" in Downing Street.
………………………………………………………………