China may give Russia weapons and ammo – US
US Secretary of State Antony Blinken has claimed that China is considering providing weapons and ammunition to Russia for the Ukraine conflict.
He told CBS News that Chinese companies were already furnishing "non-lethal support" to Russia and recent reports suggest that Beijing may offer "lethal support." Mr Blinken cautioned that such an escalation would have severe repercussions for China.
While Chinese President Xi Jinping has not publicly criticised Russia's invasion of Ukraine, he has called for peace and remained neutral in the conflict. China has refuted allegations that Moscow has requested military equipment.
China's foreign ministry has stated that it would not tolerate US "finger pointing" or "coercion" regarding its relations with Russia.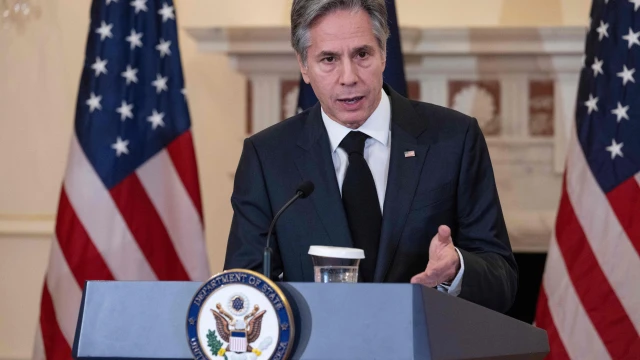 Following his meeting with China's top diplomat, Wang Yi, at the Munich Security Conference, Mr Blinken spoke to CBS.
He said that during the meeting he expressed "deep concerns" about the "possibility that China will provide lethal material support to Russia".
"To date, we have seen Chinese companies… provide non-lethal support to Russia for use in Ukraine. The concern that we have now is based on information we have that they're considering providing lethal support," he said.
'Serious problem between US and China'
When questioned about China's possible assistance to Russia in the Ukraine conflict, US Secretary of State Antony Blinken declined to provide specifics regarding the information the US had received. However, he did indicate that the US believed China could potentially provide weapons and ammunition to Russia.
The US has previously imposed sanctions on a Chinese firm for purportedly providing satellite imagery of Ukraine to the Wagner Group, a private military company that supplies Russia with fighters.
Mr Blinken told CBS that "of course, in China, there's really no distinction between private companies and the state".
If China provided Russia with weapons, that would cause a "serious problem for us and in our relationship", he added.
'Relations already poor'
In early February, relations between Washington and Beijing were strained after the US shot down a suspected Chinese spy balloon. Although both sides exchanged angry words, they appeared to be ready to move on from the incident. However, if China were to provide weapons to aid Russian forces in Ukraine, the already-poor relations between the two countries would significantly worsen.
Top Republican senator Lindsay Graham described this scenario as the most "catastrophic" event that could occur in the relationship between the two superpowers.
The full interview with CBS is due to air on Sunday.