Best time to work out revealed – new study
If your aim is to maintain a healthy weight through exercise, a recent study in mice suggests that physical activity in the morning might be the most effective.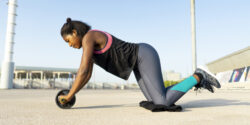 Researchers at the Karolinska Institutet and the University of Copenhagen found that exercising during an early active phase, equivalent to the late morning in nocturnal mice, increased fat metabolism more than exercising during an early rest phase. This increase in metabolism was associated with the expression of genes involved in the breakdown of fat tissue, heat production, and metabolic rate in fat tissue cells.
These findings may be due to circadian rhythms in the body's internal clock. Although more research is needed to determine the relevance of these findings to humans, the results are consistent with a study in humans from the previous year, which found that morning exercise had the greatest impact on fat and blood pressure in women.
However, the study also found that muscle-building was more effective with evening workouts, which improved mood and wellbeing, and the time of day had less impact on men.