Adidas unsure what to do with €1.2bn Yeezy goods
Adidas is currently weighing its options for the €1.2bn (£1bn) worth of shoes from Kanye West's Yeezy line that were left over after the sportswear company ended its partnership with the rapper last year.
Kanye West now goes by the name Ye.
Despite Ye's anti-Semitic comments that led to the split, fans still want to purchase the shoes.
Adidas CEO Bjorn Gulden has said that the company is considering selling the footwear and donating the proceeds to charity, but ruled out other options such as burning the shoes or giving them away for free.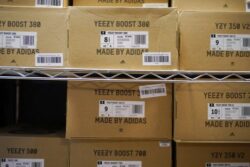 The resale value of the shoes has surged, and Mr Gulden noted that selling the shoes would require paying Ye, according to their contract.
The company has a 15% to 30% chance of repurposing the leftover products.
The end of the Adidas-Yeezy partnership cost the firm €600m (£534m) in the last quarter of 2022, and Adidas warned investors that the end of the deal could reduce profits by at least €500m in the 2023 fiscal year.
'Inventory is there, it's not running away'
Mr Gulden, who was named chief executive in November and took over in January, described the end of the deal as "very sad" but the right thing to do.
"The inventory is there, it's not running away," he said. "We should not do a decision just to please someone. We should do a decision when the consequences of that decision are the most positive that we can do."
He added: "There are so many people that have an interest in this from different communities from around the world," he added. "I've only been involved in this for seven weeks, and I don't feel qualified to make a decision based on the facts I have."
---