$3bn IMF bailout for Sri Lanka's struggling economy
Sri Lanka has been given a $3 billion bailout from the International Monetary Fund (IMF) to help the country overcome a crippling economic crisis.
The deal provides a lifeline for Sri Lanka, which owes billions in loans, and is struggling with inflation and rising energy prices.
To raise funds, the government is planning to restructure state-owned enterprises and privatise the national airline, according to the country's Foreign Minister Ali Sabry.
But even with the $3bn bailout, Sri Lanka is still facing massive challenges.
Shortage of essential goods
The country's economy has been severely impacted by the Covid pandemic, rising energy prices, populist tax cuts, and inflation of over 50%.
The cost of living has reached record highs due to a shortage of essential goods such as medicine and fuel. The shortages have led to widespread protests and the overthrowing of the ruling government in 2022.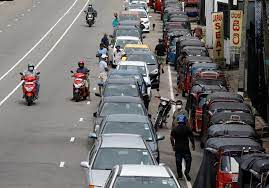 In May 2022, the country defaulted on its debts with international lenders for the first time in its history.
Raising taxes, and introducing taxes for professionals has helped bring in much-needed cash for critical purchases.
The economy is still set to contract this year but will return to growth in 2024.
The IMF has said Sri Lanka has secured financing assurances from all major creditors, including China and India, which paved the way for the bailout.
China has lent Sri Lanka around $7 billion while India has lent around $1 billion. 
---