Racist shooter kills 11 black Americans ten people were killed in a racially motivated mass shooting at a supermarket in Buffalo on Saturday by a suspect in tactical gear.
The hate shooter was live streaming the attack on Twitch, law enforcement officials said during a news conference.
How the attack unfolded
Buffalo Police Commissioner Joseph Gramaglia said the suspect drove to the Tops Friendly Markets store around 2:30 p.m. ET.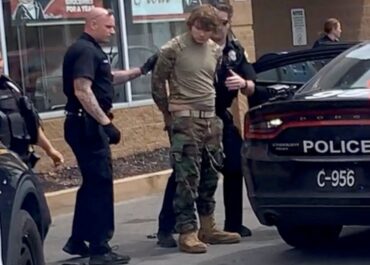 Wearing tactical gear, he shot four people in the parking lot, Gramaglia said, and then went inside the store, where a security guard engaged him.
The suspect shot and killed the guard and then "continued to work his way through the store," Gramaglia said.
About the victims
A total of 13 people were shot, 10 fatally, officials said Saturday.
Four of the people who were shot were store employees, including the security guard. Out of the 13 victims, 11 are Black, according to Gramaglia said.
Where is Buffalo?
Buffalo is in New York State, not to be confused with New York City. Buffalo is the second-largest city in the U.S. state of New York and the seat of Erie County.
It is at the eastern end of Lake Erie, at the head of the Niagara River, and is across the Canadian border from Southern Ontario. Is it based near the Canadian border not far from Toronto.
Buffalo supermarket mass shooting was Livestreamed
A spokesperson for Twitch said that the company removed the Livestream by the Buffalo supermarket mass shooting suspect less than two minutes after the attack started.
Social media companies have struggled to keep up with a torrent of violent content on their platforms, so Twitch's performance may be applauded by some, while still criticized by others.
The company did not immediately respond to follow-up questions about whether the suspect was still actively firing when the Livestream was halted.
This was "a military-style execution targeting people who simply want to buy groceries," NY governor says
New York Gov. Kathy Hochul expressed outrage following the "military-style execution" at a Buffalo supermarket.
"I'm angry. I have seen violence from guns on the Brooklyn subway and now on the streets of Buffalo. It has to stop. It has to stop," she said.
Racist shooter kills 11 Black Americans
"A military-style execution targeting people who simply want to buy groceries in a neighbourhood store. It strikes us to our very hearts to know that there is such evil that looks out there," she said.
Hochul said it is her "sincere hope" that the suspect, who is facing a charge of murder in the first degree, "will spend the rest of the day his days behind bars."
"Heaven help him in the next world," she added.
Justice Department investigating Buffalo shooting as a hate crime
The US Department of Justice is investigating Saturday's Buffalo shooting as a hate crime and an act of racially-motivated violent extremism, US Attorney General Merrick Garland said in a statement
"The Justice Department is committed to conducting a thorough and expeditious investigation into this shooting and to seeking justice for these innocent victims," he said in the statement.
Stephen Belongia, special agent in charge of the FBI Buffalo field office, also said the incident was being investigated as a hate crime at an earlier news conference on Saturday.
……………………..
I am closely monitoring the shooting at a grocery store in Buffalo. We have offered assistance to local officials. If you are in Buffalo, please avoid the area and follow guidance from law enforcement and local officials.

— Governor Kathy Hochul (@GovKathyHochul) May 14, 2022