Multiple people shot in NY subway station and 13 hospitalised in Brooklyn after a major shooting incident at a Brooklyn subway station during Tuesday morning rush hour, authorities said.
A preliminary investigation shows a possible smoke device was detonated at the station, according to a senior law enforcement official. The NYPD said that there were no active explosive devices at this time.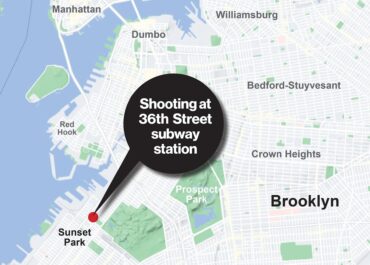 Multiple people shot in NY
A large police presence gathered on the street outside the 36th Street subway station in Brooklyn on Tuesday.
Utter Chaos after the attack on the subway this morning. 8 victims are at NYU Langone, 5 at Maimonides and 3 and NY Presbyterian.
If you are looking for loved ones- call 311.
Live updates: Multiple people shot in Brooklyn shooting today
The incident began at about 8:30 a.m. when the Fire Department of New York was called to the 36th Street subway station in Brooklyn's Sunset Park neighbourhood for a report of smoke.
Police and emergency responders gather at the site of a reported shooting outside of the 36th Street subway station on Tuesday.
13 hospitalised in Brooklyn subway
Two sources said that five people were shot.  A male suspect possibly wearing a gas mask and orange construction vest fled the scene, police said, citing a preliminary report.
Police told the public to avoid the area of 36th Street and 4th Avenue in Brooklyn, where a large presence of emergency responders gathered.
The Sunset Park neighbourhood is located in the southwest corner of Brooklyn and is home to Chinatown and Latin American areas.
All schools in the nearby Brooklyn shooting area are on a "shelter in," which a DOE spokesperson explained means no one is allowed to leave the building, and only students are allowed in.
……………………………