Ukrainian officials say they have identified mass graves found near Mariupol, which they say adds to mounting proof of Russian war crimes against Ukrainian civilians.
The claim is supported by photos collected and analyzed by US satellite imagery (not verified independently) that appear to show more than 200 new graves at a site on the northwestern edge of Manhush, a town around 12 miles (19 km) to the west of Mariupol.
Mariupol fell yesterday when Ukrainian generals were ready to negotiate the surrender of their armed forces, who have been surrounded by Russian forces in an old steel mill.
Mariupol has fallen as Ukrainians negotiate evacuation to the Russians
Mass graves found near Mariupol
Over 100,000 people remain trapped in Mariupol, some who won't leave and others who are desperate to leave. The region is split between those who just want an end to the war and have suffered too much to contest who is in power.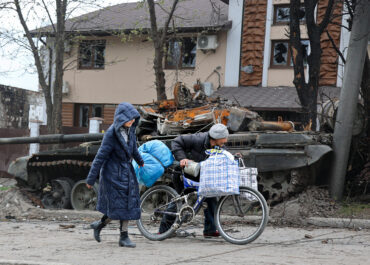 The city has been under constant bombardment since it was surrounded by Russian forces on March 1, according to Ukrainian officials. Ukrainian officials claim that more than 20,000 people in the city have died during the assault.
Putin CALLS OFF assault on hero Ukrainian troops buried in Mariupol steel plant but declares city is in Russian hands
Evidence of Russian war crimes
In a post-Thursday on messaging app Telegram, Petro Andriushchenko, an adviser to the mayor of Mariupol, said Russian trucks had collected bodies from the port city, before "dumping them" in Manhush.
"This is direct evidence of war crimes and attempts to cover them up," he said.
Although this has not been independently verified yet, claims that the Russians have disposed of bodies in mass graves at that location are likely according to the world and local media.
Journalists in Mariupol have documented the hasty burial of civilians in the besieged city; which they say are the mass graves found near Mariupol and images have surfaced on social media showing bodies apparently left for collection in the city.
……………………………………..
A top Ukrainian official said Wednesday's planned evacuation of civilians from Mariupol has failed because of the Russian failure to observe a cease-fire.#EUNews #EuropeNews #UkraineRussiaWar #europelatestnews #eu #SlavaUkraini #ukraine #Русские #lviv pic.twitter.com/IpdNVX8v7q

— EU NEWS 🇪🇺 (@wtx_EU_news) April 21, 2022