Day 51 of the war Live updates from Ukraine – Zelenskyy says fighting back is a success and the 'most important decision of our lives'
Russian forces are expected to begin a new big offensive in the east of the country after their retreat from the Kyiv region and other parts of the country revealed growing evidence of human rights atrocities.#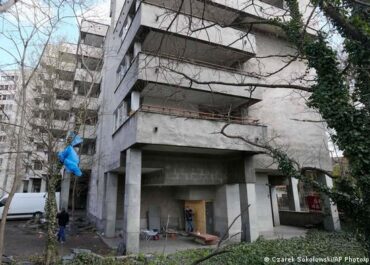 Day 51 of the war
Despite Moscow's blanket denials, horrific discoveries of civilian murders, torture and other barbaric acts continue coming to light, with Ukrainian authorities claiming tens of thousands of civilian casualties in Mariupol alone.
Kyiv forces continue to prepare for the renewed assault, while Western nations keep tightening sanctions against Moscow and NATO and condemnations of Vladimir Putin's actions continue to grow.
Zelenskyy says fighting back is a success
The flagship of Russia's Black Sea fleet has sunk after it was badly damaged and its crew evacuated due to a possible Ukrainian missile hit on Thursday. The Kremlin claims it was due to a fire that broke out on the vessel, not an attack.
Russia claims Ukraine has struck its territory with airstrikes.
Zelenskyy told Estonian MPs, without providing evidence, that Russia was using phosphorus bombs in Ukraine.
Ukrainian forces in Mariupol said a drone had dropped a poisonous substance on the city, but there has been no independent confirmation that Russia used banned chemical weapons.
Zelenskyy also warned that the war will become an "endless bloodbath, spreading misery, suffering, and destruction" without additional weaponry.
Additionally, 4.8 million of Ukraine's 7.5 million children have been displaced since 24 February, said UNICEF.
…………………………………………