Women's Champions League returns, but is it time for change?
The group stage of this season's Champions League kicks off this week, but some of Europe's biggest teams are already out. Is it time for change?
It may be early days in this season's competition, but some of Europe's biggest names have been knocked out after only two games. Why? The format is to blame.
Some will argue the current set-up allows for better representation of clubs from a wider varitey of European countries. Others say losing names like Arsenal and Wolfburg slows the development of the competition and women's football because these teams come with bigger fanbases and once their teams are out, viewership drops.
Of the English club, only Emma Hayes' Chelsea is in the running. Arsenal, who were last year's semi-finalists and Manchester United have already been booted out.
But it's not just the English clubs – some of the bigger European clubs such as Wolfsburg (last season's finalists) have also fallen victim to the WCL's difficult qualifying process.
Arsenal and Wolfsburg fell victim to the dreaded 'league path', reigniting the debate around the format of the competition.
A new WCL format was announced for the 2021-22 season. 
Striking the right balance between growing the game with sides from developing football nations and continuing to bring visibility to the product through the world's biggest teams and players is a task that will take time to solve.

As it stands, only the champions of Spain, Germany and France qualify automatically.

Women's Super League champions Chelsea's automatic progression to the group stage was confirmed only after Spanish champions Barcelona won last season's competition, with WSL runners-up Manchester United, Wolfsburg and PSG having to compete in qualifiers.

BBC
It goes as follows: 
The top six associations entered three teams, associations ranked 7–16 entered two, and the remaining associations entered one.
The restructure makes it a little more like the men's CL format, with a double-round-robin group stage and two paths (a champions path and a non-champions path) for teams that do not automatically qualify for the group stage.
Qualification takes place in two rounds: a First round of four-team mini-tournaments, and a Second round of two-legged matches. Each of these rounds is split into two simultaneous paths based on how teams qualified.

The Champions path consists of the champions from the top 50 associations. 7 teams advance.
The League path consists of the runners-up from the top 16 associations. 5 teams advance.

The Group stage includes four teams qualifying directly: the defending UWCL champions and the champions from the top 3 associations. It is played in four groups of four, each advancing two teams to two-legged quarterfinals.
For example, Manchester United, who were celebrating their first CL qualification, were drawn against PSG. United boss Marc Skinner argued that the bigger clubs shouldn't be drawn against each other.
"There are teams going through [to the group stage] that are not good enough," he said after United's 3-1 defeat by PSG at the Parc des Princes. "Our standard is better than that standard, and it's crazy that we have to play PSG at this qualifying round, crazy. It needs to be something that's addressed."
But is he right?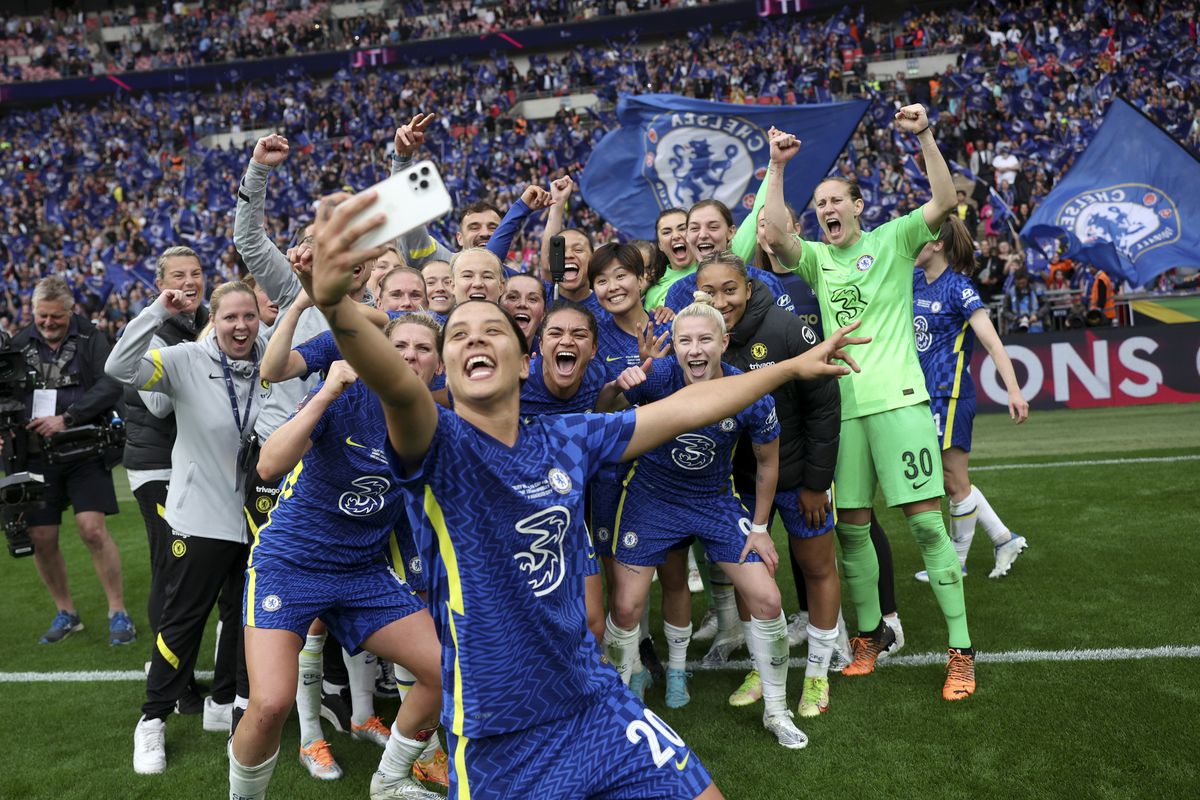 Bigger teams bring bigger fanbases
Arguably yes. If teams such as Wolfsburg, Arsenal, Man Utd and Juventus were among the 16 teams in the group stages, it would make the league stronger. These clubs tend to have larger fan bases and very talented squads, meaning they have a real potential to drive the growth of the game. Arsenal hosted Wolfsburg last year in front of a sold-out Emirates crowd.
But many felt the Man U boss was being a little disrespectful as he suggested clubs who had won their domestic leagues did not deserve to be in the Champions League.
Those teams and their route into it should be protected. Unlike the 32-team men's tournament, the women's 16-team tournament has a greater proportional spread of countries within the competition.
This year's WCL will see 11 different European countries represented, whilst the men's CL will feature 15 – despite the men's competition being twice the size.
There are many who will argue keeping a separate route for domestic title winners, even if it means the potential exclusion of runners-up. It could be a massive positive within those domestic competitions, which would be increased across the continent if a proportional spread remains when the Champions League does eventually expand in size.
But for streaming site DAZN, who holds exclusive rights for the WCL, the early exits of the big names have hit their viewership figures.
With women's football on the rise now would be a great time for those with the power and the purse to sit down and create a long-term plan for the game. If they can find a better format – and put more money into the game – the WCL could become a strong international competition.
As for Chelsea, they're once again on the hunt for a European trophy and a win would be a perfect farewell for boss Emma Hayes.
---
When do the group stages take place?
Matchday one – 14/15 November
Matchday two – 22/23 November
Matchday three – 13/14 December
Matchday four – 20/21 December
Matchday five – 24/25 January
Matchday six – 30/31 January