Sunday Papers – PM should go sooner rather than later, says Tory MPs
The Sunday papers cover the prime minister's ongoing Partygate scandal, with the PM's number 1 fan – the Express leading with a positive spin, whilst the Observer picks up on Tory comments suggesting it's time for the PM to go. 
The Sun runs a story on Prince Andrew's alleged inappropriate behaviour with a then 21-year-old aide, but most of Sunday's papers lead with ministerial stories. 
…………………….
Daily Express – Boris: I am the leader Britain needs 
The Sunday Express leads with comments from PM Boris Johnson defending his premiership. According to the paper, the PM has highlighted 10 landmark measures due to become law in the next few days as proof that he is delivering for Britain. 
It reports Mr Johnson as saying: "Whether it be in response to Putin's illegal invasion or our recovery from the pandemic, we are providing the leadership needed in challenging times." 
It comes as the so-called Partygate scandal continues to loom over Downing Street, with MPs last week backing a Commons inquiry into whether the PM misled them.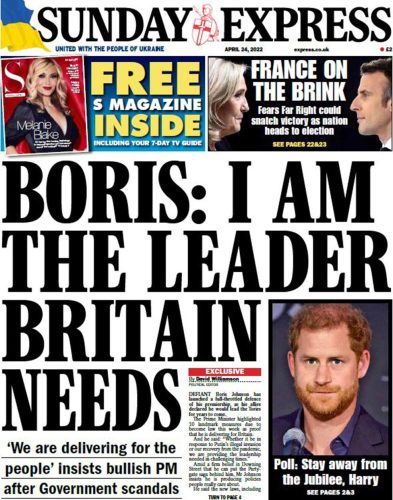 The Observer – PM should go sooner rather than later, says Tory MPs
PM Boris Johnson should go sooner rather than later, according to senior Conservative MPs quoted by the Observer. A growing number of top Tory MPs are supporting the plan even without a clear and obvious successor, the paper reports. 
One former minister told the Observer: "There is now a feeling that we can't defend what is going on and that we can't delay any longer because of the succession or Ukraine. If we don't act well before the party conference in October, it will be too late."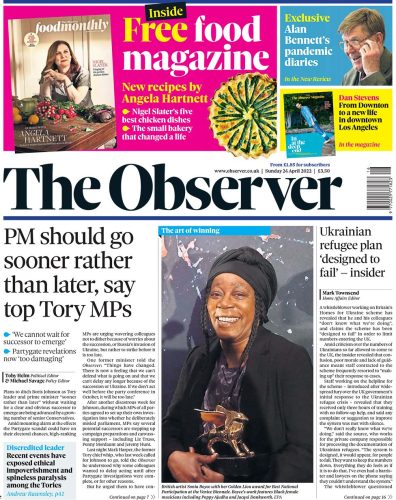 The Sunday Times – Ukraine's pleas for weapons were rejected for years
A Sunday Times investigation claims that Ukraine repeatedly asked to buy weapons from Britain for several years but was turned down by three successive prime ministers. 
According to the paper, Sir Michael Fallon, defence secretary under David Cameron and Theresa May, said he was approached by Kyiv wanting to buy arms, but was blocked in cabinet and had to say no. Ministers "felt extremely strongly that we should do nothing to further provoke Russia", he is quoted as saying. His comments are echoed by two former cabinet ministers, the paper adds.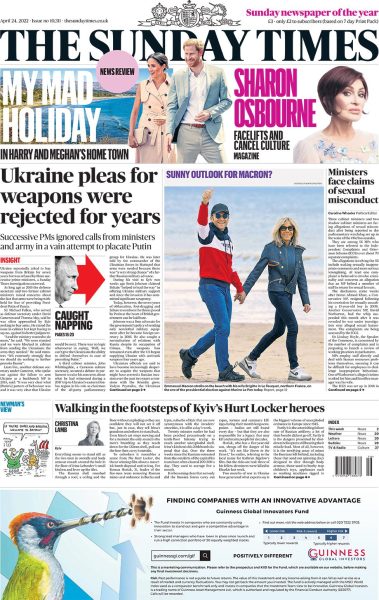 Sunday People – Rishi in hot water again 
The Sunday People says that Chancellor Rishi Sunak is in hot water again over plans to reportedly build a pool at his home. It could cost up to £13,000 a year to heat, according to the paper, which contrasts the chancellor's luxury addition to his home with the country's cost of living crisis.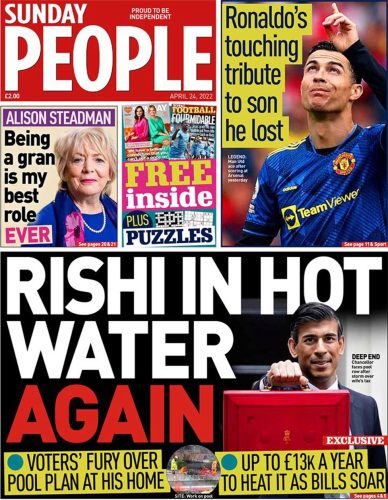 Sunday Telegraph – BBC guilty of 'xenophobia' over Rwanda deal, Patel claims
Home Secretary Priti Patel has accused the BBC of exhibiting an undercurrent of xenophobia in its reporting of the government's controversial immigration deal with Rwanda, according to the Sunday Telegraph.
Patel has given an interview to the paper, in which she criticises questions she was asked by BBC journalists. Under the scheme, people deemed to have entered the UK unlawfully will be flown to Rwanda, where they would be processed, and if successful, would have long-term accommodation in the African country. The government's new policy has received criticism from opposition parties, Conservative MPs, religious leaders and the UN's Refugee Agency.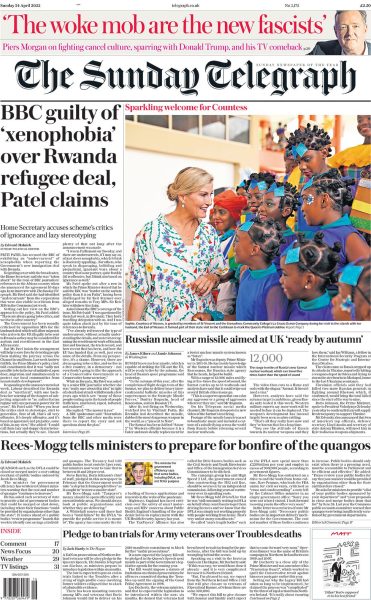 Sunday Mirror – P&O sinks to new low 
P&O Ferries has been accused of sinking to a new low as the paper reports that the firm is trying to cut wages of cheap staff who replaced sacked crews. 
According to the Sunday Mirror, overseas agency workers hired to replace the nearly 800 staff who lost their jobs have claimed they were asked to sign new contracts on lower pay. The paper reports that sources close to the firm have denied trying to amend rates of pay.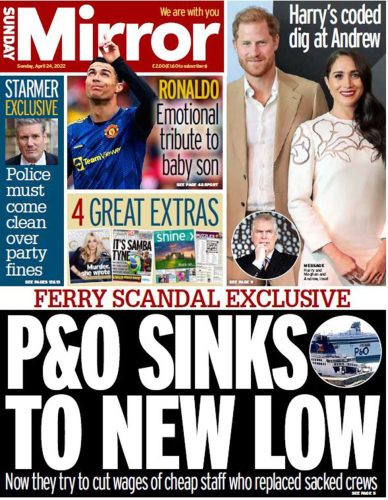 Daily Star – E.T Go Home 
And the Daily Star Sunday has an out-of-this-world front page as it interviews a woman who says she is living in fear after experiencing nine encounters with extra-terrestrials. "E.T. go home" is the paper's headline.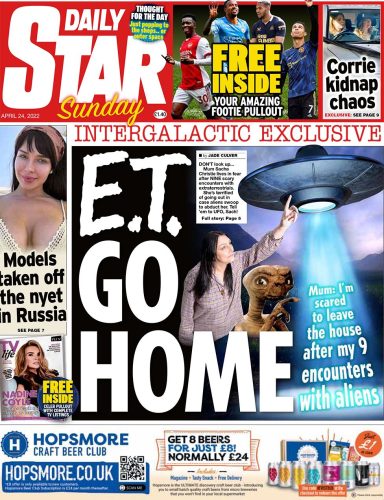 The Sun on Sunday – The Duke of stalk 
The Sun on Sunday reports the Duke of York "lunged" at a 21-year-old female aide. Nicola Palmer, 21 at the time, said: "He looked at my chest. I remember him staring, grinning. I turned and ran upstairs."
Nicola was a live-in PA at the Duke of York's former £15million mansion.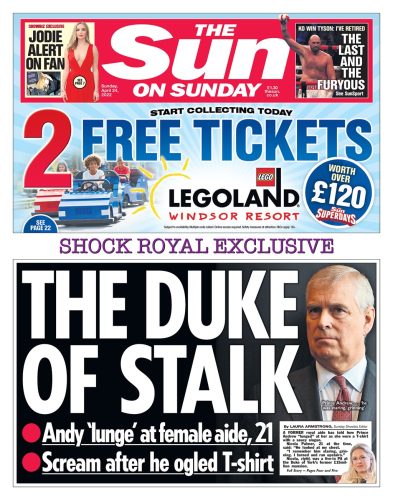 ..………………….
FOLLOW US ON SOCIAL MEDIA AND SHARE WTX NEWS WITH YOUR FRIENDS AND FAMILY:
Facebook – Please like our page
Twitter – Twitter updates available in English and Arabic. Please follow us and we would love to hear from you
Instagram – Follow our pages in English and Arabic