UK job vacancies fall for eighth time in a row
Companies in the UK blamed economic pressures for holding back on hiring new staff, as job vacancies fell for the eighth consecutive time.
The official figures were released a day before Wednesday's Budget, where the Chancellor is expected to outline plans to encourage people back to work.
Between December and February, the number of job vacancies fell by 51,000 compared to the previous three months. However, despite the decline, there are still 1.1 million job vacancies, 328,000 more than in the January to March 2020 period before the pandemic.
The rate of economic inactivity declined to 21.3% between November and January, driven by younger people aged 16 to 24 either obtaining jobs or seeking employment.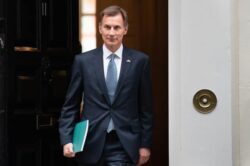 However, there are still nine million economically inactive Britons, including students, retirees, and those with long-term illnesses.
The employment rate rose to 75.7% between November and January, with both part-time workers and the self-employed seeing an increase, while the unemployment rate remained at 3.7%.
Recruitment firm Reed's chairman, James Reed, said that while there was a decrease in new jobs, the labour market is still robust.
He told the BBC's Today programme: "Actually there are over 300,000 more vacancies than there were this time pre-pandemic, three years ago, so the labour market is pretty buoyant still which is surprising many people."
---