The Independent – William and Harry come together to mourn the Queen 
The front page of the Independent leads with the Windsor walkabout as the Prince and Princess of Wales along with the Duke and Duchess of Sussex greeted crowds outside Windsor Castle.
The paper says the brothers have reunited in grief and looks ahead at the Queen's funeral plans. 
The Frontpage.
Leave Harry and Meghan alone – they've reunited with Wills and Kate to mourn the Queen
The Independent says The irony of a lifelong supporter of a republic writing a column cheerleading for the Duke and Duchess of Sussex is not lost on me. The thing is, I've never much liked bullies. Or bullying. And there has been a lot of that directed at the Sussexes. But now, in full view of the watching nation, Harry and Meghan have reunited with Wills and Kate to pay their respects to their grandmother at Balmoral. Perhaps we can learn something from this display of familial solidarity – and finally leave them alone?
The message from the English right when it comes to the Queen is: "Play nice or else you'll get a brick through your window. However, if you want to let off a little steam, feel free to unload on Harry and Meghan. Throw as many stones as you want. Tip as much bile as you can find."
https://www.independent.co.uk/voices/queen-death-funeral-harry-meghan-mourning-b2164713.html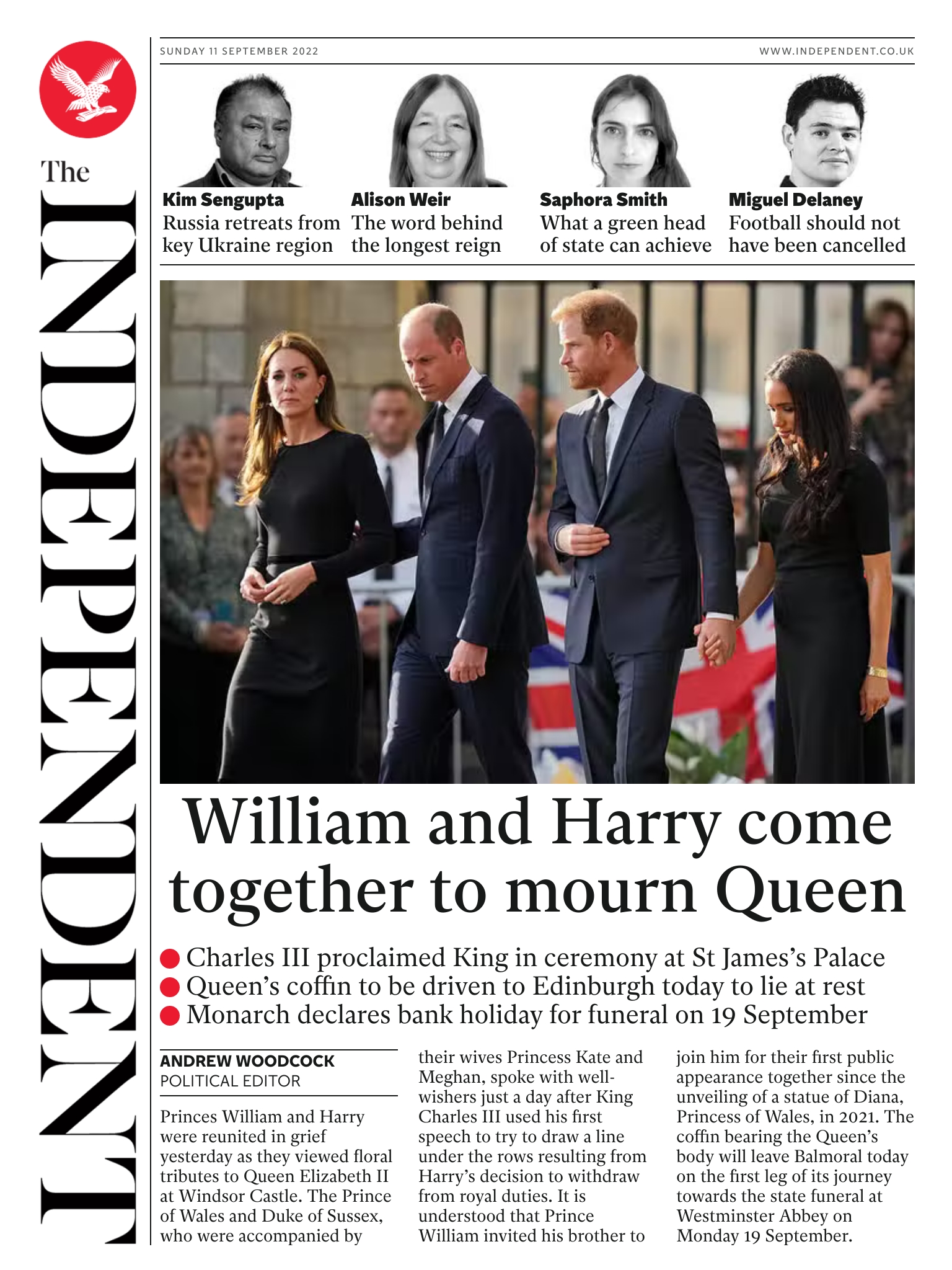 Charles III to reign 'more like a Scandinavian monarchy'
The Independent says The reign of King Charles III will see Britain's royalty become "more like a Scandinavian monarchy", former prime minister Gordon Brown has predicted.
Mr Brown said he expected Charles to perform his duties in a more informal and "approachable" way than his mother Elizabeth II, with a slimmed-down royal family on display.
Like the UK, Sweden, Norway and Denmark are all constitutional monarchies, but their sovereigns have long adopted a less formal style than British queens and kings, with less emphasis on pageantry and ceremony and smaller royal families taking part in official duties.
https://www.independent.co.uk/news/uk/home-news/charles-scandinavian-brown-may-cameron-b2164717.html
Karina Castro: Woman beheaded by man with a sword on Bay Area street had restraining order against him
The Independent says The woman beheaded by a man with a sword in front of her home on a Bay Area street in California has been named by her family as Karina Castro.
Castro, 27, was brutally killed in San Carlos, located about 24 miles south of San Francisco, just steps away from the home containing her two daughters, aged one and seven.
Her father told NBC Bay Area that his daughter had a restraining order against her suspected killer.
The San Mateo County Sheriff's Office has identified the suspect as the victim's former boyfriend Jose Solano Landaeta, who was arrested after returning to the scene of the gruesome slaying.
https://www.independent.co.uk/news/world/americas/crime/beheading-young-mother-california-b2163695.html
Laura Whitmore: 'Look at Olivia Wilde – it seems the more successful you get, the more negativity people throw your way'
The Independent says Laura Whitmore loves the drama. Literally. She's just announced her exit stage left from Love Island; now the jaunty presenter is taking to the West End. We're discussing how three years of grilling newly minted influencers on live telly equips you for the stage. "There's definitely a similar skill set when you do live…" – she pauses, raises her eyebrows, says with a flourish – "drama. Drama in everything I do!" Fresh from crowning Ekin-Su and Davide – christened "mum and dad" by the internet for being besotted one minute, bickering the next – as this year's champs, Whitmore is treading the boards in 2:22 A Ghost Story, in the same role that nabbed Lily Allen an Olivier nomination earlier this year. It was her husband Iain Stirling, he of the "TerrrNIGHTTTT" Love Island voiceovers, who first told her she'd nail the part. "I was like, 'Whaaaat! There's no way I'd remember all those lines'."
https://www.independent.co.uk/arts-entertainment/tv/features/laura-whitmore-interview-love-island-b2163364.html