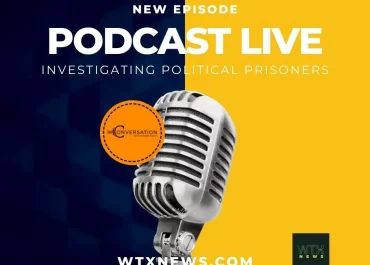 'It is unrealistic that the Assad regime in Syria will go away' Bilal Abdul Kareem describes the torture and injustice against Syrian prisoners of war with the launch of a new initiative 'prisoners covenant campaign'.
In the first episode of her podcast, Yvonne Ridley talks to Bilal Abdul Kareem, who is the CEO of OGN – reporting live from Syria. He was captured and imprisoned in Syria last year and now has started an initiative to help and support the prisoners in the region.
Syrian Prisoner of War speaks to Yvonne Ridley – Episode 1 In Conversation
In her first episode, she takes on a conversation into the world of political prisoners and kicks off with some larger than life characters starting with New Yorker Bilal Abdul Kareem, a journalist who is also on a mission – in fact, his decision to be a key member of the awkward squad got him locked up in Syria.
The experience led to him launching a prisoners charter on human rights – but will the rebel group it's aimed at take it on board.
Some of the highlights from the show
06:28 – 06:46  It is unrealistic that it would all go away – Assad regime
06:38 -07:07  why would we assume that Bashar al-Assad knows about justice?
07:08- 07:46 justice is the main principle of this prisoners covenant campaign
The Assad regime in Syria?
Idlib is a province in north-western Syria bordering Turkey. The province has been bitterly contested throughout the Syrian Civil war. Syria is run by the US-backed Syrian Democratic Forces (SDF), a Kurdish militia. The battle for the prison killed hundreds of people, and the facility was only retaken after more than a week with the help of American troops.
In Conversation with Yvonne Ridley
In Conversation with Yvonne Ridley, is designed to keep you alert, informed and entertained by the shenanigans of people in power. I'll also be talking to amazing characters who hold truth to power and others who are suddenly propelled into the spotlight because of something staggering that's happened to them.
……………………….
Follow the conversation on Twitter  Tonight after 9 pm GMT with Yvonne Ridley.