It's getting to the point where I no longer need to state that Manchester City won since it's becoming such a common occurrence. Nevertheless, City dominated German side Borussia Mönchengladbach in their first leg of the Champions League Round of 16 fixture, winning 2-0 off the back of goals from Bernardo Silva and Gabriel Jesus.
City stroll to victory against Mönchengladbach
Whilst City weren't exactly creating a plethora of chances, they strolled through their Champions League evening against Mönchengladbach with ease, at times, making it look like a training match. Their first goal came in the 29th minute thanks to a Bernardo Silva header. Full back/central midfielder João Cancelo whipped a beautiful cross from outside the left-side of the box to the back post where he found fellow Portuguese and City teammate Silva, who headed it back across goal past Mönchengladbach keeper Yann Sommer to make it 1-0.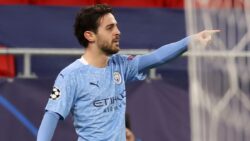 City's second goal in this Champions League fixture came in the 65th minute of the second half. Once again, it's a Cancelo cross to Silva at the back post, this time on the opposite left side. The cross is perfectly accurate, finding Silva's head, who directs it across the six-yard box where Jesus, although contested, stretches his left leg out to poke it past Sommer into Mönchengladbach's net.
Rodri almost handed goal to Wolf
Despite having no real chances throughout the game, Mönchengladbach almost stole a goal right before the final whistle to record their first shot on target in the game – which arguably should've been scored. After a poor back pass from City midfielder Rodri is intercepted by Mönchengladbach winger Hannes Wolf, the Austrian strides forward, taking a couple of touches before attempting to put the ball down past Ederson's left-hand side.
Fortunately for City and particularly Rodri, the Brazilian keeper saves it well, with the full-time whistle going shortly after the save. Although a 2-0 deficit isn't exactly game over for Mönchengladbach, attempting to score 1, let alone 2, past this City side is a task most, if not all, teams would struggle with right now considering City's remarkable defensive form this season.
🔵 Manchester City have not conceded a goal in 616 minutes of Champions League football, keeping 6 consecutive clean sheets 🚫#UCL pic.twitter.com/J6MeF6IHw1

— UEFA Champions League (@ChampionsLeague) February 24, 2021
Champions League Round of 16, first leg report: Chelsea cruise to 1-0 win against Atlético Madrid
Sunday's Premier League results – Hammers, Spurs, Villans, Foxes
Leave a comment