What shoes are in fashion for 2023? : Shoelaces are OUT for 2023 as shoppers stick to comfort  
Since the pandemic, comfort has been front and centre of fashion and lace-free comfy shoes are all the rage.
From loafers to crocs, Birkenstocks to ballet flats – lace-free shoes are set to dominate 2023.
In an article by the New York Times' Callie Holtermann, she predicted that 2023 will see the end of shoelaces.
'Maybe we've become more willing to wear lightly disguised slippers outside since spending so much time cooped up during the pandemic,' Callie wrote.
'Or maybe we're just sick of tying two Boy Scout-level knots every day before 9 a.m.'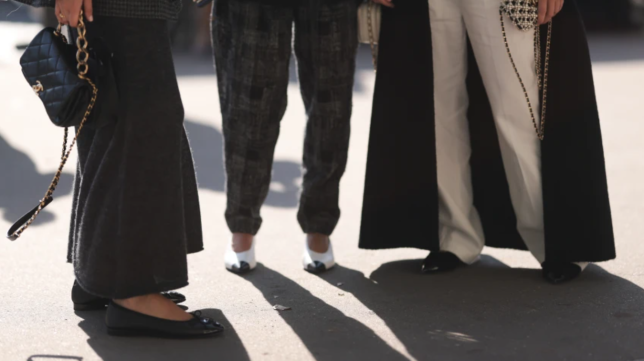 'Covid hit fast-forward of some fashion trends'
Indeed, Clearpay, has recorded a year-on-year increase of 116% for searches for Uggs, 173% increase in searches for Birkenstocks, and a 744% increase in searches for Crocs.
Shoe designer Rachel Kelly told Metro.co.uk that our turn away from laces is an 'obvious' development after the years we've just endured.
'Things were going in this direction,' she explains, 'but Covid seems to have then hit fast-forward on some of these trends.
'The pandemic allowed our "take the bins out" shoes to become sometimes the only things we wore outside, and this perhaps helped. We are essentially lazy, and there are a lot of very good-looking lazy options out there.
'Even the return of the riding boot silhouette sits within this to some extent: it's just a very slick grown-up version. I think ballet shoes are also coming back, in part because they're so simple and quick, and sure to also then be influenced by the filming of the Amy Winehouse biopic.'
Fashion 'comfort is key'
Founder and CEO of FINDS, a fashion tech start-up, Jemma Stacey agrees that 'comfort was key' in recent years – but that doesn't mean people only want practicality in their footwear these days.
She adds: 'People's desire to dress up and make a bold style statement has become a noteworthy theme. S/S 2023 runways have made it clear shoes will make or break a look, so no wonder people are forgoing practical trainers, and embracing a variety of styles made to be seen.
'Clogs, part of the 'ugly shoe' clan, still remain a popular practical alternative, recently being upgraded to platform clogs, embellished clogs, shearling clogs, the list goes on.
'Ballet flats, biker boots, pointed kitten heels, knee-high boots… these were just a few of the biggest shoe trends of the past year, kicking off the year strong and paving the way for more fresh footwear such as bubble platforms to rule the streets (and feeds!).'