Real Madrid 2-2 Chelsea: Two controversial decisions leave Blues 'robbed' in WCL draw 
Emma Hayes says Chelsea were "robbed" of what should have been a 3-1 win due to "embarrassing" refereeing.
Chelsea's 2-2 with Real Madrid in the Women's Champions League (WCL) was controversial, with both teams taking a point and many calling for VAR to be introduced into the WCL group stage.
Chelsea dominated their Group D opener but two controversial decisions cost them all three points. 
A late penalty was awarded to Real Madrid despite it being outside the box and a very late Chelsea goal was ruled offside – despite it not being. 
"I can't remember the last time we were in a game like that when two humongous decisions like that have gone against us," said Hayes. "That is a lot tonight."
Chelsea had just gone 2-1 up, thanks to Sam Kerr, when in the 77th minute, Real Madrid forward Athenea del Castillo was caught by Jessie Fleming and went down in the penalty area.
A penalty was awarded but replays showed the foul happened outside the box, with Del Castillo's sliding into the area.
Olga Carmona scored the penalty with her second goal of the game to go 2-2.
"I could see from the bench that the tackle was outside the box," said departing Chelsea boss Hayes.
"I'm absolutely shocked that those managing the game couldn't see that.
"Of course maybe Jessie shouldn't lunge in that area, but it happens clearly outside the box.
"At this level, when you are in control of a game and important decisions like that go against you, it makes it difficult."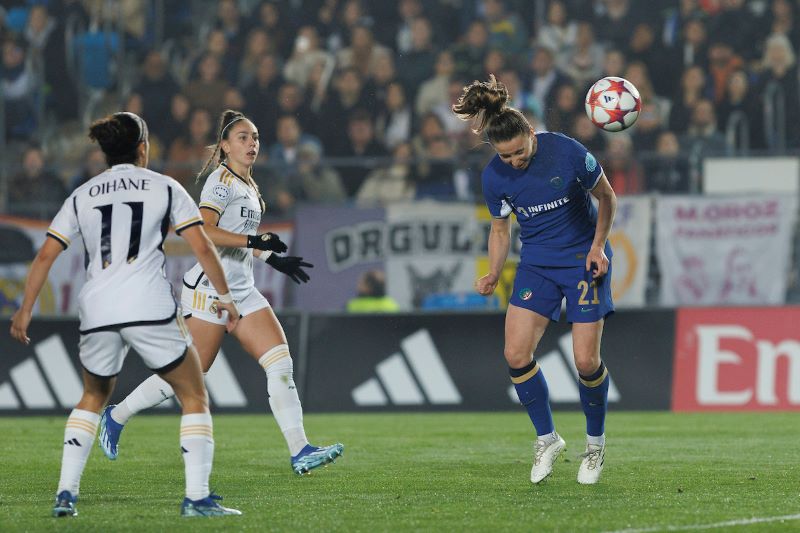 'VAR is needed'
After the penalty, Chelsea pushed for a winner and thought they had taken all three points when defender Millie Bright curled in a cross for Niamh Charles, who slammed the ball into the back of the net. 
But the goal was ruled offside. Once again for the visitors, replays showed the call was wrong – Charles was comfortably onside.
On the offside ruling, Hayes said she "could not understand the decision whatsoever".
"We score a really legitimate goal," she said.
"It is embarrassing. I had to check why it was disallowed. Was it Niamh [Charles]? No. Was it Sam [Kerr] interfering with the goalkeeper? She was about seven yards away, nowhere near the keeper. I think we've been robbed of what was a 3-1 game."
Hayes has called for VAR to be introduced in the WSL and there will be more calls for VAR in the WCL after another controversial game. 
Hayes will leave Chelsea at the end of the season. This WCL campaign is her last chance for a Champions League trophy.