Race to No10 – what happens next? Rishi Sunak vs Penny Mordaunt
Today marks an important moment in UK political history as the country looks set to crown its third prime minister in less than two months.
And with Boris Johnson pulling out of the race late last night – claiming he did have the support but he couldn't unite the party – his former chancellor Rishi Sunak looks on course to be the new PM. 
Sunak currently has the most publicly declared backers, whilst Penny Mordaunt is nowhere near the 100 needed publicly, her team say privately she's crossed the threshold.
Candidates need to meet the threshold of 100 MPs by Monday at 14:00 BST. 
Penny Mordaunt team claim 100 support
With Boris Johnson out of the race, some heavyweight names have started shifting their support to the other two candidates. 
Some 180 out of 357 Tory MPs have gone public with who they are backing – Sunak so far has 155 and Mordaunt with 25.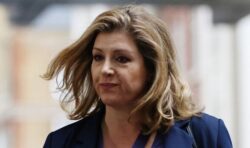 So if Penny Mordaunt really does have at least 100 backers the race could then go to an online ballot of Tory Party members (the same people who chose Liz Truss over the summer) and the winner of that vote being announced by Friday.
However, if Penny Mordaunt cannot secure at least 100 backers by 14:00 BST today then Rishi Sunak will automatically be the winner – and therefore the new leader of the Conservative party and prime minister. 
Race to No10 – Timeline of the week ahead
Nominations
Nominations close at 1400 BST on Monday 24 October.
Candidates need the support of at least 100 Tory MPs.
If only one candidate gets the support of 100 MPs they will become the next leader and therefore the new prime minister.
The race is currently between Rishi Sunak and Penny Mordaunt.
Tory MPs vote
If both Rishi Sunak and Penny Mordaunt get 100 nominations each, voting will take place amongst Tory MPs.
This vote will be indicative, meaning it will show who has the most support among MPs.
The vote will happen between 1530 BST and 1730 BST on Monday.
The result is expected to be announced around 1800 BST.
Party members vote
If neither withdraws after the indicative vote, the vote will then be put to the Conservative Party members who will vote online to choose a winner. 
Before the online vote, there will likely be a televised TV debate.
The new party leader and prime minister will then be declared by Friday 28 October. 
---
PM Liz Truss resigns as UK prime minister – How the week unfolded
The week began with politicians and journalists alike asking whether there was still a chance that Liz Truss could salvage her premiership. Days later came 1922 Committee chairman Sir Graham Brady's visit to Downing Street. Then a podium was wheeled out in front of No 10 and Truss emerged to address the waiting media.